The AD Club provides unparalleled access to key influencers and conversations that foster collaboration and help move the industry forward. Our programs are developed for members by members as a forum for exchanging ideas across industry disciplines - agency, marketing, media, ad tech, PR, start-ups, entrepreneurship and related communications practices.
These are the topics and tactics to help you stay connected and relevant in today's fast-moving marketing world.

Our Club favorite "Conversations With…" series is back! Join us every month from 12:00 PM – 1:00 PM (EST) as Ad Club Board President Rick Song hosts one-on-one conversations with marketing leaders on how their business and lives are changing during this unprecedented time.
Cheryl Guerin, Mastercard – September 14th
Soyoung Kang, eos – October 12th
Tony Wells, Verizon – November 16th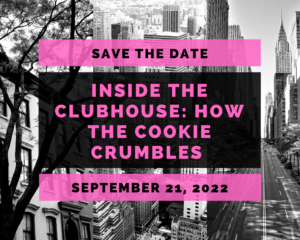 Episode 1: Future Proofing Your Marketing in a Post-Cookie World
Wednesday, September 21st
In this four-part series hosted by Chris Bolte, SVP, Revenue Strategy and Business Development at Yieldmo, we'll explore the market forces leading us in this direction and the solutions that are available to marketers.