Celebrating "Icons, Rock Stars, & Innovators "of New York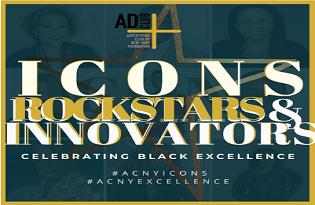 PURPOSE:
The ACNY Foundation is proudly recognized outstanding industry professionals, during our 3rd Annual Black History Month recognition series titled, "Icons, Rock Stars & Innovators".
Every year we shine the spotlight on exemplary talent, integral to the evolution and growth of the advertising industry. Each day during Black History Month, we featured each "Icon", "Rock Star" or "Innovator" across all our digital platforms. In addition, our partnership with Mixed Company podcast, allows for our programming to further extend throughout the industry; introducing and promoting these luminaries to new audiences.
On February 26, 2020 – we hosted our Recognition reception & program.
Take a peek at last year's event.
P.S. Check out our other content from previous years
2019 - Online Exhibition
2019 - Icons, RockStars, & Innovators