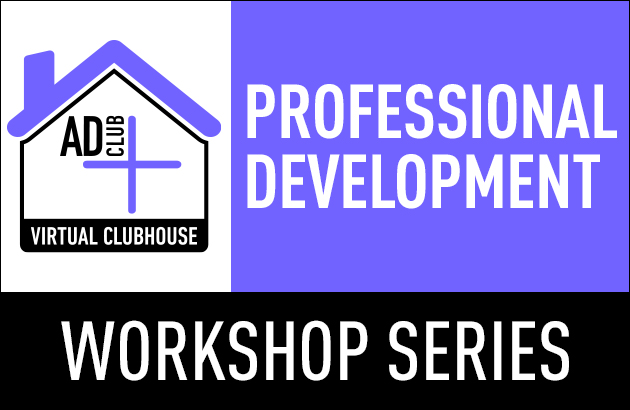 Conversations With...
Zoom Webinar Series
Location: Zoom Webinar
Time: 12:00-12:45pm
Join us bi-weekly from 12:00PM - 12:45PM (EST) as Ad Club Board President Lee Nadler hosts one-on-one conversations with marketing leaders on how their business and lives are changing during this unprecedented time.
Speakers
Cheryl Guerin, EVP, NA Marketing and Communications, Mastercard
Cheryl Guerin is Executive Vice President, North America Marketing & Communications where she is responsible for driving brand preference and consumer affection for Mastercard brands across the U.S. and Canada. Ms. Guerin's team develops and implements coordinated communications and marketing strategies reinforcing the value of our brand, products and services to drive revenue growth and market share for the region. Her responsibilities include directing the brand's award-winning Priceless campaign, sponsorships, digital and B2B and partner marketing activity to drive greater connection with consumers and businesses.
Prior to this Cheryl led Mastercard Credit Products with responsibility for all aspects of product strategy and development globally and also held a general management role, overseeing all Products and Solutions for North America. She also previously ran US Marketing where she launched successful marketing platforms such as Priceless Cities, Priceless Surprises and the Priceless Causes Stand Up To Cancer program. Ms. Guerin joined Mastercard in 2000 and has also led critical Marketing functions including Global Promotions and Global Digital Marketing. Key achievements include building organizations around these disciplines globally, as well as continued industry accolades. Prior to Mastercard, Ms. Guerin held several account service positions at advertising agencies such as Bates Worldwide, managing campaigns and product launches for clients such as Avis, American Home Products, Best Foods, NatWest Bank and Samsung. Ms. Guerin is an Advisory Board member for Women in Payments and is an active Member of the Association of National Advertisers. Cheryl was named to Brand Innovators 2013 Top 50 Women in Brand Marketing, was a 2011 CEO Award Winner, and was recognized among Westchester's '40 under 40' rising stars in business by the Business Council of Westchester in 2010.
Ms. Guerin holds a Bachelor of Business Administration from Pace University's Lubin School of Business and lives in Westchester, NY with her husband and two sons.
Sophie Kelly, SVP North American Whiskey Portfolio, Diageo
With a global advertising career spanning more than two decades and four continents, Sophie Kelly has established herself as a business-minded creative force, and an agent of change.  She has a proven combination of traditional brand marketing knowledge and digital expertise, allowing her to be a valued partner for brands, agencies and colleagues alike, in their journeys to transform marketing and communications.
Sophie joined Diageo in 2016 as the Senior Vice President of Diageo's industry-leading North American Whiskey and Tequila portfolio. In that role she's led growth on some of the most iconic and valuable brands in the category.  She is also responsible for a group of distilleries and brand homes that include the historic Stitzel-Weller, known as the "Cathedral of Bourbon," and the new $115 million Bulleit Distilling Co. in Kentucky.  She is enjoying crafting the future of North American Whiskey.Most recently she brought on entrepreneur and award-winning distiller Nicole Austin to lead the Cascade Hollow Distilling Co., home to George Dickel Tennessee Whisky. In her previous role as CEO of The Barbarian Group, Sophie transformed the company from a small, innovative digital production shop to a tech-forward creative company that provided everything from brand planning, to creative, to technology and experience design.  During her tenure the agency was the inaugural winner of the Cannes Lions Innovation Grand Prix, was named to Crain's Best Places to Work list, and won marquee accounts including Pepsi, IBM, Etihad and Kind. Prior to joining The Barbarian Group, Sophie served as Managing Director of the agency StrawberryFrog. Previously she acted as Global Business Director at J. Walter Thompson Worldwide.
Sophie is known for her approach of always being in service of the brand.  She also remains committed to doing the right thing to generate innovative creative ideas that translate into world-class work which will drive business results for brands.
Terryn Lance, VP of Global Media, American Express
Terryn Lance is the VP of Global Media at American Express, responsible for driving demand for the Amex Brand and its products & services.  She specifically works with markets outside the US to help make media strategies a reality.  Prior to working at American Express, Terryn worked at various media agencies including Havas, Mediacom, Mediaedge.  She lives in Hudson, OH with her husband and two sons.
John Nitti, SVP & Chief Media Officer, Verizon
John Nitti joined Verizon in December of 2015 as Chief Media Officer. He is responsible for activation strategy development & holistic integration across media, digital marketing and experiential. His scope spans across both the consumer and business segments, providing oversight across partnerships, experiential, trade shows & sales enablement activities.  In his time at Verizon, John has driven growth in digital marketing across search, mobile & programmatic as well as expanded the sponsorship portfolio beyond NFL & NBA to music access, soccer and e-sports.
With a commitment to continually drive thought leadership within the industry, John currently serves on several committees including the Ad Club, IAB (Video Center Board) and Twitter #Influence Council. Additionally, John is a strong supporter of talent & diversity, co-chairing Verizon's Diversity Council - responsible for driving Verizon's commitment to Diversity and Inclusion across all partner agencies.  In December of 2015, John was awarded by the John A. Reisenbach Foundation for his commitment to public service and his community. In 2013, he co-founded Madison Avenue Rebuilds Staten Island and in collaboration with the Stephen Siller Tunnel to Towers Foundation, raised $270,000 to help bridge the financial gap for people rebuilding their homes and lives in the aftermath of Hurricane Sandy. John actively participates in events that assist United States troops abroad and underserved youth in New York City. He is also a head coach for a Catholic School Recreational soccer team on Staten Island. Prior to joining Verizon, John served as Chief Investment Officer for Publicis Groupe's ZenithOptimedia – Worldwide. While there, he managed the media investments for 20th Century Fox, JP Morgan Chase, Kohls, H&M and Toyota. Prior to his time at Publicis, John was a member of the management team for American Express and led their global media & sponsorship marketing efforts. John has also worked at Dentsu, Time, Inc. and Young & Rubicam.
John holds a Bachelor of Science degree in marketing and finance from Wagner College. He and his wife Noelle and their two sons live on Staten Island in New York.
Lee Nadler, VP, Consumer Insights, Mastercard
Lee Nadler is a brand and business builder, with experience in all aspects of marketing.
Lee has built a career building and transforming businesses as a leader across all disciplines in the marketing industry.  He started his career at a leading WPP promotion agency, then joined creative agency KBS&P and later became Partner, President & CEO of Digital Pulp. In 1996, Nadler became the first head of marketing for digital media technology pioneer DoubleClick, now a division of Google. From 2012-2018, Lee managed marketing, new product launches and transformation for MINI, a division of BMW. Lee relaunched Sherpa Marketing in 2019 to provide growth-oriented businesses: sound strategy, innovative marketing and successful product launches. Lee initially joined MINI in 2012 to manage all US marketing and digital platforms. In 2017, Lee was promoted to grow the MINI business and brand by creating transformational initiatives and connecting to new audiences in key US metro markets.   For ten years, prior to joining MINI, Lee ran a specialized consulting practice that he founded, Sherpa Marketing, Inc., named for the Nepalese guides who have inspired him. He has identified several Sherpa Principles to lead teams in overcoming obstacles and accomplishing strong results.
Lee is Chairman of the Board of the Advertising Club, was inducted into the American Advertising Hall of Achievement and was named by Ad Age as one of the 21 people to watch in the 21st century. Lee lives in the West Village with his wife, daughter and dog.
Sandra Sims-Williams, SVP of Diversity and Inclusion, Nielsen
Sandra Sims-Williams was appointed SVP of Diversity and Inclusion (D&I) in January 2020. She leads Nielsen's D&I strategy and team for both the Media and Connect businesses. After Nielsen completes its transition into two independent, publicly traded companies, she will lead D&I for Nielsen Media. Sandra is a transformational leader with 30 years of experience linking diversity and inclusion strategies with corporate initiatives. Prior to joining Nielsen, she was Publicis Groupe's Chief Diversity Officer and has a deep background in diverse leadership development, retention programming, analytics and effectiveness, supplier diversity, multicultural talent acquisition, and corporate initiatives that drive diversity and inclusion cross-functionally. In 2019, she made the Black Enterprise Top Corporate Executives list, The Inaugural Champion, Adweek & ADCOLOR, and SAVOY Magazine's Most Influential Women in Corporate America list. Sandra is also a member of The Advertising Industry's Diversity Steering Committee and serves on the boards of New York Women in Communication, the Advertising Club of New York and ColorComm. Sandra holds a Bachelor of Arts degree from Rutgers, the State University of New Jersey and a Master of Arts degree from Hunter College in New York.
Mike Sallette, Head of Media, Nestle Waters North America
At Nestlé Waters North America, Mike oversees media planning, investment and measurement across all channels to deliver breakthrough communications for the brand portfolio, which features healthy hydration choices such as Acqua Panna, Perrier, Poland Spring and S. Pellegrino. He and his team also develop and execute media strategies that drive the company's eCommerce sales and bolsters its corporate reputation. He is a member of the Nestlé Media Council, which helps facilitate using best practices throughout the Nestlé portfolio.
Elizabeth Windram, VP of Marketing, JetBlue Airways
Elizabeth Windram is Vice President, Marketing for JetBlue, New York's Hometown Airline® and one of the world's most acclaimed airlines. In her role, Windram leads the airline's brand strategy, including advertising, content and social media, digital marketing, regional marketing, loyalty and product development.Previously, Windram was JetBlue's Director, Brand and Advertising where she was instrumental in many of the airline's recent campaigns including FlyBabies, Check In For Good and Little Tickets. In 2016, she received Adweek's Grand Brand Genius Award. Before joining JetBlue, she spent seven years at E&J Gallo Winery where she led brands including Barefoot Wine & Bubbly and New Amsterdam Gin and Vodka. She started her career in finance as an investment banker in Citigroup Global Markets' leveraged finance group and then at Terra Firma Capital Partners in London. Windram serves on the board of the VH1 Save The Music Foundation. Born and raised in New York City, Windram attended Stuyvesant High School. She holds an MBA from Wharton and has a BA in Economics from Duke University.