Icons, Rock Stars, & Innovators 2019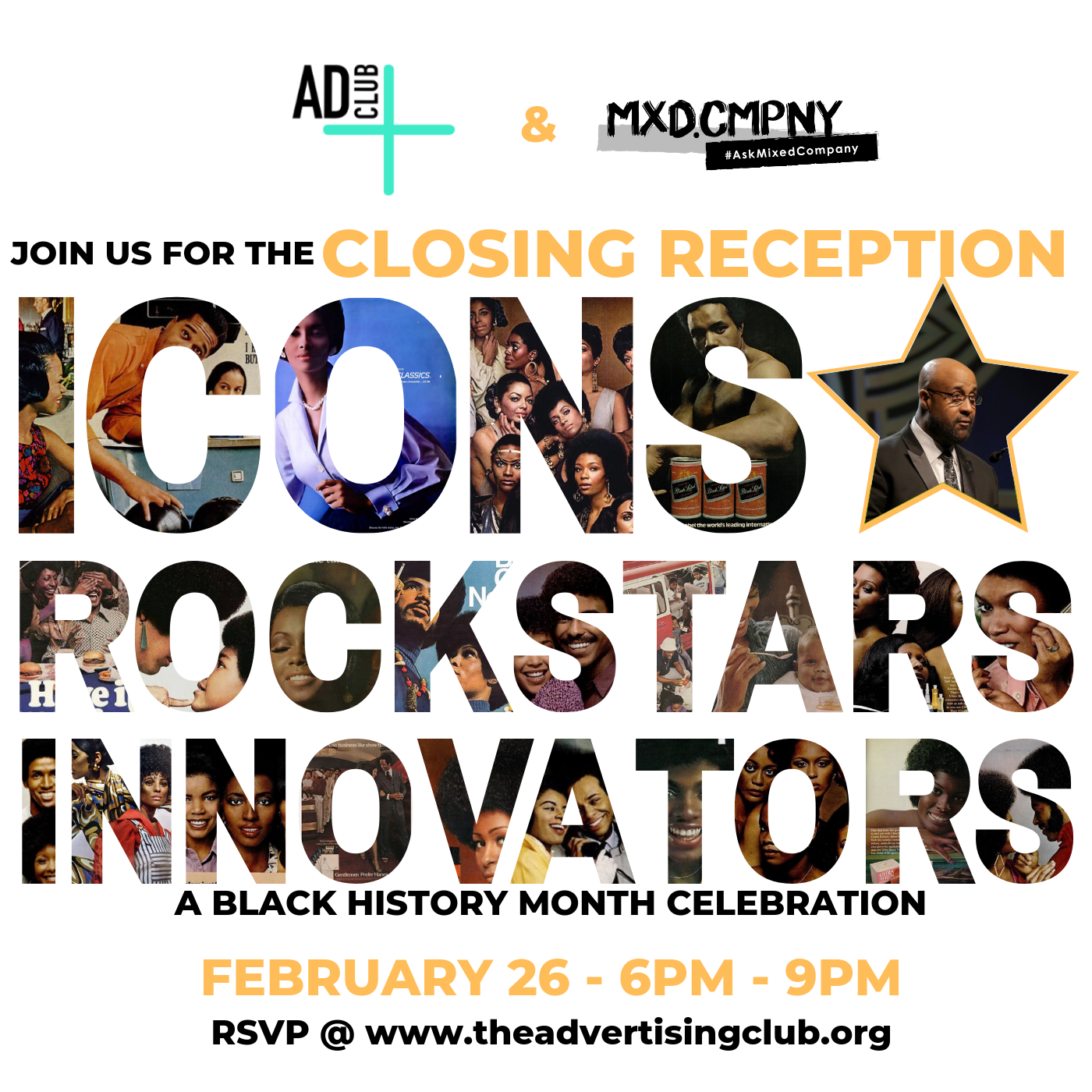 The ADVERTISING Club of New York and the Mixed Company podcast team have partnered to pay homage to the "Icons, Rock Stars, & Innovators" of the Golden Age and today!
Watch the video here or Listen to the conversations on the Mixed Company podcast. Kai Deveraux Lawson, Co-Host & Producer of the Mixed Company podcast, will engage an impressive line-up of today's industry leaders and Rock Stars in colorful conversations about the Golden Age and the change agents whose shoulders we stand upon.
Explore a gallery of the 'Icons' below and learn more about these titans of our industry.
Historical Context - Iconic Shoulders
Before the Golden Age begins, we must acknowledge those who cleared the hurdles, opened the doors, and set the foundation...shoulders we stand upon today!
The 1940s - Mid-1960s was a time in American history when deep contradictions in American society finally became unsustainable to Black people. African Americans who had fought fascism in World War II, came home, only to discover an unchanged landscape of racial violence and separate but not equal conditions.
Technological advancements in mass media's reach - from print to radio and TV - further planted seeds of resistance amongst African Americans.
With the success of black Advertising, Marketing, Promotions, and Media entrepreneurs, entertainers, and sports figures - African-American's hopes and dreams grew, as well as their demands to be seen, heard, and respected.
The 'Iconic Shoulders' Gallery serves to highlight and pay homage to the contributions made by just a few of the many men and women who would help bring forth change.
Valerie Graves is one of our Icons, Rockstars, & Innovators. She was part of the UniWorld team that won the Burger King general market account in 1993. They took the account from a major Madison Avenue agency. In vol. 1 of our series, Marc Strachan spoke to the effectiveness of multicultural agency talent and UniWorld's performance here is proof.
Conversations with Mixed Company Podcast
Click here to watch and listen to the full collection of interviews with some of  Advertising's  Black Icons, Rockstars & Innovators.
The History of Black Advertising
Click here to watch this collection of videos that highlight the history of Blacks in advertising pre-Golden Age.
Classic Black Ads
Click here to watch more TV spots that hero African-Americans during the Golden Age.