ICYMI: 18th Annual Ad Futures Pitch Competition
ICYMI: 18th Annual Ad Futures Pitch Competition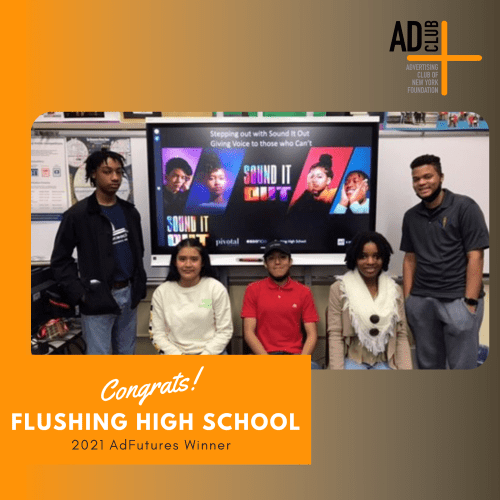 The Advertising Club of New York's Foundation hosted its 18th Annual Ad Futures Pitch Competition on October 18th, 2021. Every year the Foundation partners with NYC high schools and Virtual Enterprise by challenging students to create an ad campaign from a brand brief provided by The AD Council. The partnership was created to expose local high schoolers to authentic business experiences –preparing them with tangible tools for successful futures.
This year, 13 high schools were tasked with creating a campaign about Middle School Mental Health, an imperative topic for adolescents. From there, 13 mentor agencies and brands spent four weeks helping students bring their campaign into fruition. At the end, Flushing High School secured the winning spot in grabbing a Stanley size trophy and bragging rights for a year. Congratulations to our 2021 winners, Flushing High School!
An immense thank you to all the Virtual Enterprise Teachers (Christopher Power, Clarence Tennell, Donna Thomas, Geraldine Fredericks, Elizabeth Pooran,  Isai Serrano, Karen McMahon, Lori Sheinberg, Michael Cotignola, Mirna Damian, Rachel Monaco, Tom O'Neill and Vincent Toba), mentor agencies/brands (Essence, Grey, Kargo, McKinney, Omnicom SMG, Rauxa, Red Fuse Samsung Ads, Snap Inc., VivaWomen of Color Publicis Groupe, VivaWomen Dallas and Yieldmo,) and judges (Aminita Sow, Bernice Veloz, Gaye Jackson, Khalem Charles and Marla Newman) for making this year's competition a success.