Meet The Fellows: Courtney Jackson
Meet The Fellows: Courtney Jackson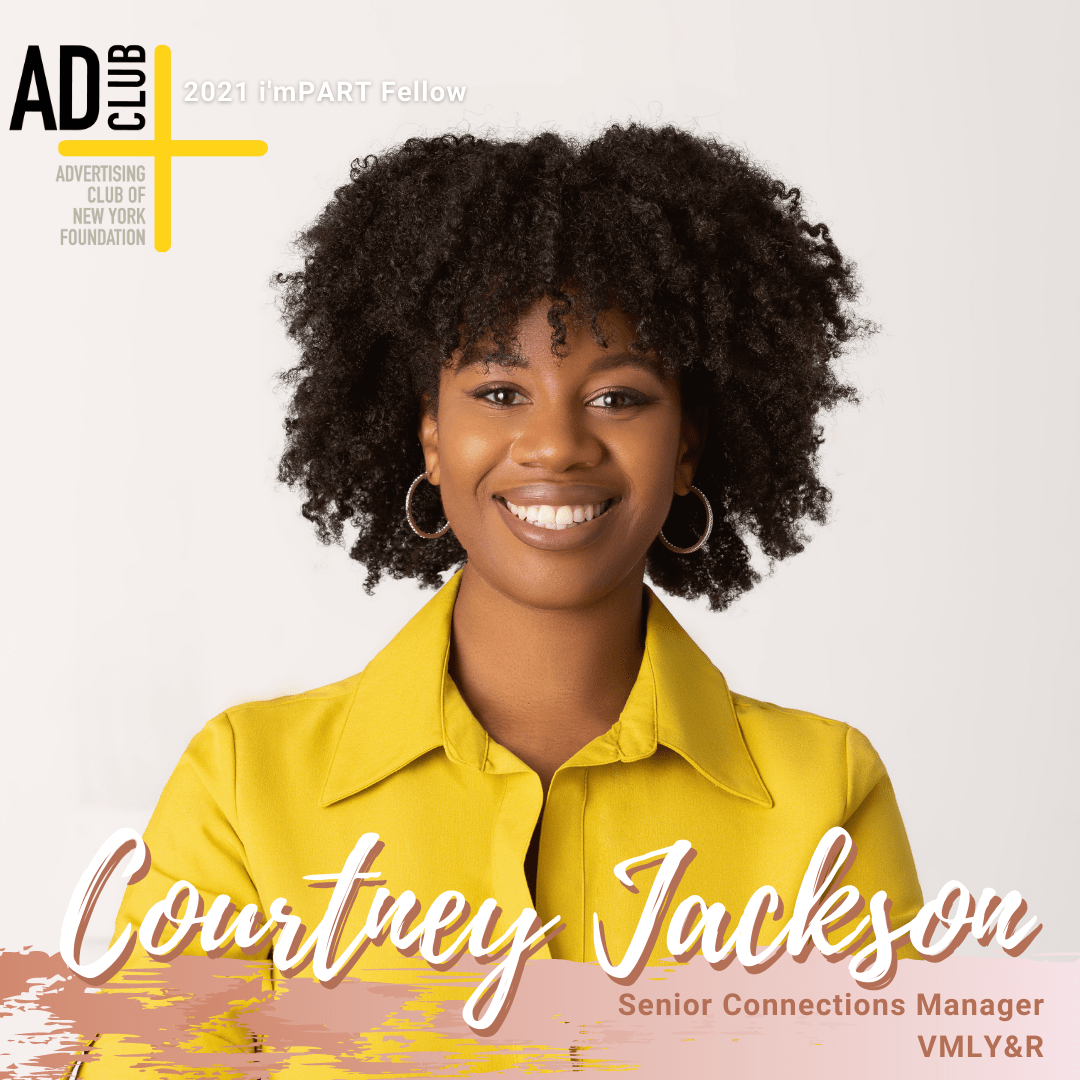 Courtney Jackson is a senior community manager at VMLY&R, managing social engagement and strategy for clients including Betty Crocker, Pillsbury, and Old El Paso. A Long Island native, and Wellesley College alum, Courtney has always aspired to broaden her horizons, seeking out opportunities where she can grow, learn, and lead!
Outside of work, Courtney lends her time to the New York Urban League Young Professionals, serving as their Communications Co-chair, and the Nassau Alumnae chapter of Delta Sigma Theta Sorority, Inc., where she is just coming off a 2-year term as their PR Co-chair. Service leadership has been a common thread in her life since childhood, and she is proud to commit her time and efforts to supporting her community.
Courtney takes pleasure in following food creators on Instagram and TikTok, scouring NYC for new food and entertainment experiences, and playing games of pick-up basketball (a skill she honed from primary school through college). You'll also find her hosting events under the Between Us moniker, as she is currently developing a home-grown events marketing platform.
Courtney remains motivated to grow and learn by networking with her peers and colleagues in social engagement and community management.
Connect with Courtney! Find her on LinkedIn and Instagram.
The i'mPART Women's Fellowship, created in 2016, made a commitment of $100K annually to retain more diverse talent and promote more women into leadership positions. Now in its sixth year, the program has expanded from helping 10 to over 50 women pursue their goals and elevate their executive presence – providing more access, tools, & nurturing necessary for them to grow and thrive in all aspects of our industry.
Each Fellow receives:
All-expense registrations for industry conferences including but not limited to: ADCOLOR, Advertising WEEK NY, ANA, BE Women of Power Summit, 3% Movement Conference, SXSW, Fast Company Innovation Festival, CultureCon
Educational workshops, webinars and master classes
1:1 Executive Coaching
Neuro-assessments to determine strengths
Monthly night school with PwC Executive Training Program
Executive Salon Series fostering mentor connections and high-level networking opportunities
1-year AD Club of NY membership
Access to the industries top leaders
Learn more about the Foundation's dedication to fostering the talent pipeline here!