Meet The Fellows: Dahlia Dandashi
Meet The Fellows: Dahlia Dandashi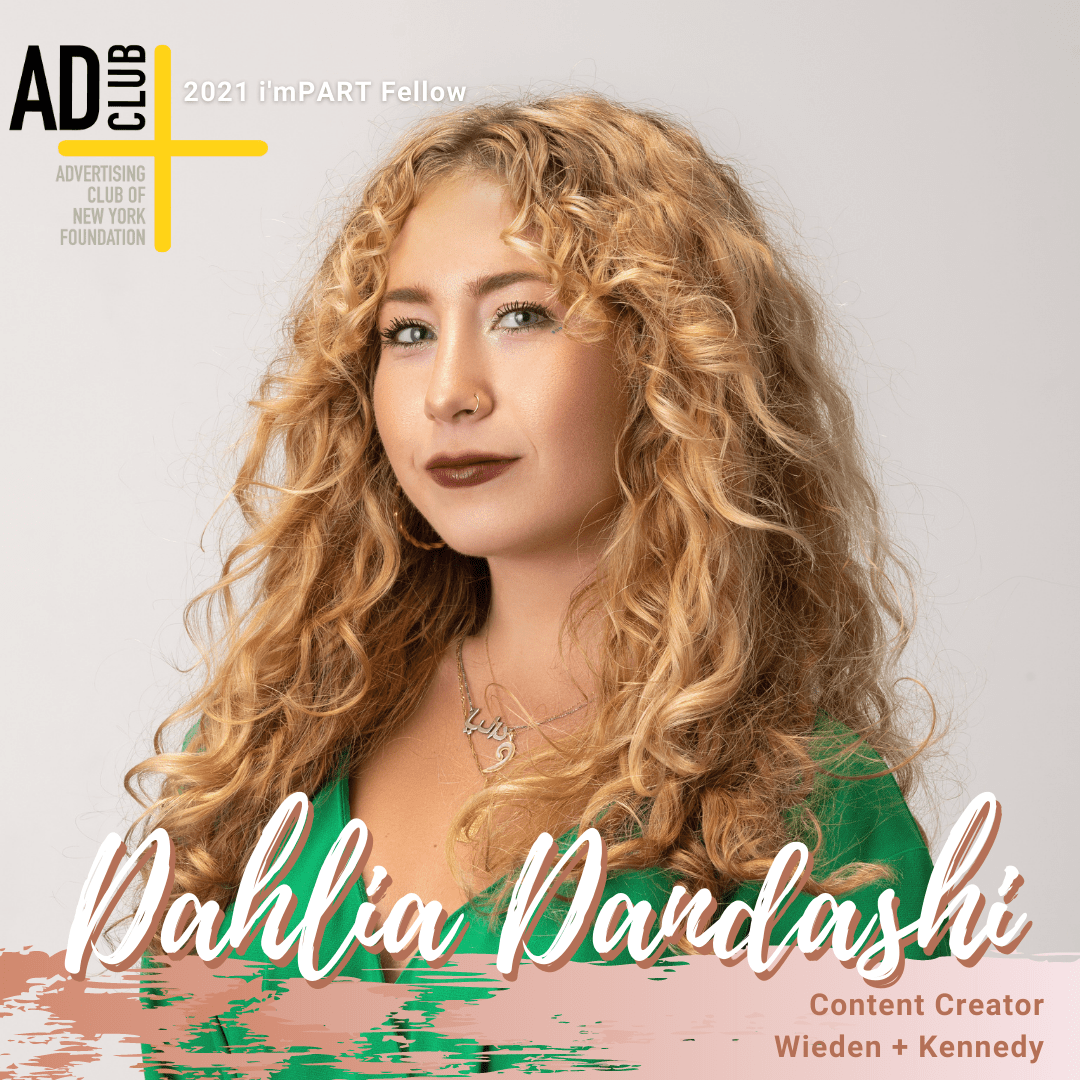 Dahlia Dandashi is an Arab-American storyteller whose renunciation of law school led her to the world of content production. She recently joined Wieden + Kennedy as a Content Creator where she makes cool stuff for cool brands.
After graduating from the University of Texas at Austin with a Bachelor's in Journalism and a minor in Business Foundations, Dahlia worked as a writer at publications like the Daily Dot and the Austin-American Statesman before going freelance. As a freelance photographer and creative producer, she has worked with brands like VICE, Bumble, Vega and Naturally Curly.
Dahlia eventually made her way to the Big Apple for a 3-month Social Media Strategy Bootcamp at Miami Ad School where she was awarded the 'Top Dog' strategist before landing a gig at 360i as a Content Producer. She made social content for brands like OREO, Sour Patch Kids!, TRULY and Chapstick while also assisting in DEI and Culture efforts.
Outside of work and the AD Club of New York's i'mPART Women's Fellowship, Dahlia serves as an Advisor/Creative Consultant for the Epherma Project, a photo project providing opportunities for individuals to share their life through film photography.
Born in Houston and raised in Dubai as the daughter of Lebanese and Syrian immigrants, identity, culture and diversity have always guided her perspective on the world. She hopes to create space and empower other MENA-identifying people to pursue creative projects and careers.
You can find her reading for book clubs, taking photos of friends, writing sad-girl poetry, sweating it out at hot yoga or making a playlist. Ask her about her high school band.
Looking for more Dahlia? Connect with her on LinkedIn and Instagram!
The i'mPART Women's Fellowship, created in 2016, made a commitment of $100K annually to retain more diverse talent and promote more women into leadership positions. Now in its sixth year, the program has expanded from helping 10 to over 50 women pursue their goals and elevate their executive presence – providing more access, tools, & nurturing necessary for them to grow and thrive in all aspects of our industry.
Each Fellow receives:
All-expense registrations for industry conferences including but not limited to: ADCOLOR, Advertising WEEK NY, ANA, BE Women of Power Summit, 3% Movement Conference, SXSW, Fast Company Innovation Festival, CultureCon
Educational workshops, webinars and master classes
1:1 Executive Coaching
Neuro-assessments to determine strengths
Monthly night school with PwC Executive Training Program
Executive Salon Series fostering mentor connections and high-level networking opportunities
1-year AD Club of NY membership
Access to the industries top leaders
Learn more about the Foundation's dedication to fostering the talent pipeline here!