Meet The Fellows: Elisabeth Castera
Meet The Fellows: Elisabeth Castera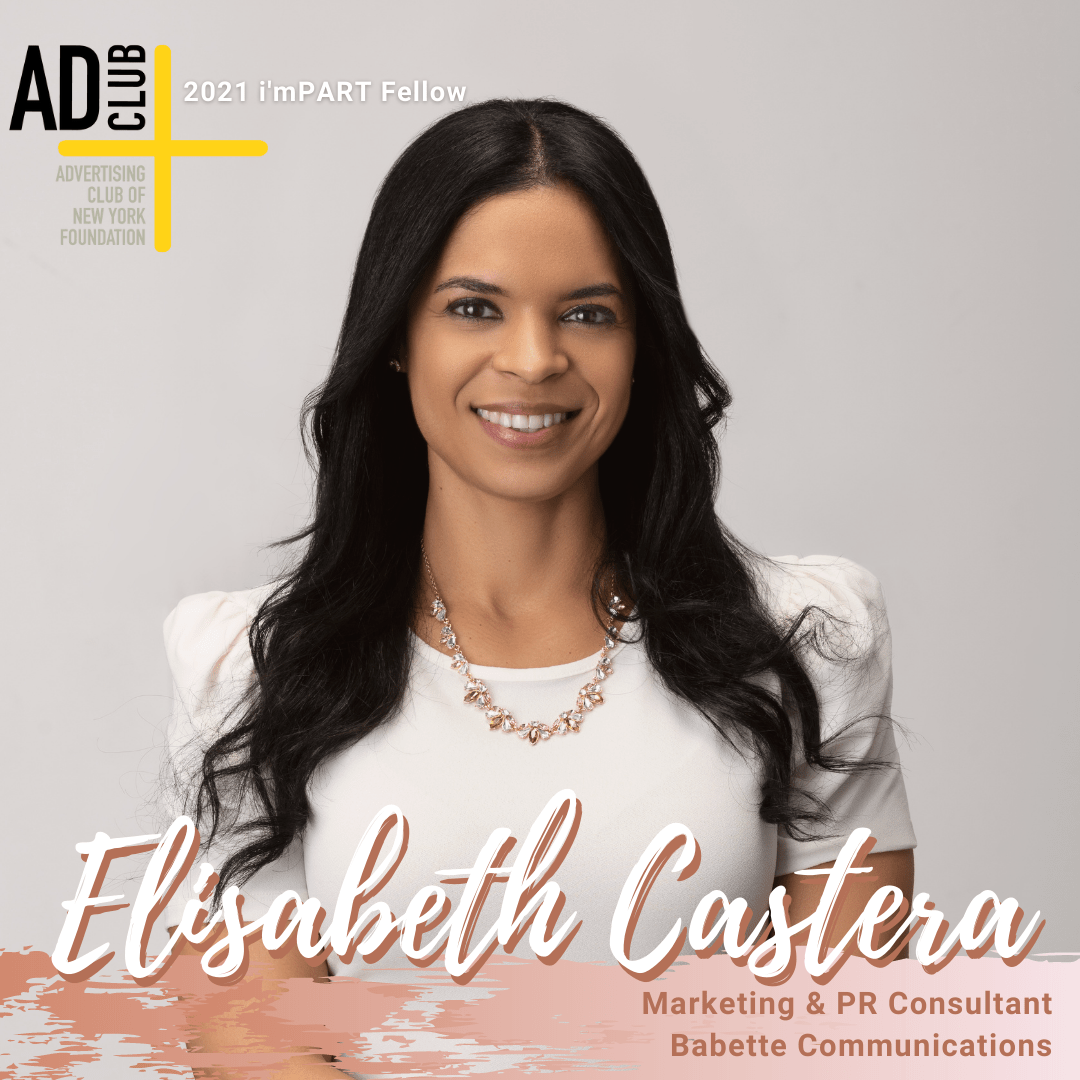 Marketing & Public Relations Consultant – Babette Communications
Elisabeth Castera is a marketing communications and public relations professional and has worked in various industries ranging from tech, fashion, real estate, non-profit, and travel. She holds a Bachelor's Degree in Business Marketing and a Master's Degree in Public Relations. After years of working in the marketing field for companies and brands such as Beechwood Organization, Frosch Travel, Naeem Khan, Yodle, and Web.com, she decided it was time to pursue one of her personal goals — to obtain her master's degree and expand her skillset into the exciting world of public relations.
Throughout the years, Elisabeth has had the chance to observe how marketing has evolved into a field that values relationship-building and authenticity more than ever before. During the development and growth of social platforms, she has recognized how crucial it is to have an open line of communication with your audience. With that mindset, she's centered her work around strategies and tactics that build long-lasting relationships with a foundation of credibility and trust. Through content marketing, storytelling, copywriting, market research, data analysis, and media relations, Elisabeth has helped companies increase their open rates, conversions, followers, and engagement while presenting clients with the ROI that every marketing campaign should produce.
Since graduating with her Master's Degree in Public Relations from Hofstra University in December 2020, Elisabeth has had the opportunity to consult and freelance for a wide range of clients, from entrepreneurs, nonprofits, and small businesses under her own brand Babette Communications. Her entrepreneurial spirit has given her the drive, passion, and dedication to turn her side gig into a business. She created an entire brand around it –  a color palette, messaging, a logo, website, as well as social media pages.
While in graduate school, she also started a PR podcast with three of her fellow classmates. The goal of the podcast is to empower and educate PR professionals with the tips, tools, and trends they need to start or grow in the industry.
Elisabeth is passionate about Diversity, Equity, and Inclusion (DEI) initiatives in the workplace, women empowerment, and animal rights. Under her brand, Babette Communications, her goal is to showcase the power of diversity by hiring and collaborating with diverse talent and to change the narrative of what a woman's position in the workplace should look like.
In her spare time, Elisabeth enjoys reading, listening to podcasts, trying plant-based restaurants in NYC, and blogging about her travel adventures.
Connect with Elisabeth on LinkedIn, Instagram @livingwithliz_ @babettecommunications, and Twitter!
The i'mPART Women's Fellowship, created in 2016, made a commitment of $100K annually to retain more diverse talent and promote more women into leadership positions. Now in its sixth year, the program has expanded from helping 10 to over 50 women pursue their goals and elevate their executive presence – providing more access, tools, & nurturing necessary for them to grow and thrive in all aspects of our industry.
Each Fellow receives:
All-expense registrations for industry conferences including but not limited to: ADCOLOR, Advertising WEEK NY, ANA, BE Women of Power Summit, 3% Movement Conference, SXSW, Fast Company Innovation Festival, CultureCon
Educational workshops, webinars and master classes
1:1 Executive Coaching
Neuro-assessments to determine strengths
Monthly night school with PwC Executive Training Program
Executive Salon Series fostering mentor connections and high-level networking opportunities
1-year AD Club of NY membership
Access to the industries top leaders
Learn more about the Foundation's dedication to fostering the talent pipeline here!