Meet The Fellows: Nhya Ciborowski
Meet The Fellows: Nhya Ciborowski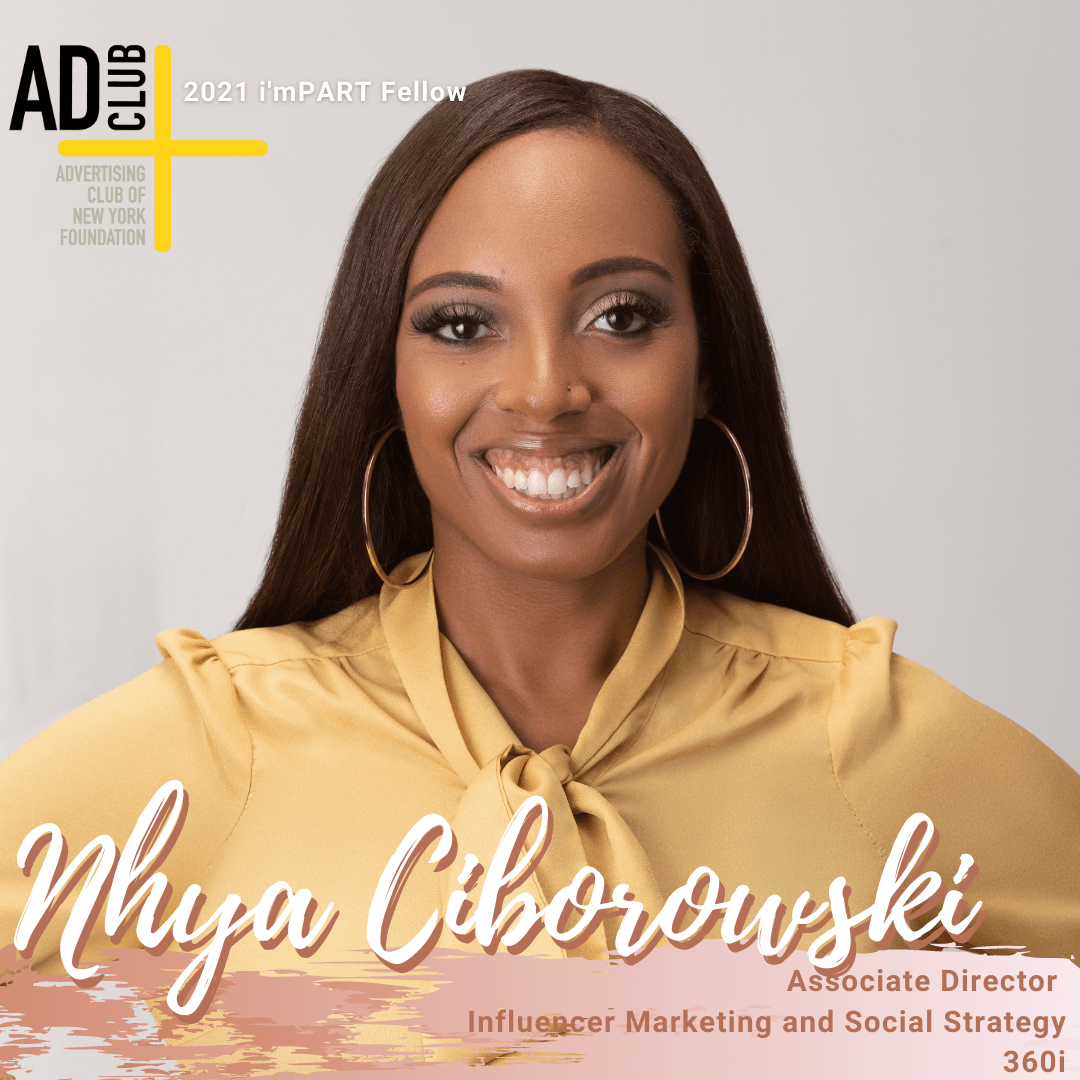 Nhya

 Ciborowski | Associate Director, Influencer Marketing and Social Strategy

 at 

360i, a Dentsu Company

.
Proudly born and raised in New York, Nhya Ciborowski (pronounced Ni-yah) has spent the past 8 years of her career mastering digital storytelling through both influencer and social-first campaigns. Her journey began on an adjacent path, first entering the workforce with lofty dreams of working in journalism a la Sex & the City, but quickly shifting gears when she unearthed her passion for nuanced storytelling, engaging with audiences, and putting out inspirational content. Throughout her career she has taken great pride in leading and executing multi-faceted culture-first social and influencer campaigns grounded in truth, data and authenticity for clients ranging from top tier beauty brands to Emmy-Award winning shows.
At her core, Nhya is a connector. While this is apparent in her work with her connecting brands to their audiences and influencers to the aligned brand, her desire to build quality connections expands far beyond the marketing world. Nhya works to connect with individuals through her involvement as both a mentee and mentor in Dentsu programs aimed to reach back and inspire growing professionals. Nhya also works to ensure that marketers are able to have productive conversations about culture, with internal and external client teams, before work is being produced as part of Dentsu Creative Review Council.
When the laptops close and the meetings end you can likely find Nhya researching her next weekend trip (somewhere with excellent margaritas, most likely), riding her Peloton or scrolling through TikTok for her next socially-influenced purchase.
Looking to connect with Nhya? Follow her on Linkedin and Instagram!
The i'mPART Women's Fellowship, created in 2016, made a commitment of $100K annually to retain more diverse talent and promote more women into leadership positions. Now in its sixth year, the program has expanded from helping 10 to over 50 women pursue their goals and elevate their executive presence – providing more access, tools, & nurturing necessary for them to grow and thrive in all aspects of our industry.
Each Fellow receives:
All-expense registrations for industry conferences including but not limited to: ADCOLOR, Advertising WEEK NY, ANA, BE Women of Power Summit, 3% Movement Conference, SXSW, Fast Company Innovation Festival, CultureCon
Educational workshops, webinars and master classes
1:1 Executive Coaching
Neuro-assessments to determine strengths
Monthly night school with PwC Executive Training Program
Executive Salon Series fostering mentor connections and high-level networking opportunities
1-year AD Club of NY membership
Access to the industries top leaders
Learn more about the Foundation's dedication to fostering the talent pipeline here!