Meet The Fellows: Nicole Simpson
Meet The Fellows: Nicole Simpson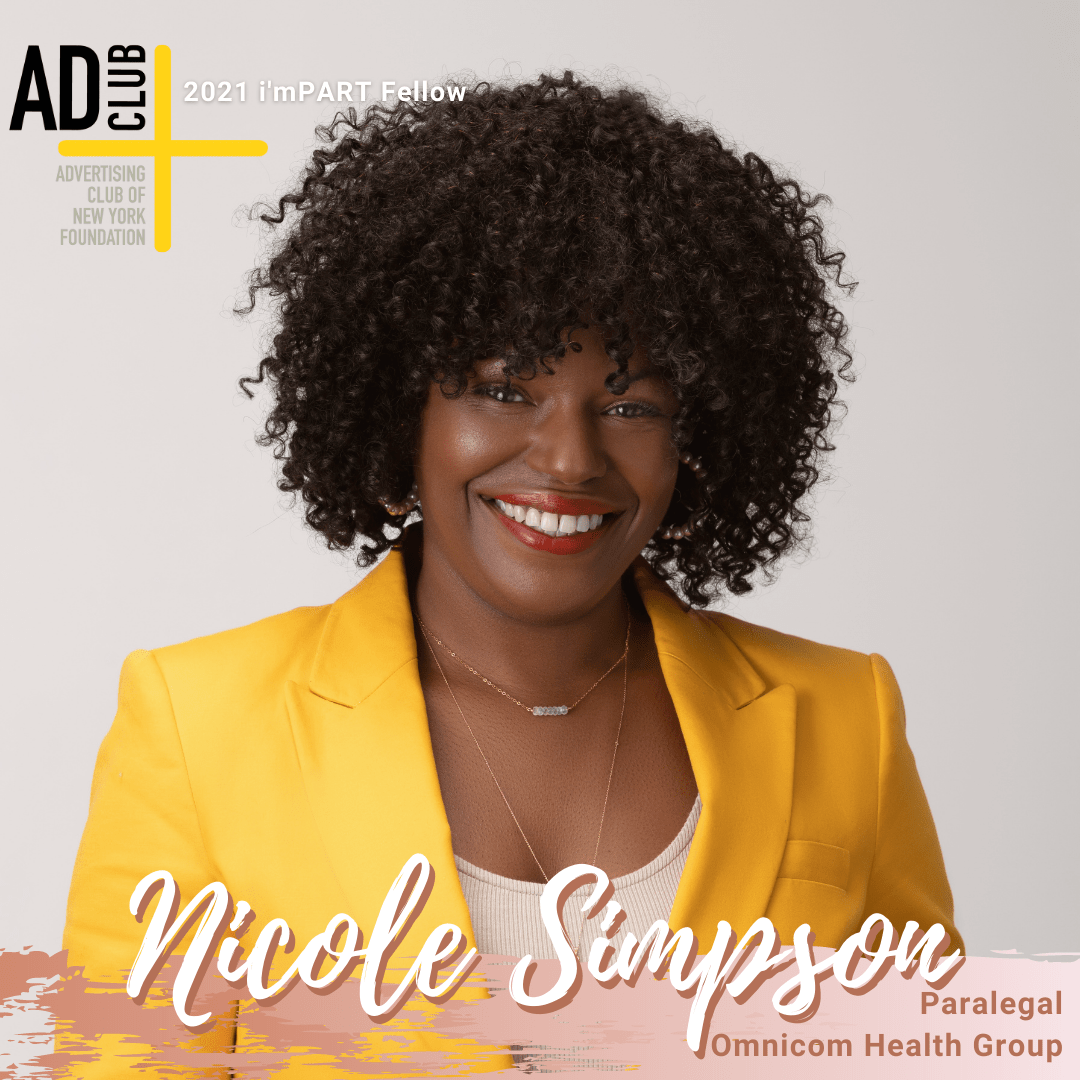 Nicole is a paralegal with fourteen years of experience in a variety of legal disciplines. When she first began her career as a paralegal, she relished in the comfort of legalese but quickly grew to love the collaborative nature of the profession. It's Nicole's natural gift to build communities and she does just that at Omnicom Health Group as a trusty paralegal and "master connector." She is the founder of the Black Collective, the first Black talent resource group at Omnicom Health Group, the largest healthcare advertising network in the world. She is a skilled communicator and values-led professional with a passion for partnering with others in pursuit of organizational & individual excellence. In her role as founder of The Black Collective, Nicole has moderated a myriad of brave conversations for her network in an effort to bring understanding around a variety of highly sensitive and charged topics. She served as a moderator for the first marketing and advertising focus group aimed at assessing the mental wellness of BIPOC talent throughout the industry in collaboration with "We All Rise Together".
Nicole is incredibly persistent in the pursuit of helping others find their impact in the world and guide them with enough energy and focus that they realize their professional goals and fullest potential. She feeds her passion for mentorship through her work with the Rutgers Alumni Connection program and in her role as Mentorship Program Lead, for AcentO, the first global Omnicom LatinX & USH employee resource group. Nicole is also an Executive Sponsor for Black Together, the first Omnicom global Black employee resource group. Nicole also sits on the board for Racism Has No Home Here, a not-for-profit organization that serves to be the connective tissue for people looking to bring about systemic change for all marginalized groups—creating a sense of community and support for people regardless of race, age, gender, religion, ethnicity, sexual orientation or ability.
When Nicole is not trying to change the world, she is being a fierce mama to 3 beautiful kids and designing beautiful events and home design plans through her event design company, Designs by Nic.
Connect with Nicole! Find her on LinkedIn and Instagram.
The i'mPART Women's Fellowship, created in 2016, made a commitment of $100K annually to retain more diverse talent and promote more women into leadership positions. Now in its sixth year, the program has expanded from helping 10 to over 50 women pursue their goals and elevate their executive presence – providing more access, tools, & nurturing necessary for them to grow and thrive in all aspects of our industry.
Each Fellow receives:
All-expense registrations for industry conferences including but not limited to: ADCOLOR, Advertising WEEK NY, ANA, BE Women of Power Summit, 3% Movement Conference, SXSW, Fast Company Innovation Festival, CultureCon
Educational workshops, webinars and master classes
1:1 Executive Coaching
Neuro-assessments to determine strengths
Monthly night school with PwC Executive Training Program
Executive Salon Series fostering mentor connections and high-level networking opportunities
1-year AD Club of NY membership
Access to the industries top leaders
Learn more about the Foundation's dedication to fostering the talent pipeline here!