Meet The Fellows: Qyana Agina
Meet The Fellows: Qyana Agina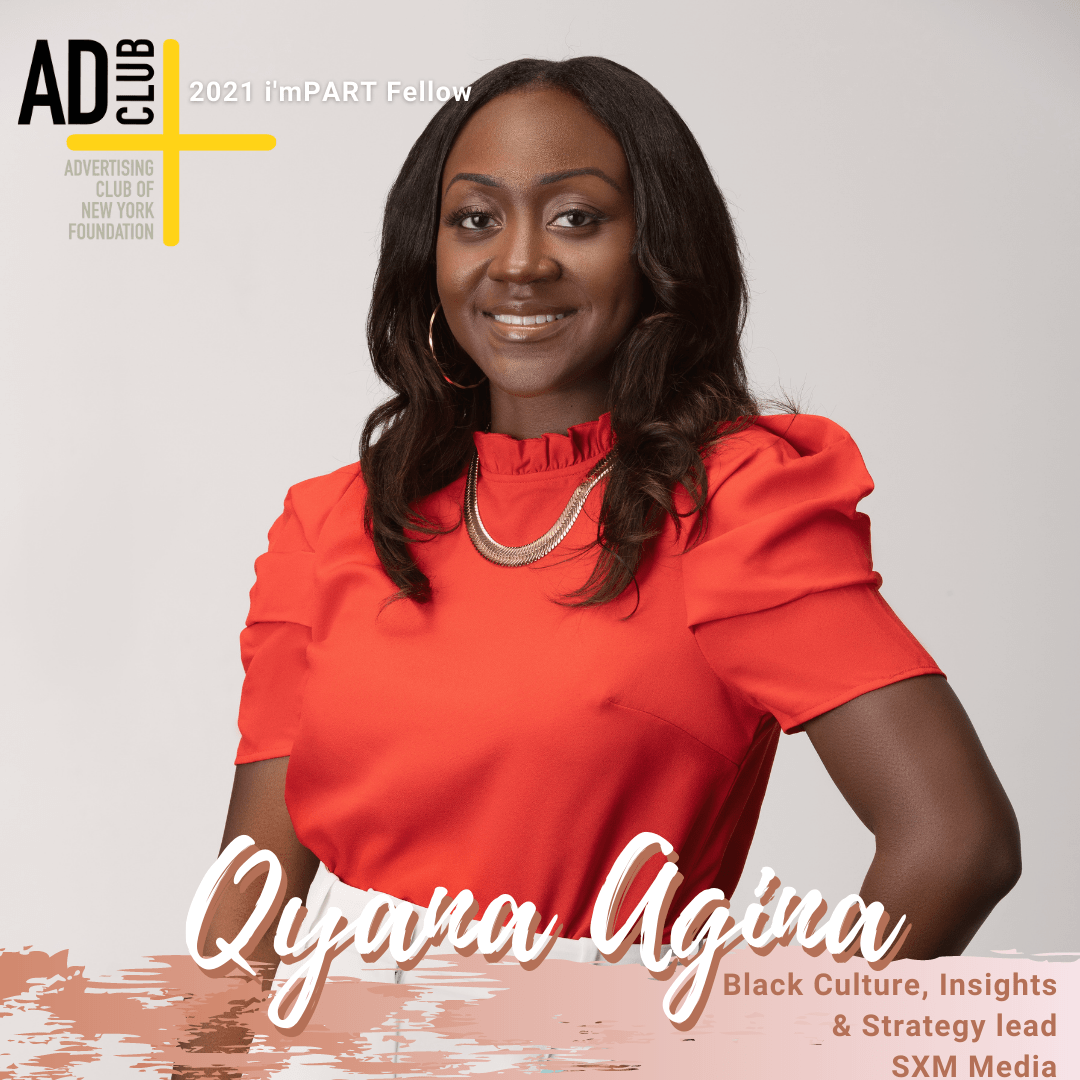 Qyana Agina is a creative at heart — a lover of the strategic side of business and passionate about the artistic side of music. As the Black Culture, Insights, & Strategy Lead on the Multicultural Sales team at SXM Media, she uses her love for music and advertising to cultivate campaigns that are both authentic and effective in helping Fortune 500 brands reach African American listeners.  In her previous role at Pandora as a Branded Entertainment Manager, she developed creative sponsorship activations to align advertisers with Pandora's live music events featuring artists such as Cardi B, Jonas Brothers, City Girls, Ty Dolla $ign, and Halsey.
In addition to her day-to-day role, Qyana serves as the chair of the New York chapter of SXM's ERG for employees of color called Mixtape. As chair, she spearheads internal and external initiatives to empower employees of color, entertain employees with events that are rooted in a variety of cultural components,  and educate the SXM/Pandora community on the importance of diversity. She is also a member of the Black Leadership Advisory Council (BLAC) which supports SXM's effort to implement diversity, inclusion and equity goals, as they relate to the Black community.
An alum of Howard University and New York University, Qyana hails from Houston and currently resides in New York. In her spare time she loves singing and spending time with her son.
The i'mPART Women's Fellowship, created in 2016, made a commitment of $100K annually to retain more diverse talent and promote more women into leadership positions. Now in its sixth year, the program has expanded from helping 10 to over 50 women pursue their goals and elevate their executive presence – providing more access, tools, & nurturing necessary for them to grow and thrive in all aspects of our industry.
Each Fellow receives:
All-expense registrations for industry conferences including but not limited to: ADCOLOR, Advertising WEEK NY, ANA, BE Women of Power Summit, 3% Movement Conference, SXSW, Fast Company Innovation Festival, CultureCon
Educational workshops, webinars and master classes
1:1 Executive Coaching
Neuro-assessments to determine strengths
Monthly night school with PwC Executive Training Program
Executive Salon Series fostering mentor connections and high-level networking opportunities
1-year AD Club of NY membership
Access to the industries top leaders
Learn more about the Foundation's dedication to fostering the talent pipeline here!