Meet The Fellows: Sasheika Tomlinson
Meet The Fellows: Sasheika Tomlinson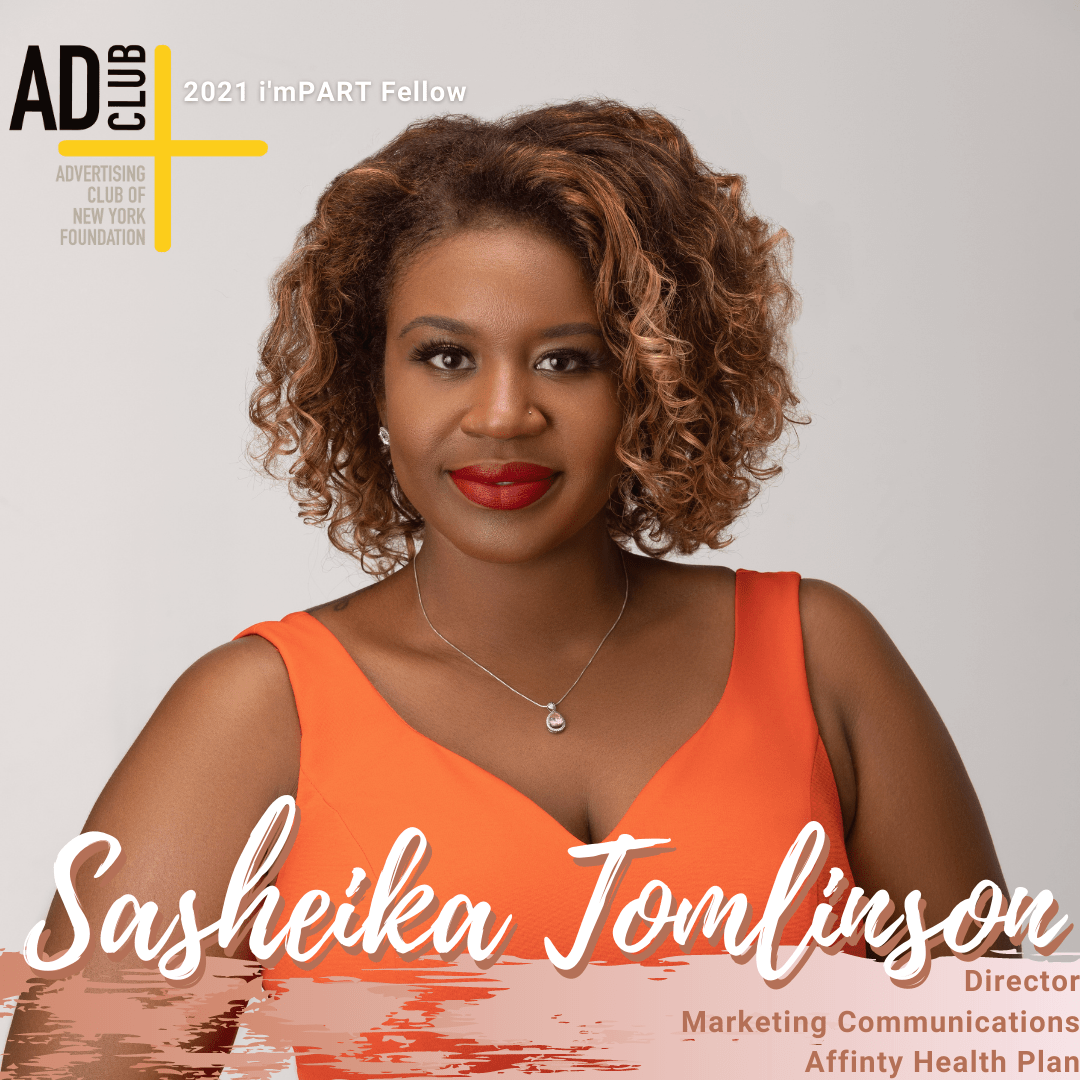 Sasheika Tomlinson is a versatile marketing communications professional with over 13 years of experience in branding, corporate communications, media relations, and social media across the healthcare, social services, higher education and non-profit sectors. Throughout her career, Sasheika has demonstrated proven leadership in executing branding/rebranding initiatives, product and campaign launches and delivering marketing strategies to advance organizational goals and exceed key performance indicators.
Sasheika joined Affinity Health Plan in 2016 as the Manager of Marketing Communications and in 2019 she was promoted to Director of Marketing Communications (MarComm).  As the Director of MarComm at Affinity Health Plan, a Bronx based health plan serving members in New York City, and Nassau, Orange, Rockland, Suffolk and Westchester counties, she oversees content strategy, corporate communications, social media strategy, public relations and the creative services team. In 2019, Sasheika project led the launch of the national award winning You First multi-channel brand campaign across NYC and the Greater NY area and the internal organization-wide launch. In 2020, she launched the Level Up employee recruitment campaign and a series of social media COVID-19 Tips. All three campaigns placed in the 37th and 38th Annual Healthcare Advertising Awards, the nation's premier healthcare marketing and advertising competition.
Prior to joining Affinity Health Plan, Sasheika was the Director of Marketing & College Relations at Lake-Sumter State College where she led the marketing strategy for the in-house marketing team.  During her tenure she launched award winning multi-channel marketing campaigns for the Engineering Technology, Health Information Systems, Nursing and Health Sciences Collegiate Academy programs.
Sasheika Tomlinson received her MBA from Nova Southeastern University and her Bachelor's Degree in Business Management at Palm Beach Atlantic University.
Follow Sasheika on LinkedIn and Instagram!
The i'mPART Women's Fellowship, created in 2016, made a commitment of $100K annually to retain more diverse talent and promote more women into leadership positions. Now in its sixth year, the program has expanded from helping 10 to over 50 women pursue their goals and elevate their executive presence – providing more access, tools, & nurturing necessary for them to grow and thrive in all aspects of our industry.
Each Fellow receives:
All-expense registrations for industry conferences including but not limited to: ADCOLOR, Advertising WEEK NY, ANA, BE Women of Power Summit, 3% Movement Conference, SXSW, Fast Company Innovation Festival, CultureCon
Educational workshops, webinars and master classes
1:1 Executive Coaching
Neuro-assessments to determine strengths
Monthly night school with PwC Executive Training Program
Executive Salon Series fostering mentor connections and high-level networking opportunities
1-year AD Club of NY membership
Access to the industries top leaders
Learn more about the Foundation's dedication to fostering the talent pipeline here!