Meet The Fellows: Susan Akinyi
Meet The Fellows: Susan Akinyi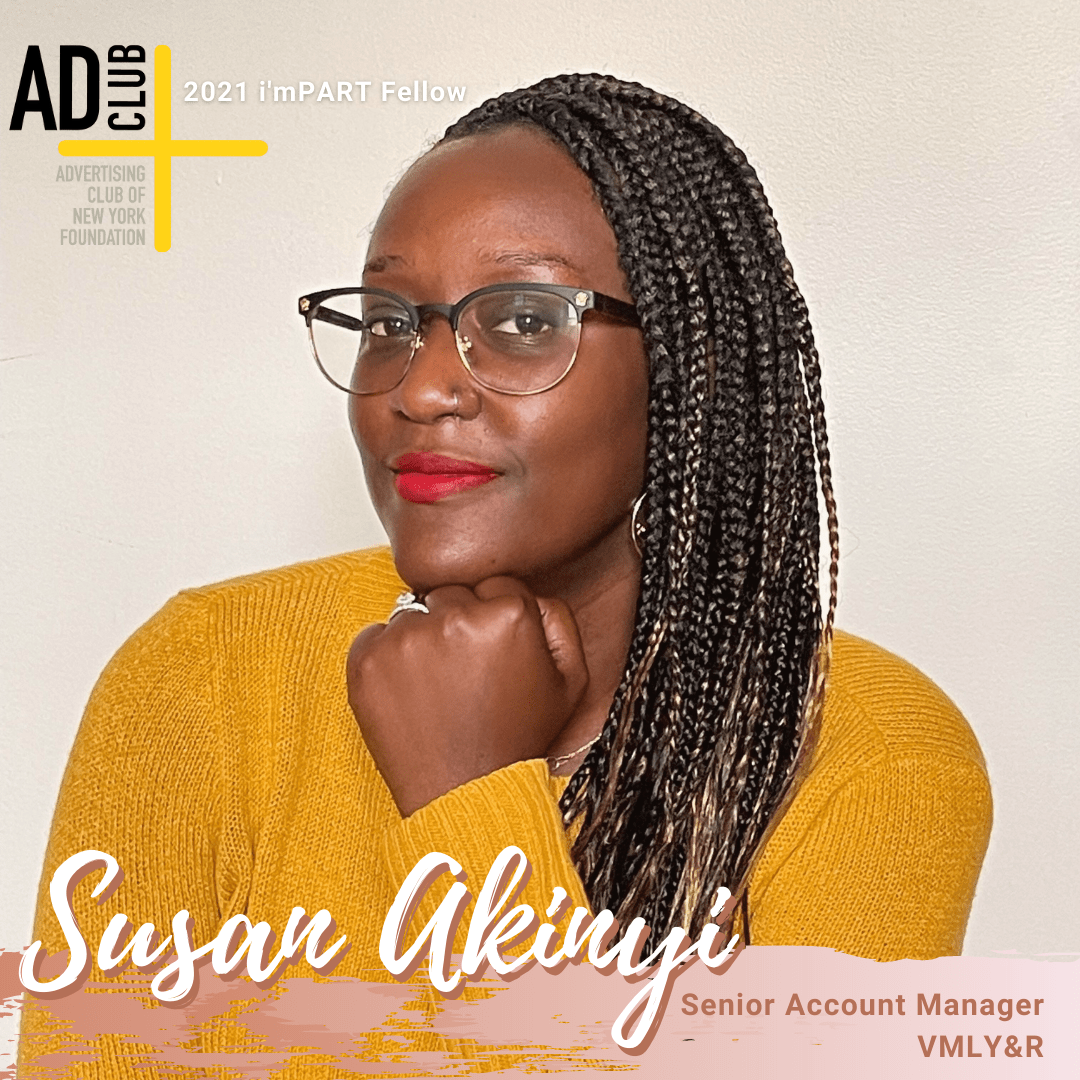 A proud Kenyan woman who has made Bronx NY home, 
Susan
 Akinyi is an avid reader that is always getting lost and finding herself in books (primarily African writers, Yaa Gyasi is a current favorite). 
Susan
 is a senior account manager at VMLY&R, a global full-service creative agency. 
Susan
 has been part of the VMLY&R family from college (first as an intern at Y&R) and transitioned to a full-time position following graduation. As part of the agency, 
Susan
 has worked across different industries food & beverage, tech, and finally in healthcare previously on DTC but currently on HCP.
Her professional presence has allowed her leadership qualities to thrive which has allowed her opportunities to participate and co-lead the Ujima internal Black Employee resource group as well as participate in the Sayge Cohort that was sponsored by WPP for one on one leadership coaching.
Susan
 is a graduate of the City College of New Year with an Advertising and Public Relations degree and a minor degree in Journalism in 2016. With all the opportunities 
Susan
 has been afforded her goal is to constantly look back and help the people behind her through mentorship and networking with new people joining the advertising world who may need advice and support.
The i'mPART Women's Fellowship, created in 2016, made a commitment of $100K annually to retain more diverse talent and promote more women into leadership positions. Now in its sixth year, the program has expanded from helping 10 to over 50 women pursue their goals and elevate their executive presence – providing more access, tools, & nurturing necessary for them to grow and thrive in all aspects of our industry.
Each Fellow receives:
All-expense registrations for industry conferences including but not limited to: ADCOLOR, Advertising WEEK NY, ANA, BE Women of Power Summit, 3% Movement Conference, SXSW, Fast Company Innovation Festival, CultureCon
Educational workshops, webinars and master classes
1:1 Executive Coaching
Neuro-assessments to determine strengths
Monthly night school with PwC Executive Training Program
Executive Salon Series fostering mentor connections and high-level networking opportunities
1-year AD Club of NY membership
Access to the industries top leaders
Learn more about the Foundation's dedication to fostering the talent pipeline here!