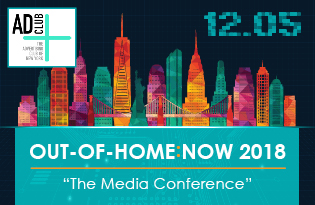 Out-of-Home: Now 2018
Date: December 5th, 2018
Location: Pier 60, Chelsea Piers, New York, NY 10011
Time: 8:15-12:30pm
The 11th Anniversary annual Out-of-Home Conference brought together industry stakeholders to address the many opportunities and challenges on the horizon for media buyers, planners, and sellers. OOH veterans came together to weigh in on OOH's new data-driven world and how we together as an industry can harness the efficiencies of programmatic while maintaining the one-to-many value proposition and creativity that OOH offers. 
On behalf of The AD Club and our Committee, we again thank our sponsors for all their support. Don't forget to keep the conversation going by joining the AD Club and getting involved in making our industry the best it can be. Have a great day and Happy Holidays!
Thanks to all of our supporting sponsors! See list below.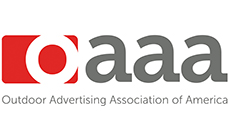 OAAA is the lead trade association representing the OOH advertising industry. Founded in 1891, OAAA is a passionate advocate and a progressive thought leader that protects, unites, and advances the interests of the OOH advertising industry. With nearly 900 member companies, OAAA represents more than 90 percent of industry revenues.