SXM Media – 2023 Podcast Trends Report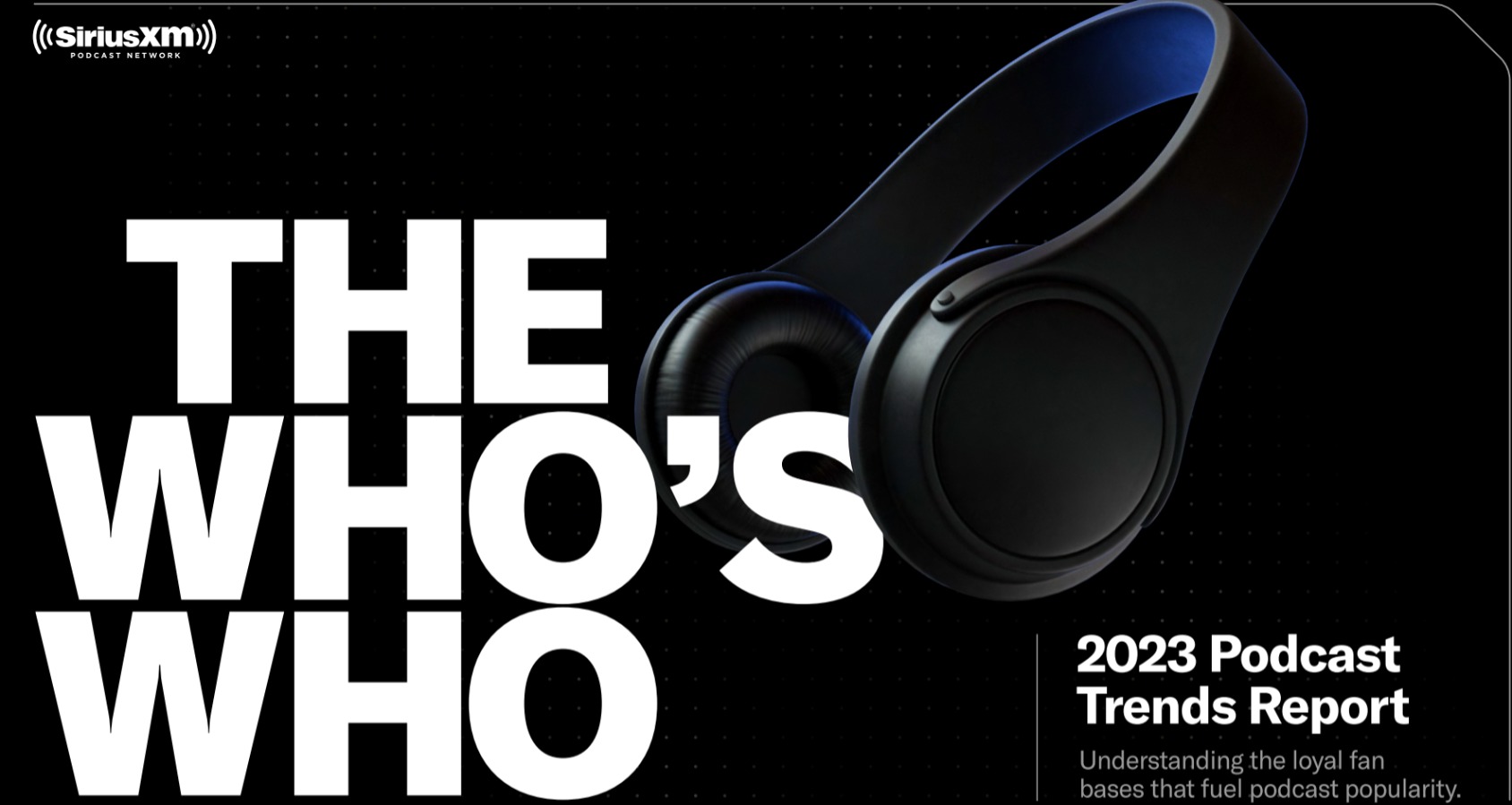 You know it. We've said it. But you want more than big, broad statements. You want the insights that really matter: Which audiences are listening? What are they listening to? How can you find them?
Welcome to the Who's Who of Podcast Listening. We're going deep into the audiences powering the
biggest genres to understand who they are, why they listen, and what will resonate with them. Explore distinct podcast listening personas and find out exactly who you need to go after, and what they're listening to.
Get ready to know podcasts better. 
In this report you will: 
Dig beyond the surface level of podcast stats and behavioral trends for five key podcast genres
Discover up-and-coming shows so you can get in on the ground floor of podcast advertising, executing effective programs that drive real impact
Explore the anatomy of a listener through three individual personas per genre, learning about the listeners behind comedy,
news, true crime, health & wellness, and lifestyle & entertainment podcasts
Leave with actionable ways to leverage your audience within specific genres or across the entire SiriusXM Podcast Network
Our Methodology
Our aim is to deliver you the freshest, hot-off-the-press trends, statistics, and insights—it's one of the things we do best. We've pulled data from a combination of our own first-party proprietary data from Simplecast and Podsurvey, and got a little help from some third-party friends.
Podcasting as a Whole
From the number of listeners to the amount they consume to how often they're listening, everything is trending up when it comes to podcasts. It's the go-anywhere, can't-get-enough, just-one-more medium that is captivating fans.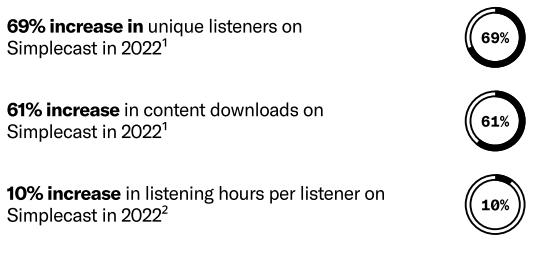 When it comes to audiences,
the industry is trending younger, more diverse, and more obsessed
than ever before. Here's a look at where the podcast industry is at large, compared to the SiriusXM Podcast Network.
COMEDY
No surprise here: People love to laugh. Year after year, comedy continues to claim its place as the number one podcast genre, boasting one of the most engaged fanbases.
But the comedy of today has changed and is continually evolving along with its audience tastes. Crude, slapstick jokes have been replaced with what we like to call comforting comedy. The result? A wildly loyal community and sense of camaraderie among listeners who gush over their favorite funny people to friends and strangers alike via social media, Reddit forums, and more.
Listener Profiles:
The Humorist - These listeners know comedy. They've been following their favorite players for years, from albums to specials—and now to podcasts. These highly active millennials find time for laughter even while balancing a busy schedule (and their responsibilities as pet parents).
The Entertainer - This is where comedy and entertainment collide. Looking to be in the know, these listeners seek out podcasts that provide insight into their favorite film and television series and stars. Primarily highly educated, married men and women, they're pop culture enthusiasts who love to travel and never miss an episode of their favorite TV show.
The Class Clown - These listeners get it: The human experience is inherently funny. The Class Clown is the big personality; the one who doesn't take themselves too seriously. However, what they do take seriously is their podcast listening—rarely missing an episode. Expendable income goes to music and products they've heard on podcast ads.
A huge percentage—94%—of comedy listeners take action after hearing a podcast ad. Yes, that's very close to everybody who listens.
If that doesn't sum up the opportunity for advertisers, let's try this: Most listeners describe the brands advertised with positive attributes like fun, likable, relevant, and relatable. That means working within the comedy genre gives your brand personality and
dimension in a way that attracts consumers even more.
When it comes to your campaign, we know that nearly one in two comedy listeners cite their favorite podcast networks as one of the primary ways of discovering new content. By using inventory source targeting, brand messages can be reinforced across multiple publishers like Earwolf, Team Coco, and YMH Studios.
NEWS
Breaking: Traditional news consumption is on the decline. As we continue to navigate a deep political divide and economic uncertainty, Americans have grown tired of the barrage of doomsday headlines and one-sided reporting. As a result, audiences are
protecting their peace, turning off their TVs, and turning to podcasts to stay in the know.
Podcasts have completely transformed news coverage. The genre is now younger and more diverse, with voices of all kinds exploring topics and stories from every angle. Conversations are also going deeper. Hosts and listeners talk through how headlines impact them and their communities and what they can do to make a difference.
Listener Profiles: 
The Activist - Looking for shows that take a microscope to important issues, they are champions for political and social change. These driven individuals want to contribute and create change in their communities. They're working millennial women—smart, on-the go people who travel often for work, are devoted pet parents, and are ready to take action.
The Informant - Following current events and politics closely, these listeners have a sense of what's happening in the world. The Informant skews slightly older, is more established, and tends to be married with a high paying job. They're likely to be sports fans, savvy with spending, and are keyed into investment products that will ensure a financially secure future.
The Culturist - News and culture are not mutually exclusive for this group. Podcasts with a relatable style and comedic tone satisfy their craving for community and connection as they absorb information. Skewing Gen Z and younger millennial, The Culturist values education and making strong personal connections with the people in their lives.
The biggest thing to take note re: news listeners? They are completely leaned-in and ready to take action. Case-in-point: Through its Vote Save America program, Crooked Media helped raise millions of dollars for candidates in 2022 and moved 3,850
listeners to step up and serve as poll workers.
On top of that, 25% of the news audience makes business decisions and 94% have taken action after hearing a podcast ad. So even for non-political industries, this is access to a very influential and educated audience—one that's generally turning away from TV and listening to podcast hosts' calls to action.
TRUE CRIME
Since the dawn of podcasting, people have struggled to solve the mystery of the true crime listener, wondering, "How can such a morbid subject matter capture the attention of this audience so intensely?"
Our take: It's not about the gory details. These listeners are a deeply empathetic group who are in search of justice for the victims. Looking for a mental escape, these women trade in the mundanity of everyday life for a detective hat—and are thoroughly invested in understanding the psychology of a criminal and cracking unsolved cases.
Listener Profiles:
The Armchair Detective - Deeply empathetic, they seek out shows that offer details into investigations such as court documents
and witness testimony in hopes of catching a key detail. They're working, millennial moms who make most of the household purchasing decisions. They're constantly on-the-go, often traveling for work or leisure.
The Mindhunter - Curious and eager to learn, they are fascinated by dark history and seek to understand the psychology of the criminal. As the most educated audience in the true crime segment, these listeners skew Gen X, are high-earners, and are more likely to be empty nesters, with a heavy disposable income and a taste for luxury goods and services.
The Escapist - Cognizant of the world's harsh realities, this group seeks to be entertained with humor to distance themselves from the crimes in question. This is the youngest true crime audience. They're more likely to be highly active thrill-seekers who attend live events regularly, travel often, and value their independence. They're notably socially conscious and interested in eco-friendly purchasing options.
The only thing to fear when it comes to the true crime listener is missing out. These shows have a massive cultural impact. We're
talking merch, live tours, and TV show spinoffs. Not to mention, they account for more hit shows than any other genre.
When it comes to brand safety concerns, our podcast listeners reassured us that there's nothing for advertisers to worry about. In a recent survey, they described advertisers in the true crime category with positive attributes, such as interesting, relevant, likable, and edgy. They also take action after hearing ads; they're doing research, visiting websites, talking to friends, using promo codes,
and making purchases.
HEALTH & WELLNESS
The phrase "self-care" has graduated from nice-to-haves like massages and manicures to something far more powerful. Today, the idea of self-care encompasses everything from physical to mental health.
Podcasts have played a huge part in normalizing conversations around health and wellness, as well as democratizing valuable, necessary tools. From coping with grief, to training for a marathon, to achieving career ambitions, there is a show and an episode to help listeners tackle goals of all kinds. Podcasts are bringing like listeners together and building positive communities in a way we haven't seen before.
Listener Profiles:
The Spiritualy Enlightened - On the path to a higher sense of self, this devoted audience eschews quick fixes and generic advice.
They're seeking meaningful, philosophical insights from credible spiritual and thought leaders. This audience is ideal for advertisers hoping to reach highly educated, accomplished millennial women who seek clean products and healthy lifestyles.
The Advice-Seeker - With a focus on self-optimization, Advice-Seekers turn to podcasts for unbiased guidance on love, relationships, parenthood, work/life balance, and more. These young women prioritize enriching experiences like live events, weekend getaways, and a little escapism with their favorite tv shows.
The Self-Actualized - Interested in the physiology and psychology of why we feel the way we do, this group looks for tangible
evidence and actionable advice to implement into their daily routines. They're busy folks, but they still make the time to exercise, find healthy food options, prioritize their careers, and educate themselves.
Health and wellness listeners are looking to improve all aspects of their lives. The content is not only how they start and end their day, but 71% say they listen to podcasts in a hands-free manner, like when they're cooking, working, and exercising. In these leaned-in moments, brands have an opportunity to reach listeners with relevant self-improvement messages.
Trust is paramount for this audience segment. They look for leaders they can lean on for lifechanging advice. As a brand, that type of respect and host-fan relationship is a very powerful tool to tap into and be a part of.
LIFESTYLE & ENTERTAINMENT
Secrets, behind the scenes info, good ol' fashioned gossip. You can't deny that we are all drawn to the latest chat and want to be up-to-date on all things culture. And thanks to podcasts, we now have another format for access to hot topics—often in much deeper context and from the celebrities, athletes, and influencers themselves.
There's a million reasons why listeners can't get enough of this content, but here's a few. These podcasts emulate best friend/water cooler/group text vibes, offering fans fun conversation about any and every cultural topic. Pop culture never stops, which means content is always flowing and listeners tune-in frequently to keep up.
Listener Profiles:
The Re-Watcher - Re-Watchers are TV and film buffs. They want the expert perspective, whether it's from top critics, acclaimed directors, or the actors themselves. The wealthiest of the bunch, these homebodies are down to curl up with their spouses and revisit a movie or show multiple times in order to glean new insights and pick up on anything they might have missed the first time around.
The Stagehand - These listeners want to dim the stage lights, cut the camera, and get to know their favorite celebrities and influencers on a deeper level. What are their fears? What do they like to do in their free time? Stagehands know that when it comes to their favorite media personalities, there is more to explore than what meets the eye. And that curiosity is part of what makes this young, female-skewing segment the tastemakers they are.
The Hobbyist - From music to esports, this diverse group of millennial men, who over-index for being parents, like to fill their free time with a wide range of activities, and they turn to podcasts to keep them in the know on all the latest entertainment news and trends. Sports fans are a huge part of this segment—tuning in to get the rundown of their favorite leagues, teams, and players.
As the streaming wars rage on and social media usage continues to plateau (only growing 2.5% since 2017), brands may be souring to lifestyle & entertainment content. But rest assured, this category continues to rake in a valuable audience of diverse, young listeners in the podcast space—and they are open to hearing what brands have to say.
In fact, 60% of our listeners say that they pay attention to podcast ads compared to just 28% for social media and 25% for streaming video. That's over double! And podcast listeners are more likely to pay for premium, ad-free streaming, meaning many of them can't be reached across other entertainment platforms.
The Who's Who of Podcast Advertising
It's us. And as a partner, it's our goal to make you a who's who of podcast advertising, too.
The SiriusXM Podcast Network includes thousands of shows, the most celebrated podcast studios, and beloved hosts of our time, amplifying voices that listeners know and love.
69M listeners
1 in 2 podcast listeners in the US
#1 podcast network with women
More shows in the Top 25 and Top 50 than any other network
We offer:
 The insights and data-backed recommendations you need to find your audience in this must-buy medium
 Options to meet your objectives, from cross-network campaigns at-scale, hand-picked host reads, or custom activations in partnership with top shows
 A robust targeting menu inclusive of genre alignment, contextual targeting down to the episode level, anti-targeting, and more
 An in-house creative agency that works handin-hand with you to create innovative-yetimpactful campaigns that resonate