The VERTICALS: Automotive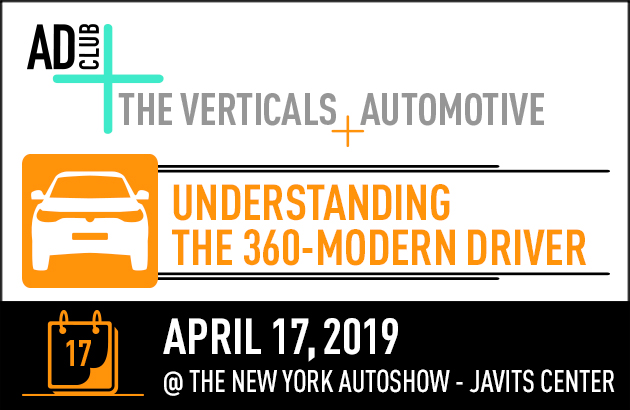 The VERTICALS: Automotive
Understanding the 360-Modern Driver
It was a lively conversation on April 17th at the 18th installment of the Club's popular Vertical Series: Automotive breakfast. For the first time, The AD Club of NY joined Media Post's Automotive Conference at The New York International Auto Show!
Our panel of industry professionals discussed how they understood the 360-Modern Driver.
We are grateful to our speakers, panelists, committee members, and our partner Verizon Media  for making it a successful day for the industry.
Our Panel Featured:
Juan Gabarro, Director of Product Marketing, Zipcar
Victoria Gagliardi, Manager, Brand Partnerships and Experiences, Cadillac
Christopher Jeyes, Senior Specialist, Media Buying & Strategy, Jaguar Land Rover
Tom Peyton, AVP Marketing Operations, Honda and Acura
Moderated by Anthony Winters, Sr. Director Field Sales, Autos, Verizon Media
A special thanks to our sponsor below!