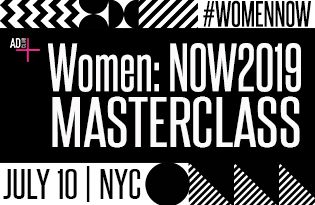 Women:NOW2019
Defining…..our moment!
2019 is marked by…an impending election, seismic social equality movements, heightened awareness, advocacy, collective female consciousness – and there are no signs of things slowing down any time soon.
So how do we successfully navigate through this moment? The ADVERTISING CLUB of NEW YORK's Foundation has tapped into a savvy brain trust of thought leaders and trainers focused on teaching women how to define and redefine their success goals.  
DATE: July 10, 2019 – (8am-5pm)
VENUE:The Altman Building 135 West 18th St. (btwn. 6th/7th Ave.)
ATTENDEES: 350+ women professionals from marketing, agency, media and technology companies.
PURPOSE: Connecting high potential women with trailblazing leaders, facilitating hands-on learning, exploring the state of women in the industry, and teaching strategies for success!
Featured conversations and course work topics:
DO YOU HEAR ME?
An interactive workshop sharing
tips for confidently using your voice
to increase professional influence and impact.
Facilitator: Mia Roberts, Executive Coach, Vice President, Strategic Partnerships, Big Sister Association of Greater Boston 
OWN IT
A conversation and lesson on the effectiveness of authentic leadership.
Special Guest: Nadia Masri, Founder/CEO, Perksy
MANAGE YOUR HEAT
Making success work for you. Learn to handle your successes, stepping stones, and springboards!
Moderator: Valerie Graves, Author, Former CCO, Vigilante & UWG 
Panelists: Rakia Boyd Reynolds, Founder/CEO, Skai Blue Media - Minjae Ormes, CMO, Visible,Verizon -Tiffany R. Warren, Senior VP, Chief Diversity Officer at Omnicom Group/Founder & President, ADCOLOR®
WHAT'S MY BALANCE?
Financial confidence and career planning can lead you to a "Golden Life"… a more mindful and balanced life.
Facilitators: Sherkera Green, Executive Director, Financial Expert & Travel Enthusiast & Felicia Geiger, Executive & Director of Talent 
TOOT YOUR OWN HORN
Managing your reputation, magnifying your shine.
Facilitator: Shante Bacon,CEO/Founder, One/35 Agency
BEYOND DIVERSITY
How do you move beyond building a diverse workforce, to creating an environment that makes the fullest use of employees diverse talents, skills, perspectives and experiences? It starts with belonging.
Facilitators: PwC's Lisa Feigen Dugal & Kyla-Gaye Barrett