TV Advertising Unwrapped: Your Guide to A Successful 2023 Holiday Season

'Tis the season for advertisers to kickstart their holiday campaign planning, and with an estimated 1.328 trillion in holiday sales on the horizon for brands this year, the stakes are undeniably high.
Yet, in the midst of fierce competition, fully capitalizing on this golden opportunity poses quite a challenge. To stay one step ahead of competitors, advertisers must keep a keen eye on the trends poised to dominate Q4. We've put together this guide to ensure advertisers can maintain a strong presence in the minds of their audiences, enabling them to get the most out of their ad budgets, no matter how intense the competition may become.
This is just a glimpse of the valuable information available in our extensive holiday TV advertising guide — download it here.
What Do Holiday Shoppers Look Like (On TV)?
Before we dig into how viewers behaved during the holiday season, it helps to first understand what they look like. Here's what you need to know about Black Friday shoppers[1] on TV.
1. They skew older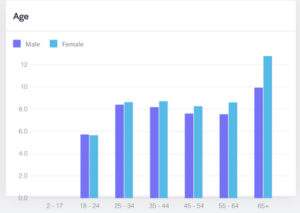 We see an even distribution of households across middle-aged demographics, although there's a slight uptick in those percentages when we look at the 65+ age group. This prompts the question: Are Black Friday shoppers aging?
They're largely lower to middle class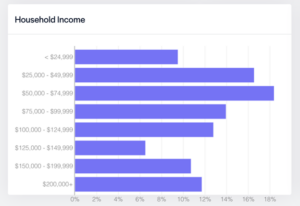 According to the Pew Research Center, middle income is categorized as an annual income ranging from $52,000 to $156,000 for a household of three. Meanwhile, lower income is characterized by households earning less than $52,000.
If we consider that each household in our data consists of two or more individuals, it becomes evident that the majority of Black Friday shoppers fall within the lower to middle-class income bracket. This aligns with common expectations, as Black Friday shoppers are often price-conscious due to budget constraints and seek to make the most of the substantial discounts offered during this period.
Linear TV Dominates Their Daily Viewing Time
Linear TV is still going strong. A look at the chart below reveals that linear TV dominates daily viewing time on ad-supported channels, making up a significant 78%, while streaming makes up the remaining 22%.
Why the difference? A majority of streaming content is consumed on platforms that don't rely on ads, such as subscription-based services on Netflix. The takeaway: Advertisers might be seeing a growing chance to connect with audiences through streaming, but linear TV remains the most dependable channel for reaching viewers.
Viewer Behavior During The Holidays: What Our Data Tells US
Linear Should Be A Part Of Any Advertiser's Holiday Campaigns
We first analyzed how ad-supported viewing duration evolved from the '21 to '22 holiday season across linear and ad-supported connected TV.
Across different age groups, we saw that streaming's portion of viewing duration had grown, while linear's share had seen a slight YoY decrease. However, it's essential to note that linear TV still commands a substantially larger share of viewing minutes across all age cohorts, with over 70% of viewing minutes being attributed to linear television.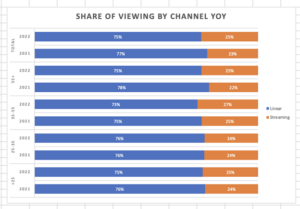 Even though advertisers have an expanding opportunity to engage with viewers through streaming platforms, it's crucial to acknowledge that traditional linear TV continues to be the most dependable advertising channel.
Linear holiday programming is more volatile than streaming
Examining the viewing duration on Hallmark, a prominent network renowned for its holiday programming, reveals a notable disparity in viewing patterns between linear and streaming TV. The chart below provides a comparison between the linear network Hallmark Movies and two streaming apps, Peacock and YouTube TV, both of which offer access to the Hallmark channel.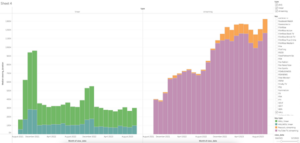 We observed a consistent month-to-month growth in viewing duration for both linear and streaming. But while streaming steadily increased from the 2021 to 2022 holiday season, linear shrank. On the linear front, there was a notable decline, with Hallmark's viewing duration dropping by 42%. In sharp contrast, streaming applications experienced a remarkable year-over-year increase of 152%.
FAST apps are gaining steam
We also analyzed the most popular streaming apps during the '21 and '22 holiday seasons according to unique households reached.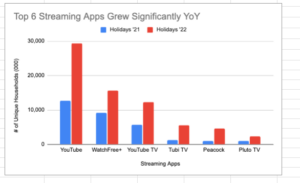 As expected, YouTube claimed the top spot. The surge in the number of households tuning into YouTube during the 2022 holiday season compared to 2021 was a substantial 130%.
However, it's worth noting that other apps are nipping at its heels. FAST apps exhibited swift growth in reaching unique households year-over-year. For instance, Tubi TV witnessed a remarkable 337% surge in growth, marking the most substantial growth rate among the leading apps.
A look at viewing duration across a sample of FAST apps further proves their growth. In 2022, viewers watched approximately 2 billion hours of content through FAST apps. Fast forward to September 2023, and that number has doubled, with viewers having consumed around 4 billion hours to date.
Given this, FAST apps should be a key focus for every advertiser. As brands prepare for the holiday season and observe the growing appeal of FAST (Free Ad-Supported Streaming TV) apps, it's important for advertisers to remain aware of a timeless challenge. It's essential to resist the urge to make purchases solely driven by lower CPMs. While cost savings might appear appealing at first glance, it's critical to remember that opting for lower-quality inventory could ultimately harm the long-term success of a campaign.
Our Predictions for This Year's Holiday Season
The Writer's Strike: Shifting Demands in Unaffected Programming
The 2023 writer's and SAG actors' strikes have become a prominent subject of discussion. Cable TV remains resilient, but the approaching fall broadcast season may face some impact. Live sports and reality TV are gaining traction as substitutes for scripted shows, just as they did in previous strikes.
For those planning to advertise during this year's holiday season, take heart in the fact that reaching your audience is still possible even in the wake of the writer's strike. However, be aware that certain advertising slots may come at a higher price than usual. It's worth exploring alternative, more cost-effective networks where your target audience is likely to be found.
Inflation's Downward Trend, but Consumer Caution Persists
Inflation is gradually on the wane. J.P. Morgan's latest report indicates a significant drop in inflation for core goods, from 12% to 0.8% over the past year, while core services eased to 6.1% in July.
Despite this positive development, American consumers remain vigilant when it comes to their spending. Having weathered the storm of inflation and post-pandemic challenges in recent years, consumers have embraced the importance of securing a good deal.
So, what does this mean for advertisers? Ad campaigns should resonate with consumers' desires to save on their expenses. In an era where consumers are more discerning than ever, advertisers need to craft well-thought-out targeting strategies. Viewers are likely to swiftly disengage from messages that fail to make sense or lack relevance.
The Surge in Ad-Supported Streaming Services and the Challenges of Fragmentation
Kantar's Entertainment on Demand study reveals that paid ad-supported video-on-demand (AVOD) is leading the charge in streaming's rapid expansion, with FAST closely following suit. In the first quarter of 2023, paid, ad-supported streaming added 2.6 million subscribers, while FAST saw an increase of 1.7 million subscribers.
This surge in ad-supported streaming services can be attributed to the influx of new players in the past year, including heavyweights like Netflix and Disney+.
The proliferation of streaming services is poised to exacerbate the ongoing issue of TV fragmentation, which has already been a concern for advertisers. The key takeaway here is that advertisers now have greater access to streaming audiences than ever before, but the necessity of a well-planned strategy to make the most of this trend cannot be overstated.
Developing Your Holiday Advertising Game Plan
Drive Awareness + Build Retargeting Lists Early
Commence your campaign in October or the beginning of November to conduct trials and gather insights into the creatives, time slots, networks, programs, and strategies that yield the best performance for your brand, well before the holiday season reaches its peak. Beginning your awareness-building process early will also enable you to retarget site visitors brought in by TV advertisements.
Apply Learnings + Scale to Performance
Put your lessons learned from the initial campaign into action swiftly by increasing investments in what's proven effective and reducing resources allocated to what isn't working. Additionally, optimize your budget allocation between linear and CTV. Scaling up spend entering Black Friday/Cyber Monday (BFCM) and beyond is vital to find new pockets of your target audience across the TV landscape and for your brand to stay top of mind for prospective consumers.
Welcome the New Year with a Bang
As per the insights from the 2022 Meta Holiday and Mega Sale Days Marketing Guide, 41% of holiday shoppers intend to extend their shopping well beyond the holiday season. While many other brands go quiet after Christmas, seize the opportunity to utilize available TV inventory in the week leading up to New Year's. This way, you can maintain your engagement with customers, activating them and setting the stage for a strong start to 2024.
Concluding Thoughts: A Winning Strategy for Your Holiday Campaigns
With significant consumer interest at stake, it's imperative for marketers to partner with a TV advertising collaborator who can assist in devising strategic campaigns that offer the necessary flexibility and outreach for capitalizing on this holiday season, spanning both linear and CTV.
Simulmedia's TV+ fuses together robust data science, automated software, and seamless integrations into a single platform, delivering predictability, performance, and a smooth alignment with business operations, akin to the effectiveness of paid search and social media. Empowered by TV+, advertisers and marketers can successfully navigate the increasingly multifaceted media landscape and connect with holiday viewers wherever and whenever they are tuned in.
Is a successful campaign at the top of your wish list? To get the full guide, download it here.
[1] Black Friday Shoppers is defined as the Experian audience who is "somewhat likely", "likely", "more than likely", "highly likely", "very likely" or "extremely likely" to be a Black Friday shopper, and represents about 33.64% of the TV viewing universe