Board Member Spotlight: Narrowing. The Gap for AAPI Leadership Plus Platform Accountability
Board Member Spotlight: Narrowing The Gap for AAPI Leadership Plus Platform Accountability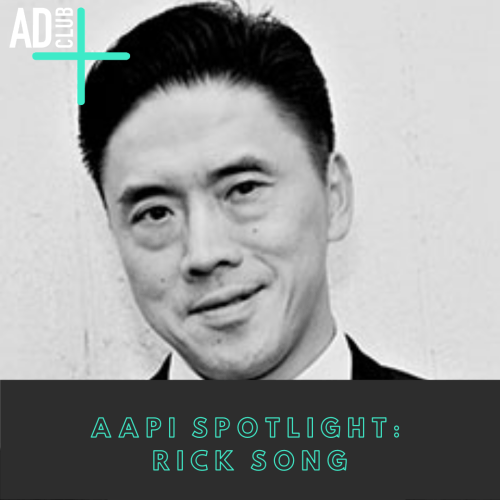 Rick Song, AD Club Board Officer and Director, and SVP Group Head, Digital, Nielsen
For those identifying as Asian American or Pacific Islander, has your experience in this industry impacted your career journey? If so, how? 
As an Asian American born and raised in this country, you become accustomed to sometimes being treated differently or at certain times experiencing outright racism. However, in my career journey, the instances of bias are more subtle or what we now call "microaggressions". As many POC will tell you, you often learn to live with it. I also believe Asian Americans – or any POC for that matter — often have to be top performers in their fields operating at the highest levels to progress in their careers, compared to the expectations of their counterparts.
As companies have increasingly become more invested in DE+I practices, the cultural climate and business environment is changing, but we still have a long way to go.
Asian Americans face many barriers to leadership positions. What is your advice to the industry to narrow the gap and create more leadership opportunities for Asians?
I think it starts within the AAPI community. It's ingrained within the Asian culture to not speak out, to not to disrupt. However, I would advise Asian Americans aspiring for leadership roles to do the following:
Speak Up — let it be known you are seeking career advancement amongst your peers and your leadership. Be an active voice within your workplace and let your POV be heard, it's what's expected of strong leaders.
Be Seen — Network both internally and externally! Connections are currency, particularly as a leader. Build your brand within your org and within your industry, by being present and an energized participant.
Take Action – "Doers" are far more respected as leaders than "talkers". Lead by example and set the tone, don't wait to follow others.
As far as the ad industry, we all have to continue to make DE+I a priority and take proactive measures to identify, recruit and promote diverse talent, which should become a discipline which requires additional effort and increased focus.
Has your organization taken any steps to better support Asians in the workforce?
As a leading data and analytics company embedded within the media industry, I'm proud to say Nielsen has recently published a series of reports to address the state of the Asian American community and recently launched an analytics solution which speaks to AAPI representation in media today:
ANTI-ASIAN ONLINE HATE SPEECH IS ON THE RISE–AND MAJOR U.S. BRANDS ARE INADVERTENTLY FUNDING IT
Major U.S. brands that have taken action to combat racism targeting Asian Americans are unintentionally funding online hate speech through advertising.
HOPE AND ACTION: ASIAN AMERICANS' GROWING INFLUENCE
This report showcases the growth and power of the Asian American community along with the key opportunities for action.
WHAT YOU SEE ISN'T WHAT YOU GET: THE ROLE OF MEDIA IN ANTI-ASIAN RACISM
Media representation plays an important role in learning—and unlearning—racist stereotypes that harm Asian Americans. It's time that on-screen content about Asian Americans reflect more of their lives and diverse contributions.
Designed to accelerate diversity and equity in media, Gracenote Inclusion Analytics illuminates representation of on-screen talent compared with audience diversity. The solution empowers content owners, distributors, and brands to make better-informed decisions around inclusive content investments.
In the last two decades, Asian American population grew 81% and by 2023 Asian Americans' purchasing power is expected to be $1.3 trillion according to Nielsen, close to 300% since 2000. How does this forecast impact how brands should be showing up?
On one hand, brands clearly need to have a definitive strategy to reach the AAPI community and understand the nuances of their consumption habits, particularly in content and technology. However, in light of the current cultural climate, marketers need to think beyond just "brand safety" and ensure they analyze and assess where their ads are showing up. They should demand media partners and ad platforms to monitor hateful language harmful to the AAPI community and verify their brands are removed from it. It's time we built higher industry accountability to protect all communities of color against hate speech and destructive hyperbole.