Meet The Fellows: Camila Soliz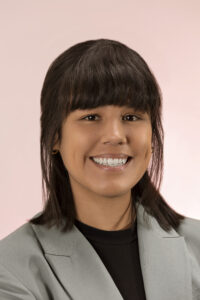 Camila is a Sr. Project Manager at Droga5. In her day-to-day, Camila is responsible for driving project executions forward across a wide array of brands. A team-player at heart, Camila seeks to foster room for collaboration across all departments to ensure the success & delivery of a project. She is an action-oriented person always seeking solutions to problems, establishing & revamping processes & ultimately, getting the work done.
Camila grew up in Bolivia & graduated with a B.S. in Marketing at the University of South Carolina (Go Gamecocks!) before finding herself in the heart of advertising, New York City. She previously volunteered as a social copywriter with Women Who Create, an organization dedicated to the mentorship & empowerment of upcoming BIPOC talent across creative industries & is now super thrilled to be a part of the 2022-2023 Advertising Club of NY imPART Women's Fellowship executive and leadership program! Throughout her time as an Ad Club fellow, Camila has gotten the opportunity to attend conferences such as AdColor & has been shared in on a vast variety of resources to continue to develop her skillset as a leader in the industry.
Outside of work, you can catch Camila going on long strolls with her dog, venturing out to new places/ leaning into new hobbies (videography projects are something she hopes to do more of in '23) & considerately looking to try all NYC restaurants saved on her "Want to go" list.
Find Camila on LinkedIn to connect and of course, to chat restaurant reccos : )
---------
The i'mPART Women's Fellowship, created in 2016, made a commitment of $100K annually to retain more diverse talent and promote more women into leadership positions. Now in its sixth year, the program has expanded from helping 10 to over 50 women pursue their goals and elevate their executive presence – providing more access, tools, & nurturing necessary for them to grow and thrive in all aspects of our industry.
Each Fellow receives:
         All-expense registrations for industry conferences including but not limited to: ADCOLOR, Advertising WEEK NY, ANA, BE Women of Power Summit, 3% Movement Conference, SXSW, Fast Company Innovation Festival, CultureCon
·         Educational workshops, webinars and master classes
·         1:1 Executive Coaching
·         Neuro-assessments to determine strengths
·         Monthly night school with PwC Executive Training Program
·         Executive Salon Series fostering mentor connections and high-level networking opportunities
·         1-year AD Club of NY membership
·         Access to the industries top leaders
Learn more about the Foundation's dedication to fostering the talent pipeline here!