Meet The Fellows: Christi Samuel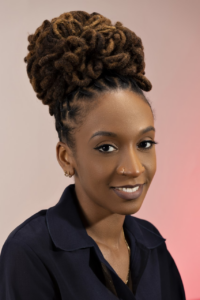 Christi is an integrated media specialist viewing her clients business growth objectives through a creative and tactical lens. She formally served as an Associate Media Director at Noble People, an independent media agency that focuses on HBO ideation (Honest, Bold & Original). She was responsible for the strategic and tactical implementation of media activations, both via online and offline media across all accounts she oversaw. Her professional North Star is guided by three major principles - investment, growth, and transparency, where she encourages her team to advocate for themselves as well as their peers in any room they are sitting in. Christi received her B.S in Business Administration with a concentration in Management from Adelphi University. She got her start in advertising working at a boutique agency in NYC focusing on luxury fashion, beauty and accessory brands like Hermes, and Sandro & Maje, where her love for those categories began.
In her spare time, she enjoys trips to Sephora for the latest beauty & skincare drops, traveling all over the city finding indie bookstores, solo dates, and traveling - especially to the Caribbean for carnival.
Christi is beyond elated to be a part of the 2022-2023 Advertising Club of NY imPART Women's Fellowship executive and leadership program and is dedicated to helping push this program forward beyond completion.
Connect with Christi! Find her on LinkedIn.
--
The i'mPART Women's Fellowship, created in 2016, made a commitment of $100K annually to retain more diverse talent and promote more women into leadership positions. Now in its sixth year, the program has expanded from helping 10 to over 50 women pursue their goals and elevate their executive presence – providing more access, tools, & nurturing necessary for them to grow and thrive in all aspects of our industry.
Each Fellow receives:
All-expense registrations for industry conferences including but not limited to: ADCOLOR, Advertising WEEK NY, ANA, BE Women of Power Summit, 3% Movement Conference, SXSW, Fast Company Innovation Festival, CultureCon
·         Educational workshops, webinars and master classes
·         1:1 Executive Coaching
·         Neuro-assessments to determine strengths
·         Monthly night school with PwC Executive Training Program
·         Executive Salon Series fostering mentor connections and high-level networking opportunities
·         1-year AD Club of NY membership
·         Access to the industries top leaders
Learn more about the Foundation's dedication to fostering the talent pipeline here!