"Only in multicultural America, advertising has the opportunity of speaking with so many voices."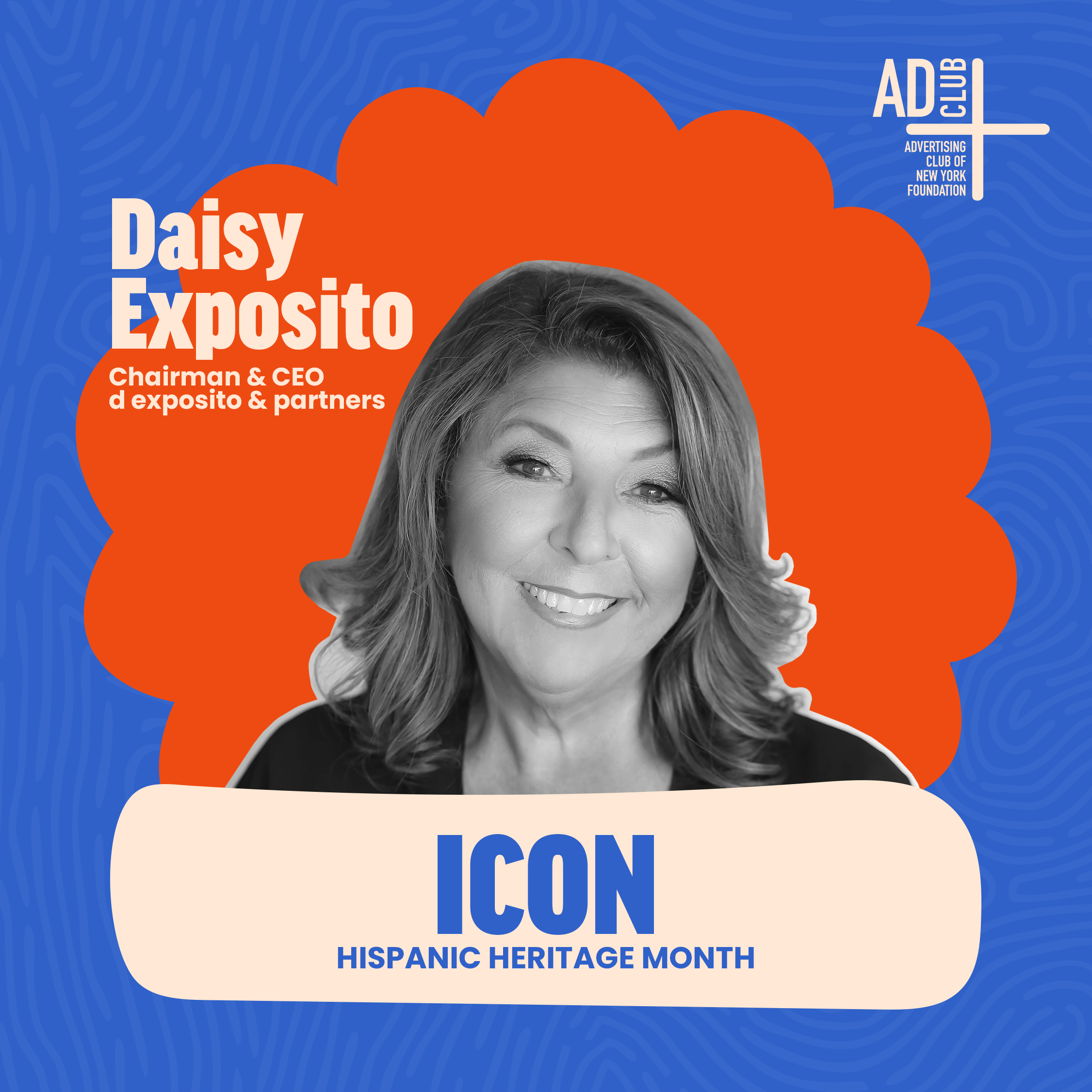 Daisy Expósito-Ulla, Chairman and CEO of d expósito & Partners, is a luminary in Multicultural Communications who in 2018 was inducted into the Hall of Fame of American advertising. A voice for diversity and inclusion, and a pioneer in Multicultural Marketing, she is consistently recognized as one of the most influential Hispanics in the United States.
As a visionary partner to American corporations, Daisy has achieved a transformational career as a cross-cultural brand-builder. She has launched numerous advertising and marketing campaigns, helping Fortune 500companies, Government agencies and leading non-profits, like AT&T, AARP, Bank of America, the Census Bureau (2000 & 2010),Bank of America, Ford Motor Company, Kraft Foods, Sears, the U.S. Army and Unilever, connect with and win the hearts of multicultural consumers. Current clients include McDonald's, Tajín International, Nielsen, the U.S. Food & Drug Administration, Point32Health, the Smithsonian Institute and several New York City government agencies, among others.
Prior to founding d expósito & Partners, she was Chairman/CEO of Young & Rubicam/WPP's The Bravo Group, the historic company she helped launch and subsequently built during her twenty-four-year tenure. Under her watch, with billings exceeding 500MM, The Bravo Group would become an umbrella to other multicultural agencies, and the largest U.S. Hispanic Ad Agency of all time, as well as the blueprint for cultural marketing in the country.
Daisy has received numerous creative, professional and community awards including the coveted Matrix (NYWICI) and The Carnegie Corporation's Great Immigrant: Pride of America honor. In 2015, she received the ADCOLOR® Lifetime Achievement Award, and her agency was named Agency of the Year by the American Educational Foundation, (AEF), a first for a multicultural and independent agency, in recognition of Daisy's "contributions to American Advertising." She was inducted into the American Advertising Federation's Hall of Fame in April of 2018 and was also honored with the
prestigious David Bell Award for Industry Service. That same year, Daisy was inducted into the Hispanic Marketing Council's Hall of Fame for her pioneering contributions to Hispanic and Multicultural Marketing. Recently, she was honored with the first ANA/AIMM "Multicultural Trailblazer Award" for her stellar career in advertising. Her advertising awards include numerous Clio, Effie, Addy, NY Festival, London Festival, David Ogilvy and Ojo de Iberoamérica awards.
She currently serves on various industry boards, among them the Advertising Educational Foundation, (AEF), the 4A's, the Nielsen External Advisory Council and the McDonald's Diverse Marketing Advisory Council (DMAC). She was past Chair and has served several terms as board member of the Hispanic Marketing Council. As a committed supporter of the arts, she and her husband serve on the board of the legendary Repertorio Español Theater, in New York City.
Daisy Expósito-Ulla immigrated with her family to the United States as a political refugee from Cuba in 1964. She is married to Jorge Ulla, her business partner and a pioneering award-winning commercial director and film documentarian. Their son, Gabe Ulla, is a best-selling author and journalist. They also have a daughter, Martha Ramirez, from Jorge's first marriage who is an accomplished photographer.
Daisy uses the word passion to describe her driving force, and thinks mentoring young people and giving back generously to our communities are essential to justify and enjoy success. She supports several scholarships including The Esperanza from NYWIC, New York Women in communications.