Icon – Devika Bulchandani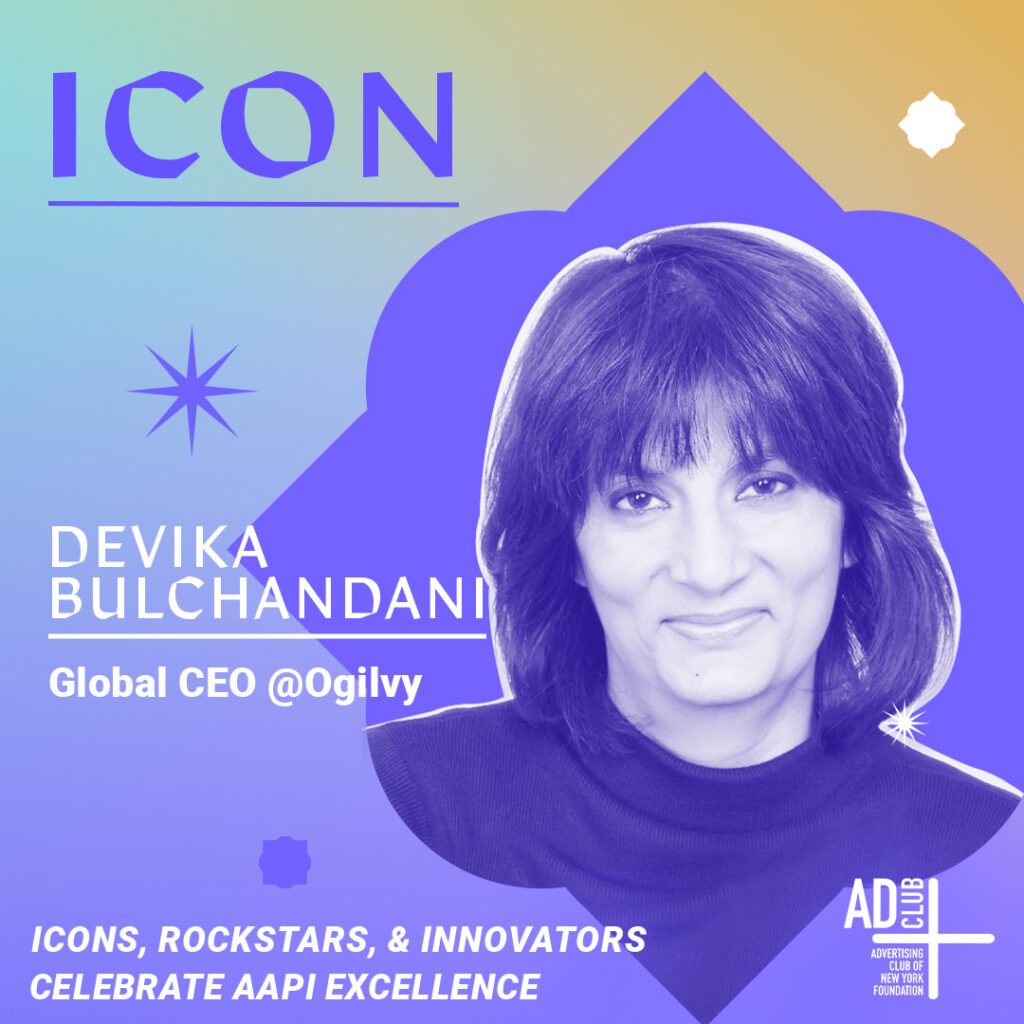 Devika Bulchandani is a world-class marketer who leads with passion, purpose, and an uncompromising focus on creating impact. As Global CEO of Ogilvy she is responsible for all aspects of creative network's business which spans Advertising, PR, Consulting, and Health across 131 offices in 93 countries. Under her leadership, Ogilvy was named Network of the Year at the 2022 Cannes Lions International Festival of Creativity. Additionally, Ogilvy was also named Network of the Year by The One Show and Global Network of the Year by Campaign Magazine.
Devika joined Ogilvy in 2021 as CEO of North America and later took on an expanded role as Global President. Prior to Ogilvy, Dev spent 26 years at McCann Worldgroup. Under her leadership, McCann North America enjoyed double digit annual growth for six consecutive years and was recognized with multiple creative, effectiveness, and innovation awards. During her tenure, McCann was named to AdAge's A-List for five straight years; earned Cannes's regional agency of the year title for three straight years; was named most effective agency network of the year by Effies U.S. for three straight years; earned Fast Company's Most Innovative Agencies' designation; and was named U.S. regional network of the year by Campaign Magazine. During her tenure as President of McCann New York, the office won a total of 100 Cannes Lions and was the second most awarded agency in the world in 2019.
As a leader who believes in the power of creativity to make a positive impact on society, Dev's proudest achievements have occurred at the intersection of the social causes she champions and brand-building efforts on behalf of clients. Dev was the driving force behind MasterCard's most successful marketing efforts, beginning with the long-running "Priceless" campaign launched in 1997 (which she transformed into a global business platform) and culminating in True Name, a first-of-its-kind feature launched in 2019 that empowers transgender and non-binary people to display their chosen name on their Mastercard. True Name came about when a transgender employee of McCann, working on the Mastercard account, shared a problem common to members of the LGBTQIA+ community—not being able to have the name that reflects their true self on credit cards. True Name is a direct result of Dev's bravery to challenge the status quo for an issue she believes in, and her ability to bring people and clients onboard to solve a problem for the greater good of all. In 2019, the Effies honored McCann and Mastercard for "Priceless" with a "5 for 50" award which recognized the five most effective influential global marketing campaigns of the past 50 years. The same year, McCann was named the 2019 Most Creatively Effective Agency Network in the U.S. by the Effie Awards. 
Known for ideas that enter the cultural lexicon, Dev played a key role in launching the iconic "Fearless Girl" statue that was placed on Wall Street near the New York Stock Exchange building on the eve of International Women's Day 2017. Originally conceived as a one-week installation, the statue became a permanent fixture due to its popularity as a beloved global symbol of women's equality. It is also one of the most awarded campaigns in the history of the Cannes Lions International Festival of Creativity. 
Dev's achievements have been widely recognized by organizations within and outside the industry. The New York Women in Communication (NYWIC) has recognized Dev in as an honoree at the 2022 Matrix Awards, which honors women who are making a difference, building community, and inspiring the next generation of female leaders in their field. She was named a NY Power Women by Moves Magazine (2020); US Advertising Agency Head of the Year (2019) by Campaign Magazine; Working Mother of the Year (2017) by She Runs It; and an ADCOLOR Innovator.  She has won multiple 4As Jay Chiat Awards for Strategic Planning. She has also been honored by the National Breast Cancer Coalition for her work to raise awareness for the organization. 
A tireless advocate for women's equality in the advertising industry, particularly for women of color, Dev is a founding member of Times Up Advertising. She is an active board member of the ERA Coalition, the Ad Council, the 4A's and the Advertising Club and is a frequent speaker at Ad Council, Ad Forum, and other prominent industry events.  She has volunteered her time for numerous industry and community projects, including work with the Ad Council on issues such as childhood and adult obesity and parental viewing control.
Dev and her husband live in New York City with their son and daughter, whom they are raising to be enlightened individuals unafraid to change the world for the better.