"Don't let fear stop you. Don't give up because you are paralyzed by insecurity or overwhelmed by the odds, because in giving up, you give up hope. Understand that failure is a process in life, that only in trying can you enrich yourself and have the possibility of moving forward. The greatest obstacle in life is fear and giving up because of it." – Sonia Sotomayor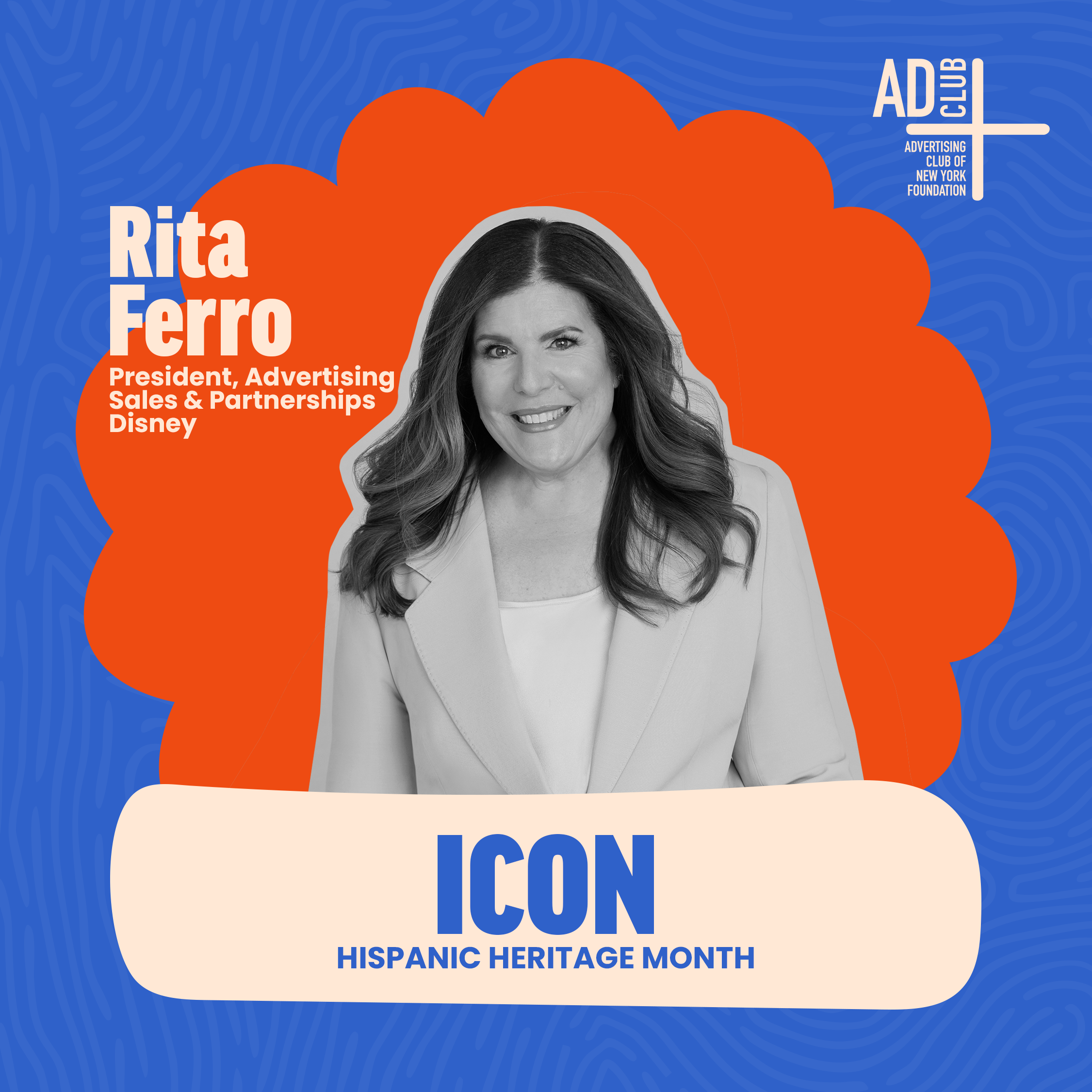 As President of Advertising Sales at The Walt Disney Company, Rita Ferro leads advertising sales for the company's entertainment, news, sports and kids linear and digital TV ad-supported streaming businesses: ABC Entertainment, ABC Daytime and ABC News; Disney Channels Worldwide; Disney+; ESPN Networks and ESPN+; Freeform; FX Networks; Hulu; and National Geographic Networks. She also leads the integrated sales team for Disney Digital, the Company's online, mobile and social offerings. Additionally, Ferro directs National TV and Regional Ad Sales for ABC's eight owned local TV stations. She has been in this role since September 2018.
Under her leadership, Disney offers advertisers a one-stop approach to leverage the breadth of Disney's portfolio and reach audiences across all of the Company's media properties. Her direction has transformed Disney's advertising strategy and influenced the industry at large – resulting in a consultative and insights-led sales approach that allows clients to drive maximum growth in their businesses. Across Disney's robust portfolio of platforms, she champions advanced advertising and data science to push the boundaries of outcomes that marketers and advertisers can achieve in their campaigns.
Among her many industry honors, Ferro made history as the first Latinx woman, and third woman in 35 years, to receive the prestigious Frank Stanton Award for Excellence in Communication. In 2018, she was named to Variety's Power of Women New York Impact list, honoring women across all aspects of the entertainment industry who are making an impact. In 2017, she was recognized by The Hollywood Reporter's Women in Entertainment Power 100, in addition to being featured on Advertising Age's Women to Watch Power List, which celebrates the most powerful women in advertising. In 2015, Ferro was selected as part of Multichannel News' Wonder Women – "Women to Watch," and for eight consecutive years (2012-19), Ferro has been named one of the Most Powerful and Influential Latinos by the Imagen Foundation and was inducted into its Hall of Fame in 2019, honoring individuals in the entertainment industry who have dedicated themselves to excelling in their profession.
Ferro began her career with The Walt Disney Company 22 years ago with ESPN International, where she held several posts including vice president, International Ad Sales, leading the ESPN International Ad Sales offices in Miami, Argentina, Mexico and Brazil. She ultimately added ad sales management for Disney Media Network's kid-driven and family-inclusive portfolio – Disney Channel, Disney XD and then-named Playhouse Disney – in Latin America. Additionally, she has held the positions of executive vice president, Disney Media Sales and Marketing for Disney Channels Worldwide and vice president, Advertising Sales, Disneymedia+.
In an industry historically dominated by men, Ferro is at the top of her profession and continues to be a disruptor and pioneer in the advertising space. In addition to her professional successes, her commitment to mentorship is paving the way for other women – especially Latinx women – to advance in the field.
Ferro currently sits on the board of VICE, MMA (Mobile Marketing Association), the Ad Council,
IAB (Interactive Advertising Bureau), AAF (American Advertising Federation) and VAB (Video Advertising Bureau). She earned a Bachelor of Science in advertising and a master's degree in International Business from Florida International University, and currently lives in Livingston, NJ with her husband and daughter.