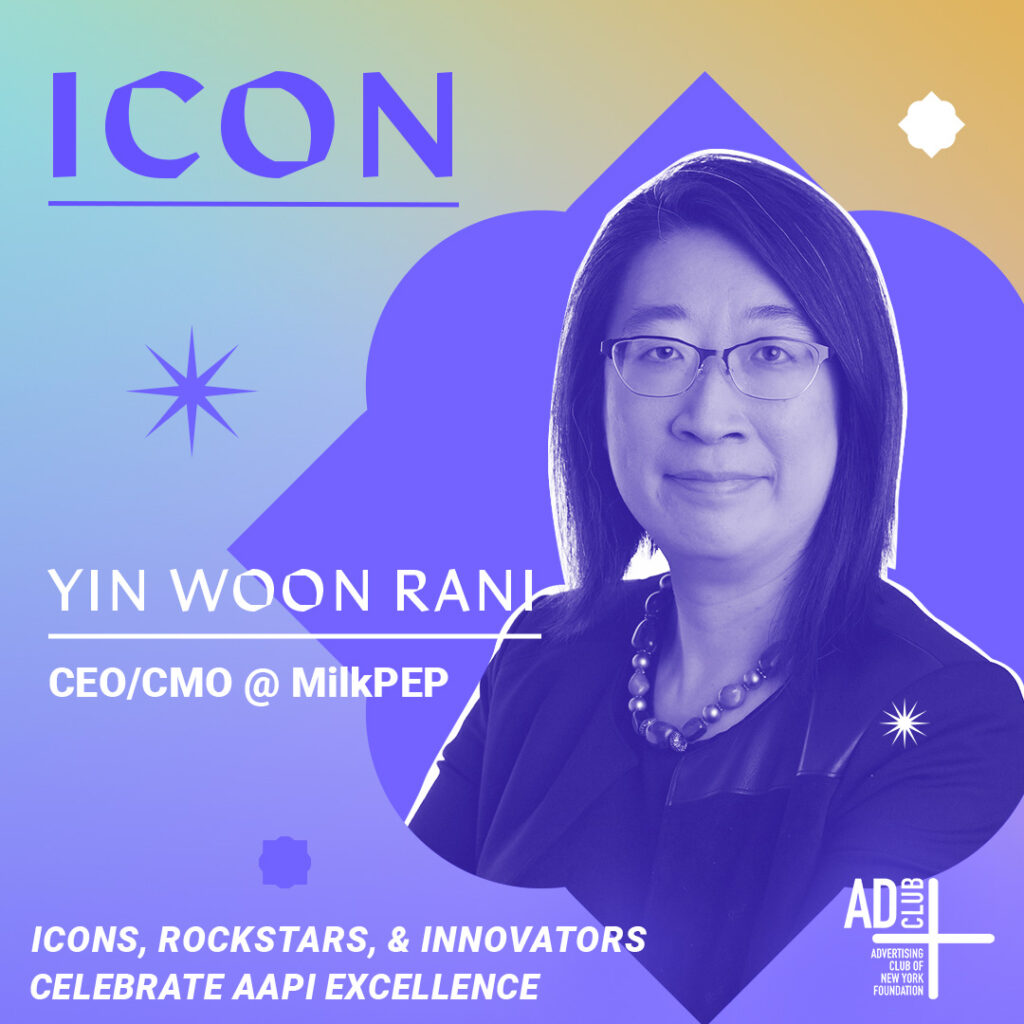 Yin Woon Rani has been CEO at MilkPEP (Processor Education Program) since October 2019.  The program is charged with using marketing communications to encourage the consumption of dairy milk among U.S. consumers in America.  The program is best known for the iconic 'got milk?' Milk Mustache celebrity campaign.  During her tenure, Yin has brought more accountability and innovation to the program including re-inventing 'got milk?' for younger consumers with a strong focus on social media, influencers, and earned activations that prompt re-consideration of milk – driving important shifts in attitudes and shifting the cultural conversation. The program has been recognized in AdAge, AdWeek, the New York Times, and won multiple awards. 
Prior to MilkPEP, Yin was VP, Chief Customer Experience Officer for the Campbell Soup Company. Before being promoted to this role, she spent almost 4 years as Campbell's VP, Integrated Marketing leading end-to-end consumer communications and creating centers of excellence for the company's many iconic brands across 12 categories. She was instrumental in modernizing the company's marketing across content, media, design, martech, and digital -- as well as improving the business trajectory for important core brands and new launches, including Campbell's, V8, Prego, and Well Yes! Soup.   
Prior to joining Campbell Soup, Yin was President, North America of Universal McCann, the largest operating unit within IPG's Mediabrands group. She managed more than $7 billion in billings for the full-service media agency with approximately 1,000 employees. She was responsible for all North American operations, including new product and service offerings, strategy and innovation, planning and buying, and business development. Additionally, she led significant change management efforts across five offices to upgrade talent and integrate strategy, online and offline media, and custom content. 
Earlier in her professional life, Yin held various positions at Grey Worldwide, where she started her career. During her 15-year tenure at Grey, she oversaw accounts for GlaxoSmithKline, Procter & Gamble, Hasbro, J.M. Smucker's Co. and Mars, Incorporated, while becoming the youngest ever Senior Vice President at the agency. 
 
Yin earned a Bachelor of Arts from Yale University and a Master of Business Administration from the Stern School of Business, New York University. She is active and respected within the marketing industry – being involved with key associations like the Mobile Marketing Association, Association of National Advertisers, 108AMAM (Asian Marketers And More), and BRIDGE.  She also serves on the board of RESET Digital which represents the largest pool of minority owned programmatic inventory.  Yin has been recognized by a range of industry awards, both as a marketer and as an advocate for diversity - including YWCA's Women of Year, SheRunsIt "Working Mother of the Year," Brand Innovators Top 50 Women in Marketing, Path to Purchase Institute "Who's Who in Shopper Marketing," among others. She's the proud mother of a 17-year-old son.