Impact for Good – Brands that Move NY Invest Media Dollars in NY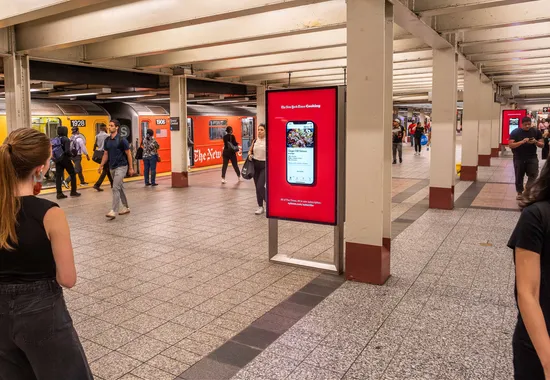 Transit systems don't just move people; they ensure the vitality of our cities. In fact, the growth of New York City — its business districts, neighborhoods, retail footprint — and the subway system are intrinsically linked. The same can be said for bus routes and the rail network; transit is 'demand responsive' and built to go where people go- where they live, work, shop, and play.
This symbiotic relationship is at the heart of the importance and effectiveness of transit advertising. The highly visible media platforms are part of the cultural zeitgeist, and an impactful communication network as we travel with them as we move around our city. Broad reach, high frequency and an iconic, anticipated and talked about medium. Most New Yorkers have a ready answer for "What's your all-time favorite subway ad?"
There are important, but potentially under the radar facts about the transit advertising facility.
A significant portion of every ad dollar spent in the NY transit system goes directly to the MTA for reinvestment in the system.
Subway trains, rail cars and buses take low occupancy vehicles off the streets.
Transit provides a democratized media platform as it transports the cross section of the city's population from all neighborhoods (including your customers and employees).
One out of three transit trips in the United States occurs in New York. A spectacular 2.3 billion annual trips on our labyrinth of subway, bus. and rail cars. Over 4 million trips a day on the subway system alone. And the advertising platform that rides along with us has been reimagined over the last few years.
Digitally Transformed: 19,000 digital screens on platforms, in cars and at street level providing full motion video.
Connected transit: API integrations, 3D spatial, Geospatial AR and other advanced technologies drive deeper connections with riders.
Measurement & Attribution. Pre campaign planning metrics and post campaign measurement can be integrated in all campaigns.
Sector leading brands are investing their ad dollars in the transit platform. From finance and insurance, to travel and entertainment, pharmaceutical, retail, and media; luxury brands and supermarket staples; national, regional, and local businesses. The list of Brands that Move New York is vast. Those brands, who choose to invest in transit advertising benefit from its undeniable impact and rider engagement; the investment also provides valuable "funding" to the transit system and thus the city.