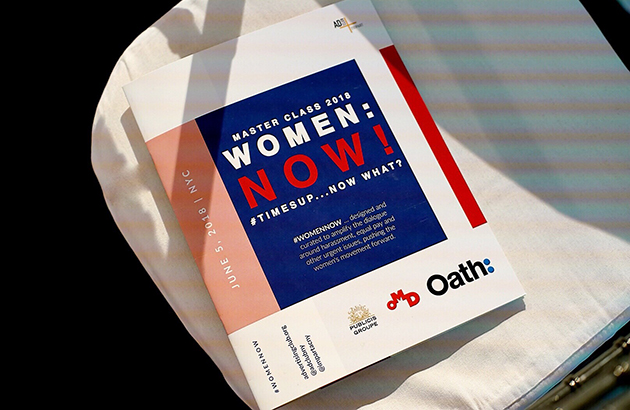 Master Class - Women:Now
Professionals from New York City and beyond gathered together in the sunny Tribeca 360° for The AD Club Foundation's third annual Master Class: WOMEN NOW, designed and curated to amplify the dialogue around harassment, equal pay and other urgent issues pushing the women's movement forward.
The ADVERTISING Club of New York's President and CEO Gina Grillo welcomed the crowd by posing the question, "Why are we here?" The answer was clear: the full-day 2018 Master Class aimed to inspire and provide interactive master sessions to enhance career skills for women of diverse backgrounds in the ad/marketing industry, and to get everyone in the audience thinking about how both individuals and organizations can navigate the ever-changing landscape of our industry. "We're here to protect the future of our industry," declared Grillo. "This Master Class was born to keep good people in it. If we want this change to happen, we all need to take an active role in it."
"There is no better time than now to shine a light on issues and people who
empower and support women, men included", said Ericka Riggs, Foundation and Inclusion Manager of The AD Club.
Keynote
"Women are now having their moment, it's just now that everyone is taking notice" – Nisha Dua, BBG Ventures, #BuiltByGirls
Nisha Dua, Partner and Co-Founder of BBG Ventures and Founder of #BuiltByGirls, delivered the opening keynote around three key themes: resisting the box, choosing your own adventure and bouncing back. Using these themes as pillars to her presentation, Nisha reminded us all to take a step back and reevaluate how we react to, and grow from, change, adversity and challenges – both at home and in the workplace.
Other Killer Advice From Nisha:
Know who your biggest fans are and check in with them every once in a while.
Persist. Persist.
Stay curious.
Always be direct.
Find your strengths.
Always seek to be better.
Do a deep dive on you.
Lean into your discomfort.
Panel 1: Women in Today's Workplace: From the Eyes of the C-Suite
Lauren Newman, President, Beauty of Time Inc. led the first panel of powerful leaders including Tricia Clarke-Stone, CEO of Narrative_WP, Val DiFebo, CEO of Deutsch, and Amanda Richman, CEO of Wavemaker US.
The conversation centered around the way new technologies, new business models and new social movements are redefining the workplace. Lauren pressed the panel on various questions including:
What did you learn from your own leadership?
Previous leadership let her do it her own way.

"I didn't need to follow a particular blueprint, I was able to go at it with my own approach," Clarke-Stone said.  

What are the biggest challenges affecting female CEOs today?

"Working with different leaders and bosses with many different styles," said Richman.
"Pay is still a big issue," said DiFebo.
Other topics included how the #MeToo conversation is changing the workplace, and how to trust your own voice.
Fireside Chat
"How do we get people involved who don't necessarily have the opportunities, but their talent is tremendous?" –Diego Scotti, CMO of Verizon on its Ad Fellows Program
During lunch, Diego Scotti, CMO of Verizon, sat down with Grillo for a discussion around Verizon's ADFellows program—an 8-month rotational opportunity for college graduates of diverse backgrounds at participating companies including Verizon, Rauxa, McCann, Weber Shandwick, Momentum and Zenith. As a result of the program, 19 of the 21 Fellows are successfully employed.
Disruptor Talk
"The future of Creative Spirit is the future of our entire workforce" – Laurel Rossi, Creative Spirit
After lunch, Laurel Rossi, Founding Executive Director of Creative Spirit, had the chance to emphasize the accomplishments of her nonprofit organization, the first global job placement service and platform focused on integrated employment for a wide variety of talented individuals with intellectual and developmental disabilities. Since its launch in September 2017, Creative Spirit has recruited over 50 different employers, placing more than 1,100 candidates with corporate jobs.
Panel: #MeToo and #TimesUp X Men: A Dialogue on Solidarity, Backlash, and Acceptance
"This issue starts at the top where zero tolerance should be the first and only thing that's discussed." – Todd Cadley of Manual Labor
After a busy morning on the ground, it was the men's turn to take the stage. Sandra Sims-Williams, Global Chief Diversity Officer at Publicis Groupe, moderated the panel for a discussion around solidarity, backlash and acceptance as it relates to #MeToo and #TimesUp. Featured panelists included Todd Cadley, President & CMO of Manual Labor, Mark DiMassimo, CEO of DiMassimo Goldstein, Louis Jones, EVP of Media and Data Practice for the 4A's, and Mike Paul, President of Reputation Doctor.
The men raised concerns around values, HR processes in weeding out "what's more than a few bad apples," as Paul noted, and those in leadership positions who are looking the other way. Despite the challenges discussed, the group expressed hope, thanks to the number of people supporting the movement.
The "M" Word: Generational Misperceptions
"At the end of the day, we are all human beings, and we're all in this moment together."—Eliza Fedewicz of Horizon Media
The event wrapped up with a conversation around millennials vs. non-millennials moderated by Kai Lawson, influencer and podcaster. Panelists included Shante Bacon, CEO and Founder of One/35 Agency, Eliza Fedewicz, Head of Conversations at Horizon Media, Valerie Graves, author and former CCO at Vigilante & UniWorld Group, and Lanita Patton, Advisory – Telecommunications, Media and Technology. The group dove into the impact of new tech in the workplace, challenges around social injustice, and how to best avoid millennial generalizations (e.g. entitled, lazy, etc.). Bacon offered the following advice on avoiding the entitled generalization: "As long as you make the investment, do something you love and do it well, and have a good dose of empathy."
Thank you to everyone who showed up and took part in this vital conversation. We're excited to take steps in the right direction together. See you next year!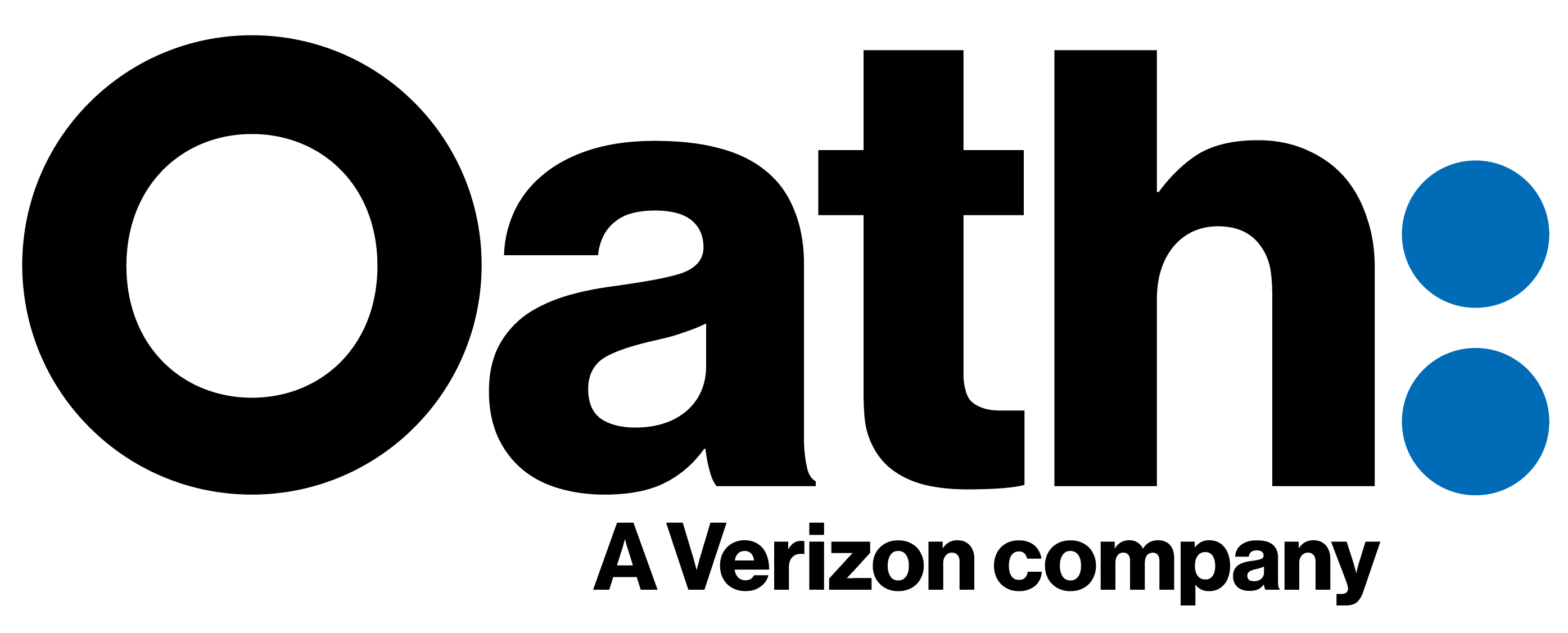 Oath Inc. is a subsidiary of Verizon Communications that serves as the umbrella company of its digital content subdivisions, including AOL and Yahoo!.
Design and Print Partners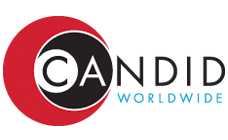 Candid Litho was established in 1956 and promptly became one of Manhattans most preeminent printing and graphic arts companies. Headquartered on Hudson Street in New York City's Soho neighborhood Candid Litho provided high-end print work to the city's top companies. In 2006 current owners Howard and Scott Weinstein began their expansion into Long Island to house more cutting edge equipment and to increase their production capabilities. In June of 2013 Candid Litho, with the acquisition of its Las Vegas facility, expanded into the large format (Out Of Home) printing industry and Candid Worldwide was created. The Candid team provides a wide range of services including: design creation/ development, spec verification, creative approval, project management, printing, logistics, shipping, materials tracking and posting verification. Today we are an innovative all-inclusive solutions provider bringing print excellence to every market.