Meet The Fellows: Alex Cuevas
Meet The Fellows: Alex Cuevas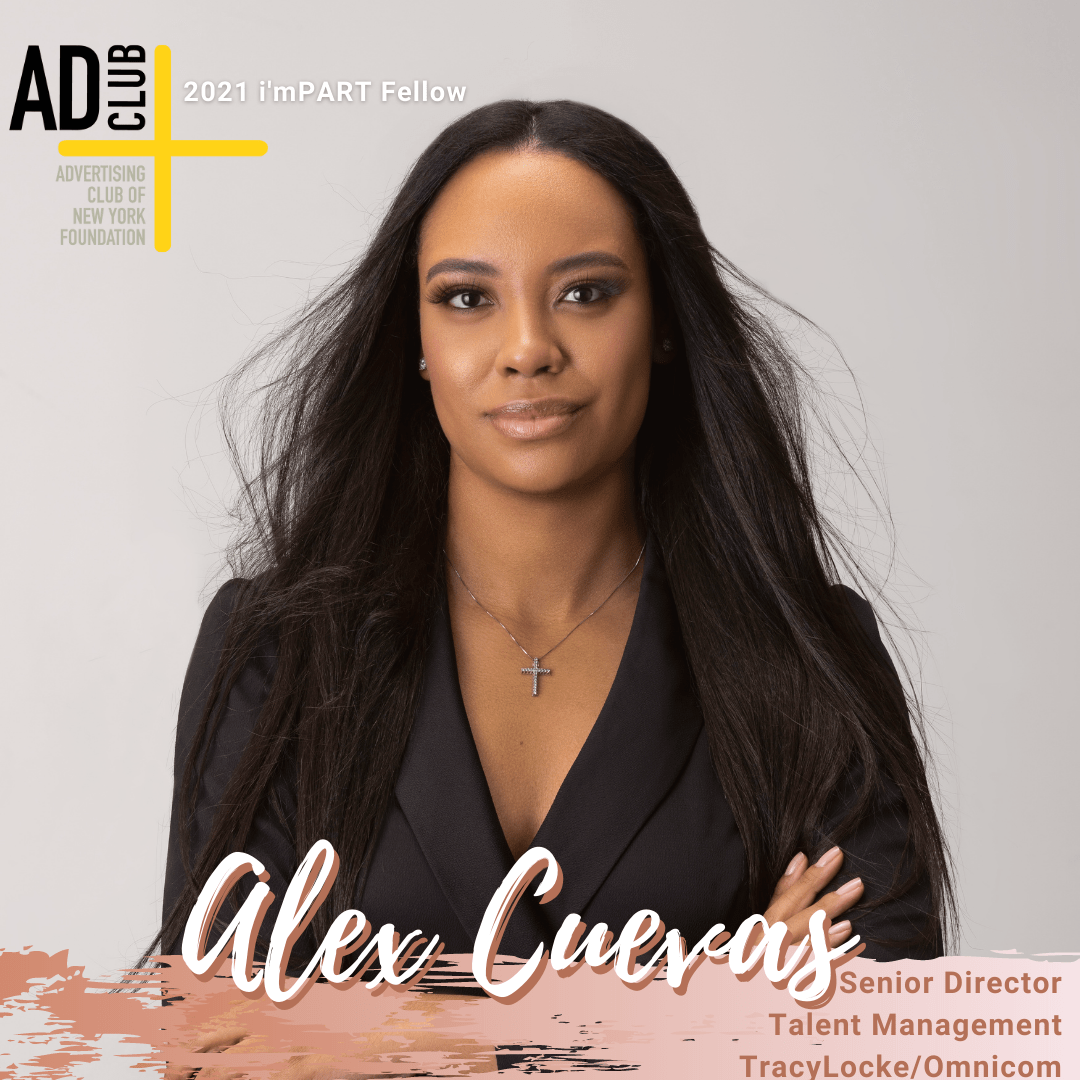 Alex Cuevas Senior Director of Talent Management, TracyLocke| Head of Diversity, Equity and Inclusion at Omnicom Commerce Group
A people champion, Alex Cuevas is passionate about the entire employee experience and ensuring the road for talent within the advertising industry is equitable and inclusive at all levels.
Alex currently serves as Senior Director of Talent Management at TracyLocke and Head of Diversity, Equity and Inclusion at Omnicom Commerce Group. In her roles, she partners with C-Suite stakeholders to create and implement a comprehensive talent management strategy on initiatives pertaining to the acquisition, alignment, development and engagement of talent across the organization. An HR professional and strategic partner with DE&I at the core, Alex ensures the organization continues its focus on cultivating a more diverse, equitable, and inclusive community for the employees across the network.
Alex began her career in advertising at DDB Worldwide, where she unlocked her passion for the creative business. Most recently, she served as Director of Talent and Recruitment at DDB New York, where she was able to significantly increase the recruitment and retention of diverse talent. While at DDB, she was involved in the creation of global career development programs including The Phyllis Project, a global creative initiative committed to increasing the number of female creative leaders in the network, and a High-Performance Lab for rising mid-level talent.
Since joining TracyLocke and the Commerce Group, she has served as a practice area leader within Omnicom's OPEN 2.0 plan, the driving force for achieving systemic change across the global network.
Alex has participated as a Young Ones Award Judge for The One Club for Creativity, ADCOLOR Award Judge and a "We Are Next" podcast guest. She is a magna cum laude Fordham University graduate and Westchester County, New York native that enjoys traveling, theology, all things arts and crafts and indulging in her Latina heritage.
Want more Alex? Find her on LinkedIn, Instagram, and Twitter!
The i'mPART Women's Fellowship, created in 2016, made a commitment of $100K annually to retain more diverse talent and promote more women into leadership positions. Now in its sixth year, the program has expanded from helping 10 to over 50 women pursue their goals and elevate their executive presence – providing more access, tools, & nurturing necessary for them to grow and thrive in all aspects of our industry.
Each Fellow receives:
All-expense registrations for industry conferences including but not limited to: ADCOLOR, Advertising WEEK NY, ANA, BE Women of Power Summit, 3% Movement Conference, SXSW, Fast Company Innovation Festival, CultureCon
Educational workshops, webinars and master classes
1:1 Executive Coaching
Neuro-assessments to determine strengths
Monthly night school with PwC Executive Training Program
Executive Salon Series fostering mentor connections and high-level networking opportunities
1-year AD Club of NY membership
Access to the industries top leaders
Learn more about the Foundation's dedication to fostering the talent pipeline here!