Meet The Fellows: Ro Kalonaros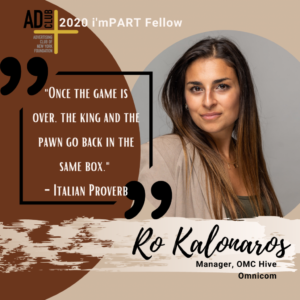 Ro Kalonaros connects, elevates, and amplifies the deep collective knowledge and brilliant creative work of Omnicom's 70,000+ employees globally to facilitate agile and efficient collaboration across the network. She spearheads the strategic direction of OMC Hive, Omnicom's internal knowledge sharing platform, and uses the platform's business and cultural intelligence to advise cross-functional teams at the holding company and agency levels.
Ro also serves as Co-chair of Advertising Week's inaugural NewGen Advisory Council, where she works to give a voice to millennial and Gen Z marketers. She is a champion of the LGBTQIA+ community as a member of the OPEN Pride leadership board at Omnicom and as a Community Leader of Fishbowl's LGBTQ in Advertising Bowl, where she facilitates productive conversations to move the industry forward. She was selected out of hundreds of applicants for Adweek's Executive Mentorship Program, where she was paired with Sarah Kate Ellis, CEO of GLAAD and had the opportunity to present at Adweek's CMO Summit. To pay it forward, she's developed training programs for organizations like 4A's MAIP and We Are Next, including sessions on how to navigate thankless tasks in the workplace and writing your way to your next big career move. 
Most recently, she was asked to launch and co-host Adweek's newest podcast, Marketer Momentum, which gives up-and-coming marketers the tools to kickstart their careers. With a past in editorial, she continues her love of writing as a contributor to various publications. Ro is a triathlete, bookworm, and former punk rocker. Ask her about olive oil.
Follow Ro on LinkedIn, Instagram or Twitter!
The i'mPART Women's Fellowship, created in 2016, made a commitment of $100K annually to retain more diverse talent and promote more women into leadership positions. Now in its fifth year, the program has expanded from helping 10 to over 50 women pursue their goals and elevate their executive presence – providing more access, tools, & nurturing necessary for them to grow and thrive in all aspects of our industry.
Each Fellow receives:
All-expense registrations for industry conferences including but not limited to: ADCOLOR, Advertising WEEK NY, ANA, BE Women of Power Summit, 3% Movement Conference, SXSW, Fast Company Innovation Festival, CultureCon
Educational workshops, webinars and master classes
1:1 Executive Coaching
Neuro-assessments to determine strengths
Monthly night school with PwC Executive Training Program
Executive Salon Series fostering mentor connections and high-level networking opportunities
1-year AD Club of NY membership
Access to the industries top leaders
Learn more about the Foundation's dedication to fostering the talent pipeline here!