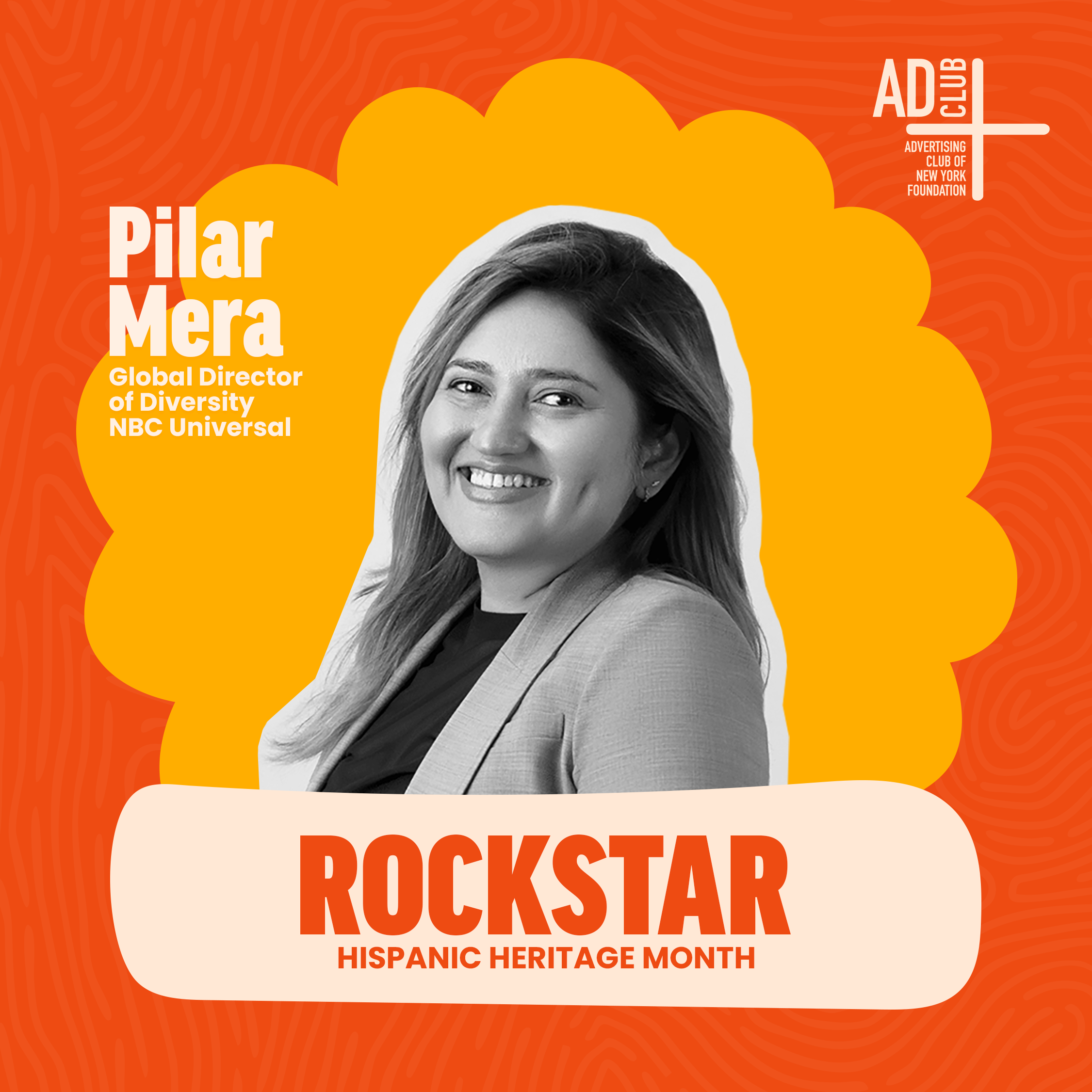 Pilar Mera is the Global Director of Diversity, Equity & Inclusion at NBCUniversal leading their Employee
Resource Groups – a footprint of over 225 leaders, 135 chapters, 25 locations and more than 12,000 Members.
A seasoned marketer for leading brands in the media and entertainment industries, she was formerly the
Director of Trade Marketing for NBCUniversal's Global Advertising & Partnerships division. In this role, she developed go-to-market plans and first-in-class client experiences for NBCUniversal's One Platform portfolio (SKY, NBC, & Telemundo) and the Hispanic & Cable Entertainment Groups.
In 2021, Negocios Now recognized Pilar for her strategic leadership as a Latinos 40 under 40 recipient. Pilar is a proud alum of the 2021 Mujeres de HACE and the 2020-21 Advertising Club of NY imPART Women's Fellowship executive leadership programs. In 2018, she also won participation in Comcast's Know Your Value (KYV) summit in San Francisco, CA out of 700 applicants as well as Johnson & Johnson's Human Performance Institute program out of over 100 competitors in Orlando, FL.
Pilar also sits on the Equity, Inclusion & Belonging Committee of She Runs It where she mentors early career professionals. In 2020, she was nominated for the prestigious ADCOLOR Change Agent Award for her community impact. She also served on the Associate Board of The HOPE Program, an organization that empowers New Yorkers to build sustainable futures through training, jobs, and support for career advancement.
Prior to joining NBCUniversal in 2014, Pilar led strategic recommendation for consumer campaigns that drove awareness and sale of HBO's award-winning home entertainment releases including Game of Thrones in the U.S. and international markets. That same year, she entered public diplomacy when she was tapped as a Hispanic Leader by the United States – Spain Council to strengthen bilateral relations across media, education, and government organizations between the two countries.
Pilar began her career at Paramount, where she focused on affiliate and retail business development strategies for Nickelodeon. She earned a BS in Marketing and International Business from NYU's Stern School of Business and has returned for the past 5 years to deliver her staple SternTalk to the undergraduate class. Pilar has an MBA from Fordham's Gabelli School of Business in Management and Marketing. Pilar shares her passion for soccer with her dad, Orlando, and together they have experienced the past three FIFA World Cup games in Qatar, Brazil, and Russia. She currently lives in Nutley, New Jersey and is a proud aunt to Noah, Hannah, Leo, and Isabella.