SXM Media: The Advertiser's Guide to the Holidays

There's Snow Time Like the Present
We're currently at the peak of summertime. The sun's a-blazin', kids a-playin', and your media budget is rampin' up for the holiday season. So what better time to bring you everything you need to know to ensure this year's campaign resonates and differentiates?
No one knows your industry better than you, and we wouldn't dream of pretending to claim anything else. So instead of telling you things you already know, we're going to tell you something you might not: Audio can help you align to ever-evolving trends and meet the challenges of changing consumer behaviors.
Here's what we've got in store for you:
• Why you should move audio from your wishlist to your must-list
• Proprietary insights about how your audience is listening
• Valuable best practices from our in-house experts that you can't get anywhere else
• Actionable ways to implement a smarter audio strategy this season
• Some ridiculous holiday puns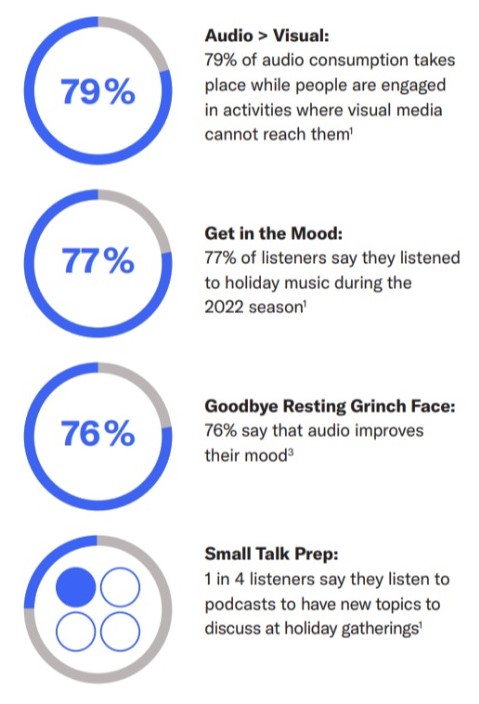 Audio Sets the Tone
Some brands may be holding on to their traditional media mix for dear life. But to them we say, think again. Audio is undeniably one of the core essentials to a successful holiday season, and without it, you're missing out on key influential and full-funnel
moments for consumers.
Indulge us for a second and imagine the holiday season. What do you hear? Chances are high that it's some version of fa-la-la-la or jingle jangle. For many, music is one of the first signifiers that this celebratory time is on the way and becomes a mainstay in their
day-to-day life until the end of the year
"I am trying to get back to my roots. Where technology does not dictate my moves. Where
nature plays a major role in everyday activities. The only constant is music. I can not live
without music guiding me throughout my day."
- Listener Quote, SXM Media 2023 Culture Trends Soundboard Study
Widened Shopping Windows
If you've ever wished the holiday season was a little bit longer, consider that wish granted. The trend of elongating the shopping season has only amplified (think supply chain disruptions, fast-selling airline tickets, retail price increases, financial burdens, busy
schedules, etc.). Lucky for brands, this means even more opportunities to connect with would-be consumers and get in on their holiday activities.
Your Checklist
Rethink Your Timeline
With consumers starting up consumption and engagement habits earlier and earlier, getting in their ears early is key to driving brand awareness and sales. Try tapping into pre-season shopping habits with audio campaigns that focus on encouraging consumers to get ahead of the shopping curve and that run longer than usual (think a launch date
around the end of Q3/start of Q4, as opposed to mid-Q4)
Get Creative with Creative
With a larger shopping window, it makes sense to mix your media up a bit. There are a ton of ways to think outside the (gift wrapped) box, and even outside of the headphones. From delivering contextually relevant messages on connected home devices or in-car, to hosting IRL events, to in-store music and messaging, there are a myriad of ways to tell
your story throughout the now-expanded season.
Match the Mindset
Sure, maybe everybody isn't ready to hear your holiday ad the day after Halloween. In that case, use advanced targeting to find those who made the season shift as fast as you did. Do this with music genre targeting (Holiday), activity targeting (entertaining at home), or 1P segments (Early Winter Wonder-Fans).
Bundles of Bashes
Ain't no party like a holiday party…which is probably why consumers are celebrating more than ever. In fact, they're making up reasons to throw parties and get together with friends and family.
Your Checklist 
Know Your Part & Tell Your Story
Consumers have a lot of shopping objectives—from food and beverage, to decorations, to party supplies and outfits. Ask yourself: How does my product fit into the picture? And use everything in the audio toolkit to tell the best contextual story: mood targeting, sequential ads, and more.
Be Inclusive in Your Creative
Consumers are as diverse as ever, and your creative should consider a variety of holidays, traditions, and celebrations. Not only that, but work with your media partner to ensure your campaign is reaching all audiences.
Make It Easy to Act with Shoppable Solutions
With lists on lists, it's easy to get overwhelmed. Make the path-to-purchase as short and simple as possible with bottom-of-the-funnel shoppable products, like click-to-cart capabilities, shoppable carousels showcasing product breadth, store locators to drive consumers to in-person shopping, and more.
Savvy Spending
Yes, consumers are worried about the the state of the economy, but they're still spending. Shoppers are just approaching the season a bit more thoughtfully—with their ears out for deals, sales, and flexible spending options.
Your Checklist
Keep Discounts Front and Center
With consumers hunting for the best prices, message your markdowns with very clear call-toactions. Leverage these ads across the entire audio ecosystem, from podcast sponsorships to satellite radio and streaming, for the most market saturation. A combo of audio and visual creatives will help to further amplify your markdown offerings, driving consumers to "add to
cart" even faster.
Give the Gift of Audio
During a season where it's all about gifting others, consumers love any interaction that leaves them with a little present for themselves. Gifting ad-free listening via sponsored audio leaves consumers feeling good about your brand and more likely to continue engaging with your offerings when it comes time to shop. And as a bonus, many of these products come with guaranteed engagement, where you only pay for view-through—a gift that keeps on giving!
Add Another Layer to Your Campaign
But it's not just about discounts. There are other ways to connect with your consumers, like through content and creators that they love. Think: wellness podcasts, supporting indie artists, giving real-time insights into sporting events as they travel through the season, and more. There are so many ways to add a bit of sparkle to your holiday campaigns.
Creative Best Practices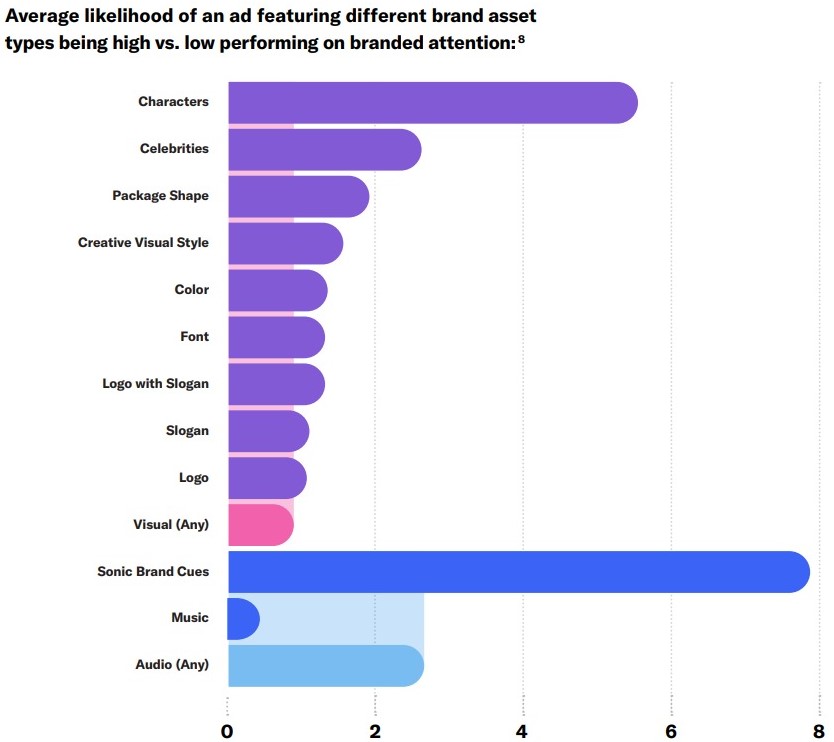 Audio is one of the most undervalued mediums out there. Consumers spend 31% of their media time with audio, but marketers spend less than 9% of media budgets on audio advertising.13 And while most marketers spend the vast amount of their time and resources focused on developing visual assets, sonic assets—such as sonic logo, brand voice, etc.—outperform the majority of visual brand identifiers for increasing brand attention.
But let's talk about exactly how to approach creative problem solving, especially during the holidays. With all that Mariah Carey, it may be hard to break through the noise, but here are four distinct ways to get your message through.
1. Play into the emotional side of audio
Think about this: Consumers think about what they see, but feel what they hear. And because there is no visual associated, listeners can take your audio and imagine themselves experiencing your brand, making it an innately relevant and customized experience. (We call this "theater of the mind.")
But because of this, it's important to produce specific creative assets just for audio. Don't repurpose the same script from other channels; utilize tools like 3D audio to really transport your consumers to the center of your brand story.
2. Ebb & flow with the holiday season
Shift your message as the season does. Since consumers are shopping earlier and earlier, you can begin your messaging early, but with top-of-funnel messaging. As it gets closer to crunch time, utilize lower-funnel messaging to drive conversion.
Ad solutions such as Sequential Audio help you deliver a full story by serving a series of non-contiguous ads to a listener in a prescribed order. This allows you to get more creative, tell a long-form story, and build narrative cohesion across three to five spots.
3. Use the personalization toolkit
Two-thirds of listeners are looking for messaging that is tailored to their specific needs—and audio allows you to do just this. With a variety of targeting capabilities (from mood, mindset, device, location, the list goes on), brands should get specific about what they're saying in each moment.
Messages can even match environments such as inthe-car or on-the-phone, or automatically personalize with Dynamic Audio that uses listener data to "madlib" ad creative based on location, weather, day, etc.
4. Be a part of your audience's content
We'd be remiss if we didn't mention podcasts (especially because two-thirds of the U.S. population has listened to one). They're so popular in fact, that podcast hosts are considered the new influencers and can help inspire holiday shopping in a very genuine and
authentic way.
You pick: a straightforward campaign with annoucerread ads running across a genre or topic, custom personal endorsements from hosts who love your brand, or a holiday special sponsorship integrated into an episode.
A Look Into Cultural Celebrations
It goes without saying that Christmas is part of the American cultural fabric, with 93% of Americans celebrating every year in some sort of capacity.10 Whether religious or not, Christmas is the time of year we get to reflect, celebrate, and truly be present to enjoy the company of our loved ones and our communities. But this celebration is not one size fits all; different cultures celebrate differently.
Introducing: Fluency
Fluency is our in-house cultural practice with the aim to help brands become more fluent in culture. As diverse as we've become, we keep our ear to the ground gathering audience insights and trends, so that we can partner with you to build messages that resonate, no matter who you're trying to reach.
But how does a brand do this well?
1. Be part of the community
The goal is to speak as part of the community in an authentic, conversational tone. And remember to embrace diversity throughout the entire process. This includes copywriters, voiceover talent, and representation from every angle.
2. Address key cultural moments
This means adjusting your timeline and key moments for different audiences. With the blending of holidays and cultures, consider celebrating multiple occassions within the same campaign.
3. Adjust creative
From language to soundscape, embrace your audience's depth of identity to truly resonate. The smallest details—such as culturally relevant foods, recipes, voices, songs, and sounds—can go a really long way when it comes to building brand trust.
So why SXM Media?
Sleigh-in' It
Now you know: Audio is, hands down, the best, most impactful medium to reach consumers early and often throughout the holiday season. And now that you're armed with all the information to make your holiday campaign sparkle, all that's missing is a partner to help bring it to life.
That's where we come in.
Audio ads are driving direct influence with retail consumers. And the SiriusXM ecosystem is the perfect place to connect with those shoppers in meaningful ways. Whether it's streaming, podcasts, or satellite radio, listeners are taking action with our advertisers.