Tech Layoffs Will Prompt CMOs to Seek Agency Partners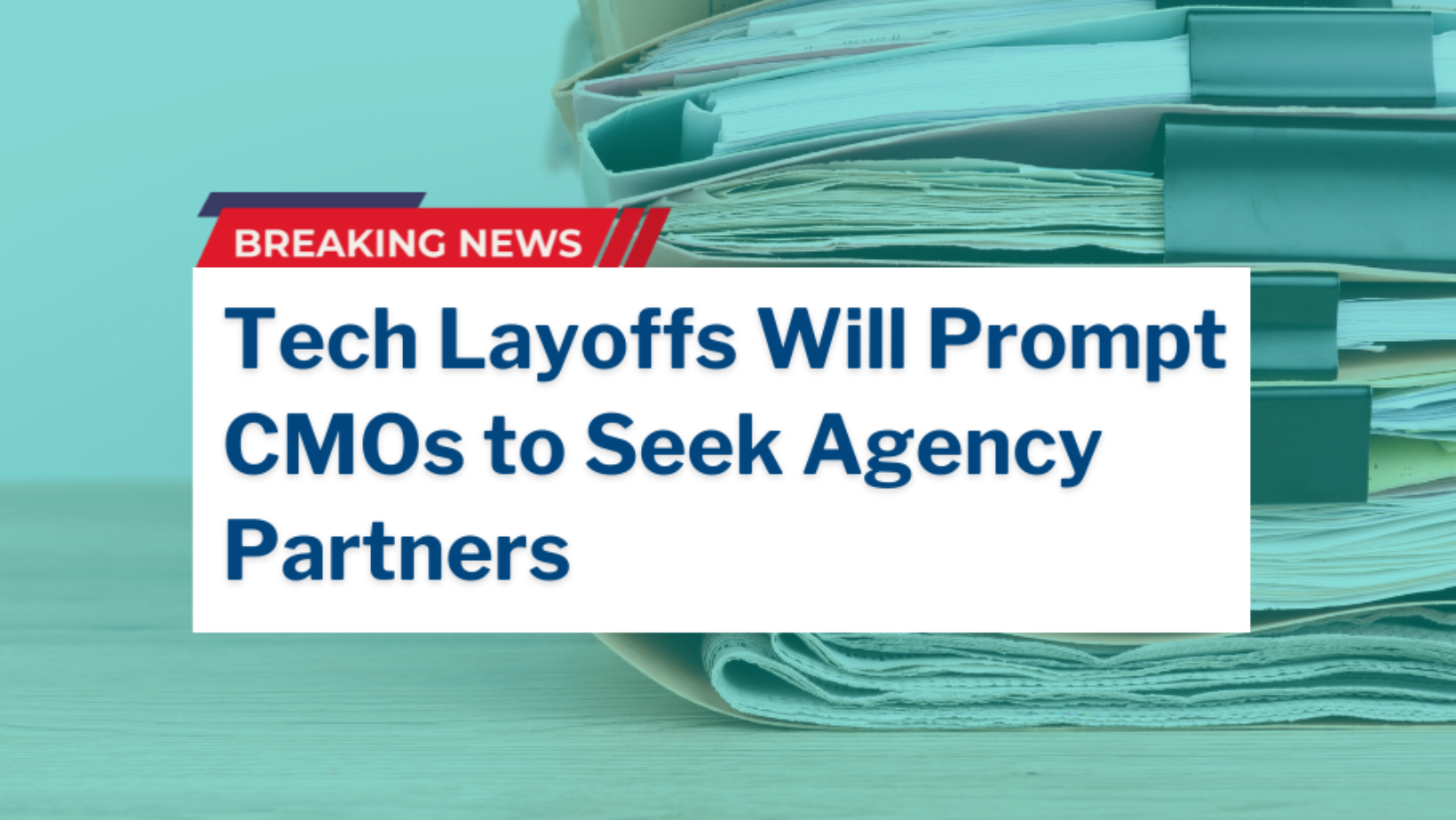 According to data from Winmo, almost a third (31%) of tech brands that reported layoffs in Q4 2022 and/or Q1 2023 have hired new CMOs and/or agency partners in Q1 2023.
Groupon, for instance, filled a long-vacant CMO seat this January, the same month it laid off some 500 employees, while NetApp, which cut 8% of its global workforce, promoted an internal hire to the role of CMO.
"Twenty-three percent of tech brands in Winmo that reported layoffs hired a new CMO in Q1 2023," said Dave Currie, CEO of advertising sales intelligence company Winmo. Someone to steer the ship through turbulent waters, and, what we are starting to see, to manage an expanded scope of work by external agencies."
DirecTV, which is reportedly laying off 10% of management employees, has assigned more work to agency partners amidst ad spend increases.
According to Winmo's Intent Insights, which tracks interest in topics across a broad organizational level, 95% of tech brands that reported layoffs in Q4 2022 and/or Q1 2023 have shown at least moderate interest in hiring agency partners, with 77% showing interest and 9% being very interested.
Notable mentions:
This suggests that these brands are looking for fresh perspectives and strategies to navigate the challenges they're facing, especially now that they're strapped on internal human capital to execute campaigns that fuel revenue.
"Thousands of tech and marketing professionals were let go during the tech industry's layoffs beginning in Q4 2022 and continuing into Q1 2023," said Currie. "But, these brands will still require marketing support with a reduced staff, offering a significant opportunity for agencies in Q2 and beyond."
When it comes to specific areas of interest, 59% of tech brands in Winmo that reported layoffs in Q4 2022 and/or Q1 2023 have shown interest in hiring ad tech partners, 73% are interested in branding partners, 41% are interested in email marketing partners, and 68.18% are interested in campaign partners. This suggests that tech brands are looking for a wide range of services and expertise to help them overcome their current challenges and achieve their marketing goals.
This indicates that despite the challenges they're facing, these brands recognize the importance of investing in their marketing and advertising efforts.
Those that offer branding, email marketing, or event management offerings are most in demand and should reach out now to stay top of mind. Overall, the data from Winmo highlights the importance of staying agile and adaptable in the current marketing landscape. While layoffs and other challenges can be difficult, they also present an imperative for brands who wish to retain market share to reassess their strategies and seek out new partners and approaches.