Tony Wells, SVP, Marketing at Verizon And Graduate of the US Naval Academy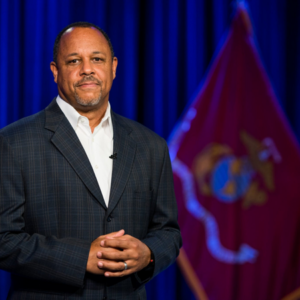 Tony Wells, SVP, Marketing at Verizon, is a graduate of the US Naval Academy. Following graduation, he was commissioned as a Marine Infantry Officer and served in roles from Rifle Platoon Commander to Company Commander. He later was designated a Public Affairs Officer before transitioning from his service in the Marines, to the private sector.
Q: What is one of the lessons learned during your military career, that you have applied in your career as a marketer?
Tony: The most important lesson I learned in the Marine Corps was the concept of servant leadership. While Marine leaders are very demanding and the stakes are high, at our core we're committed to accomplishing the mission AND taking care of our people. Practicing servant leadership ensures the team is well trained and prepared, but just as importantly, builds trust in the decisions and actions you will take in both peacetime and in combat.
Q: Even as the ad industry continues its push to become a more inclusive environment, veterans aren't always top of mind. What advice would you give to brands and agencies about the valuable perspective veterans provide?
Tony: Veterans have a lot to offer this industry. While not every military job translates perfectly to a marketing role, there are positions like recruiting, HR, data and analytics, and operations where Veterans have relevant experience and can excel. What Veterans may lack in marketing experience, they make up for by demonstrating leadership, tenacity and a true commitment to achieving the objective.
There are also groups like Vets2Set and Veterans in Media & Entertainment that offer brands a way to find and engage Veterans in their marketing efforts, or for job opportunities.
Q: What is your advice for veterans looking to make a career transition to marketing?
Tony: First, do your research to identify the types of roles, brands, and agencies you would want to be part of. Then tap into the many public, Department of Defense, and Veterans support groups and tools that assist with transitions, resume support, career fairs, and more. And continue to network, network, network. Reach out to other Veterans, attend industry events, and seek information from marketers on the client, agency or media side. This is an industry that values your service and contributions, and will become stronger with you as part of it.
Hear more from Tony at our upcoming "Conversations with…" on November 16th at 12pm.