Meet The Fellows: Tori Howlett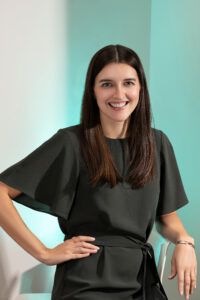 Tori is a problem solver by nature who loves working with clients to find creative solutions to business needs. Currently, she serves as a Group Account Director at Dentsu Creative. Most recently, Tori led the FTX account and delivered increased brand awareness through creative storytelling and strategic activations. A 2022 Super Bowl campaign resulted in an 80% increase
in Twitter followers over 8 days.

Never one to say no to a challenge, she's now trying her hand in the world of experiential activations after spending seven years on the creative development side. Tori received her B.A. in Strategic Communications from Elon University. She got her start in
advertising working at Ogilvy on the American Express business with creative campaigns for Blue Cash Everyday and the relaunch of the Platinum card, which resulted in a 52% increase in acquisitions.She's extremely passionate about championing diversity, equity, and inclusion, both within the advertising industry and the work it creates and is thrilled to be participating in the 2022 – 2023 Advertising Club of NY imPART Women's Fellowship.
Outside of work, you'll find her flipping furniture, writing sketch comedy, and exploring New York City.
Find Tori on LinkedIn to connect.
--
The i'mPART Women's Fellowship, created in 2016, made a commitment of $100K annually to retain more diverse talent and promote more women into leadership positions. Now in its sixth year, the program has expanded from helping 10 to over 50 women pursue their goals and elevate their executive presence – providing more access, tools, & nurturing necessary for them to grow and thrive in all aspects of our industry.
Each Fellow receives:
All-expense registrations for industry conferences including but not limited to: ADCOLOR, Advertising WEEK NY, ANA, BE Women of Power Summit, 3% Movement Conference, SXSW, Fast Company Innovation Festival, CultureCon
·         Educational workshops, webinars and master classes
·         1:1 Executive Coaching
·         Neuro-assessments to determine strengths
·         Monthly night school with PwC Executive Training Program
·         Executive Salon Series fostering mentor connections and high-level networking opportunities
·         1-year AD Club of NY membership
·         Access to the industries top leaders
Learn more about the Foundation's dedication to fostering the talent pipeline here!