Personalization and Authenticity are the Keys to Reaching the Ever-Growing Latinx Market
By Maria Teresa Hernandez, Vice President of Brand Partnerships at Mirriad
I realized almost immediately out of college that my life experiences up until that point were nothing like anyone within my new professional circles.  First, no one looked like me. No one spoke like me. No one moved like me. And I equally couldn't relate to them. And get this- I was working for a Latino-owned company- amongst Latinos! It was here, in my early twenties, that I realized that while we live within a  monolithic umbrella of "Latinidad," there is so much more to us under the surface. A beautiful mix of cultures, nationalities and identities that are vastly unique in themselves.
My point is, identity within the Latino community is such a nuanced topic, and we're far from a one size fits all.
As outlined by Claudia Romo, we are the people of America: nearly 61 million people comprising 18.1% of the current population. We are the future of America – by 2050 one quarter of the population will be Hispanic. We are:
An economic powerhouse: with Hispanic GDP at $2.6 trillion.
Young: our median age is 28 years, six years younger than the median in the country.
The workforce of this country: comprising 74% of new workers and 40% of the U.S. workforce growth.
Taxpayers that vote: 31.5 million Hispanics were eligible to vote in 2020.
Entrepreneurs and job creators: 86% of all new jobs since the great recession have been created by Hispanics. Latinas create small businesses six times faster than any other group in America.
Yet, despite continued growth and success, Latinos are still grossly underrepresented across industries and particularly in entertainment. While we want to be valued and seen in the media we consume, we can do without the cultural gaffes and stereotyping our communities have been subjected to for years.  According to a new report by the Annenberg Inclusion Initiative, less than 6% of characters featured in films in 2019 were Latino, and 40% of those characters portrayed as criminals, lower class or impoverished. The need for cultural representation isn't limited to the big screen, this includes diversity in advertising as well.
Which means the brands we love can make that happen. And we're here for it.
Earlier this year H Code released a study that found if a brand makes an effort to include elements of Hispanic culture in its marketing, 71% of Hispanic/Latinx consumers are more likely to think favorably of it or purchase its products.
This is more relevant than ever, as the rise in social injustice movements has prompted more advertisers to lean into multicultural consumers and allocate larger portions of their advertising budgets to diverse content and creative messaging that resonate with these communities. A growing effort on Madison Avenue to shift ad dollars in support of multicultural media includes some brands newly committing between 2% and 5% of their annual media budgets to minority-owned media outlets.
However, with an underrepresentation of diverse creators and in turn diverse content, it's consistently challenging for brands to find new ways that authentically connect with audiences. This is where in-content advertising comes into play. Being in the content creates an entirely new source of inventory available in upcoming programming. This is just one benefit of using AI technology to scan content for cultural resonance. You can find contextual moments to drive engagement with nuance and meaning. With this newly available inventory, brands can choose content, at the scene level, that meet their KPI's while reaching an engaged audience.
Here's how Mirriad's AI-powered integration technology helps brands put action behind multicultural objectives in an authentic and intuitive way:
Support minority-owned and led media: Mirriad has accelerated the growth of its multicultural media marketplace which includes partners like Univision, Aspire, iTalkBB, and Tastemade. Through this diverse portfolio of partners, brands have an entirely new way to connect authentically with niche audiences, in an intuitive and thoughtful manner.
Empowering artists: In 2020, Mirriad introduced the Music Alliance, a newly formed business unit dedicated to developing partnerships for brands with music artists that fans love. The Music Alliance features a community of diverse music artists and minority-owned and led labels that are leveraging Mirriad technology to allow brands to weave themselves into their filmed content. Not only does this streamline brands' access across thousands of artists and niche genres, but it also empowers diverse creative communities that are often overlooked by advertisers.
Connect authentically in-language: Through our proprietary AI-powered technology, brands can not only insert product in contextually and culturally relevant moments on screen, but also insert in-language messaging through signage and video placements that resonate with Latino audiences. Inserting cultural messaging onto a billboard in a street scene or playing video on a TV screen goes beyond awareness to drive consideration and affinity. We've seen these results from partnerships with AT&T, T-Mobile, and Tecate. Kantar studies showed that cultural messaging digitally inserted on billboards into Spanish language programming saw significant brand lifts.
Watch Mirriad's tech in action >>>
While I can draw on personal experience, we're at a turning point in the advertising industry. Brands can measure the positive impact of reaching multicultural audiences and have the imperative to connect in culturally relevant ways. By being in the content that multicultural audiences already love, brands can reflect nuanced storytelling that appeals to diverse groups and was lacking for so long.
I, for one, am excited to help drive this change forward with brand partners who value supporting diverse creators and multicultural audiences with storytelling that authentically reflects our shared experiences.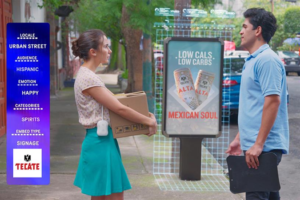 Mirriad's technology uses AI to scan for relevant brand placements.
Maria Teresa serves as Vice President of Brand Partnerships at Mirriad, an Academy Award-winning advertising technology company that uses proprietary AI-powered digital effects to insert brands into targeted TV, digital, film, and music programming after it's been filmed, instantly creating new advertising possibilities in an increasingly ad-free on-demand environment.