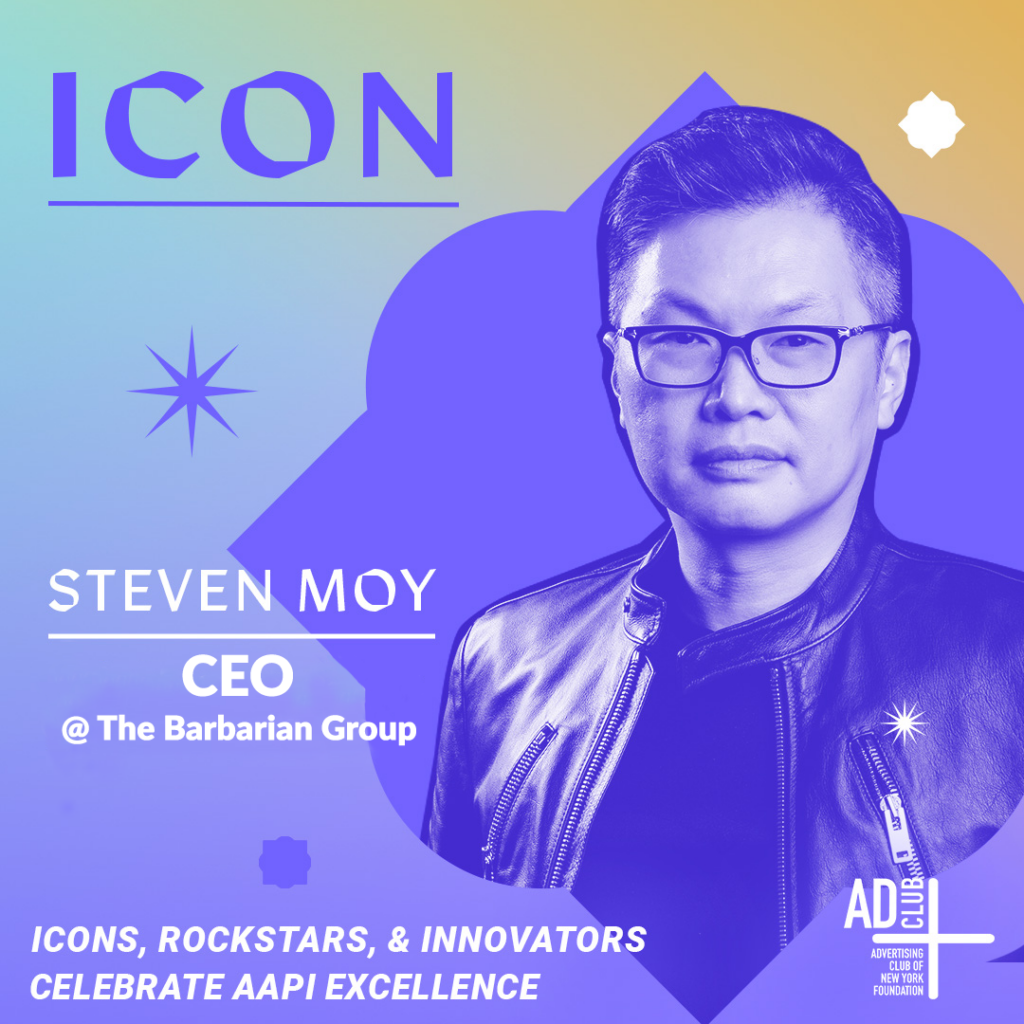 Steven Moy is a hands-on agency CEO who lives by the philosophy "Speed is the New Black." He has a strong track record of creating high-performing teams with new service offerings, strategic acquisition of capabilities, and high-growth partnerships. For decades, Steven has worked on large-scale digital transformation and world-recognized initiatives for global brands including American Express, McDonald's, Marvel, Shiseido, Johnson & Johnson, CVS Health, Kendo Brands, Post Consumer Brands, Samsung and AT&T.
Since joining Barbarian as CEO in 2019, Steven has fundamentally reshaped the agency from top to bottom. He has launched Barbarian's first global office in Warsaw, Poland; added 15 new clients (including Kendo, NARs, Cetaphil, K-Y, Durex, Caliber, Emergent Holdings, American Express and Mucinex); launched 4 new business practices including Consulting and an industry-first alliance with sports media personality Jay Williams; and hired new Creative and Technology department heads from AKQA and R/GA. These accomplishments led Steven to be named to Campaign's 40 Over 40 list in 2020. In 2021, FastCompany honored Barbarian's 2020 Social Commerce Innovation Mucinex Sickwear as a World Changing Idea and invited Steven to join Fast Company Executive Board as an Official Board Member. In 2023, Advertising Club NY named Steven an Icon of advertising industry due to his achievement.
Prior to Barbarian, Steven served as US CTO at R/GA and was responsible for growing new business, creating new service offerings, and monetizing its technology partnerships. Under his leadership, Steven created a new breed of client relationships for the agency, opening the doors to CIOs, CTOs, and CDOs at Johnson & Johnson, Carnival, and Shiseido. Additionally, Steven was part of the founding team to launch IPG's first Global Adobe and Salesforce Technology Practices.
Before R/GA, he served as Isobar UK's CEO and previously as the US Chief Commerce Officer where he shaped Isobar's approach combining digital marketing and commerce that resulted in winning new clients including McDonald's, Coach, Adidas, and Mass Mutual. Prior to Isobar, Steven was the Regional Managing Director of SapientNitro and was responsible for all aspects of agency business including the transition from Sapient to SapientNitro, and 20% YOY revenue growth in New England. Steven's hands-on approach created long-lasting client relationships with Luxottica, The Hartford, Staples, Rue La La, and New Balance.