Insights from Beachfront's CTV Marketplace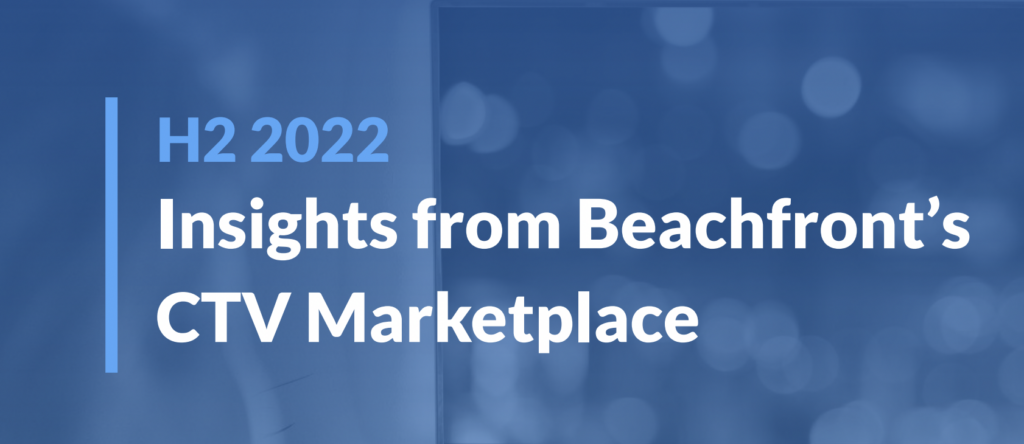 Greetings!
In the fast-paced and exciting Connected TV (CTV) landscape, the second half of 2022 was defined by multiple watershed moments. Nielsen reported for the first time that streaming had surpassed cable television in terms of time spent viewing. Media juggernauts Disney and Netflix launched ad-supported streaming tiers, signaling that SVOD's grasp on CTV was beginning to wane with AVOD taking center stage. Viewing and advertising on FASTs (that is, free ad-supported streaming television) continued to grow at a steady clip. And in Q4, streaming helped fuel what was the most expensive midterm election on record, as competitive races at every level poured over a billion dollars (in total) into CTV.
Beyond these profound headlines, the back half of 2022 brought a number of other significant developments to the CTV advertising landscape. Brands continued to jump into CTV advertising, further demonstrating that the digitally-native medium has democratized access to TV advertising markets. Contextual signals strengthened in CTV and streaming, solving some of the well-documented frustrations of media buyers (while rewarding media owners and programmers). And, in the battle for the connected home, Roku devices and traditional set-top boxes — yes, the humble set-top box — led the pack in terms of TV ad impressions that were delivered, with smart TV manufacturers following closely behind.
To shed light on these key developments, we've compiled a handful of insights from Beachfront's CTV Marketplace that capture trends within the second half of 2022. We hope these provide clarity on the state of the CTV ad market during a transformative period of change in our industry. As always, if you have any questions or would like additional cuts of data, please reach out to us at marketing@beachfront.com.
Cheers, The Beachfront Team