Meet The Fellows: Kristen Dufauchard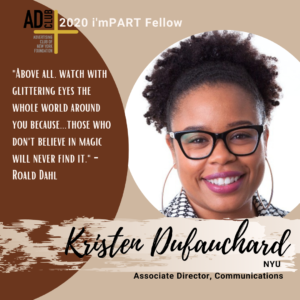 Kristen Dufauchard is a marketing and communications leader with over ten years of experience designing and delivering campaigns for colleges, universities, government organizations, businesses, and international brands. She currently serves as the Associate Director of Communications for the NYU Libraries. Her role is responsible for leading the global division's newly formed Department of Communications, which oversees a range of creative services and data analysis for campus sites in New York City, Shanghai, and Abu Dhabi. 
Kristen creates, implements, and refines strategic communications to support and advance institutions' goals and priorities. In her previous roles, she has improved NYU Wagner's storytelling strategy, launched Lone Star College's first international online enrollment campaign, and managed new website implementations for Lone Star College Online and Texas Southern University. In 2014, she started her first business, to help organizations—including the State of Louisiana, the Miss USA Organization, and Edible Arrangements—better connect with digital audiences. She recently launched her personal website and consulting services at KristenDufauchard.com to offer insight on marketing and communications best practices within nonprofits, corporations, and higher education institutions. 
As a first-generation college student, Kristen recognizes the importance of mentorship and professional development. She currently serves as an ambassador to the LSU Alumni Recruitment Network in New York City, educating prospective and first-generation college students about the admissions process and supportive resources. She is a recipient of the Ad Club of New York's 2020 i'MPART Fellowship, a judge for the Public Relations Society of New York's (PRSANY) Big Apple Awards, and an alumni mentor for Manship School students. She recently became a member of the LSU Young Alumni Advisory Council, improving alumni engagement and guiding future initiatives as a result of Louisiana State University's strategic plan.
Kristen graduated from LSU with her bachelor's in mass communication, concentrating in public relations and earned a Master of Public Administration from Southern University. Originally from New Orleans, she is a member of Alpha Kappa Alpha Sorority, Inc. and enjoys traveling, running, cooking, and listening to podcasts.
Follow Kristen on LinkedIn and Instagram!
The i'mPART Women's Fellowship, created in 2016, made a commitment of $100K annually to retain more diverse talent and promote more women into leadership positions. Now in its fifth year, the program has expanded from helping 10 to over 50 women pursue their goals and elevate their executive presence – providing more access, tools, & nurturing necessary for them to grow and thrive in all aspects of our industry.
Each Fellow receives:
All-expense registrations for industry conferences including but not limited to: ADCOLOR, Advertising WEEK NY, ANA, BE Women of Power Summit, 3% Movement Conference, SXSW, Fast Company Innovation Festival, CultureCon
Educational workshops, webinars and master classes
1:1 Executive Coaching
Neuro-assessments to determine strengths
Monthly night school with PwC Executive Training Program
Executive Salon Series fostering mentor connections and high-level networking opportunities
1-year AD Club of NY membership
Access to the industries top leaders
Learn more about the Foundation's dedication to fostering the talent pipeline here!