Ready or Not, Here They Come

Is your organization ready for the social movement of our lives – The New Longevity?
People now live longer, healthier lives and possess – and spend - more wealth than prior generations:
· 35% of the U.S. population is 50+ (117 million); they are projected to grow to 132 million by 2030.
· 75% of U.S. household wealth is owned by adults 50. Their $8.3 trillion annual spending is expected to increase to $13 trillion by 2030.
· Adults 50+ are overrepresented in purchases across most categories - even ones considered younger skewing like tech and fashion – led by Re-Imagineers, who envision the second half of their lives differently from their predecessors.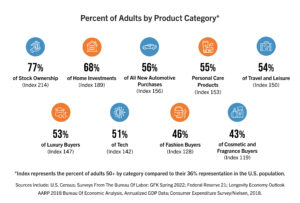 They challenge long-held stereotypes. Today's adults 50+ value innovation and reject brands that ignore them.
ROAR forward is a business intelligence platform that focuses on the attitudes, behaviors, and purchases of the growing, affluent 50+ population, in partnership with the Hearst Corporation.
It's the new growth category for business.