Want to Reach Female Consumers? First, Fix the Women in Advertising Problem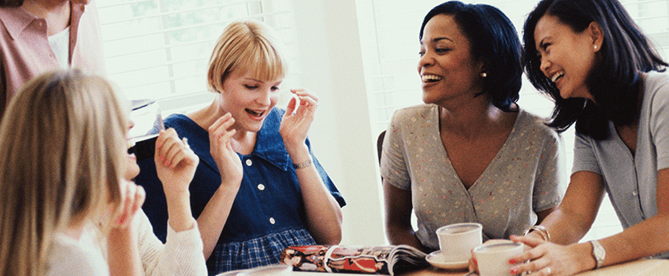 By Jami Oetting
Originally Posted on Agency Post. 
Women manage more than half of personal wealth in the U.S., drive up to 80% of all purchasing decisions, and control $20 trillion in consumer spending each year.
Yet, the power of the female consumer isn't reflected in the offices of either brands or their agencies. Reports estimate the percentage of female CMOs at anywhere between 8% and 30%.
The lack of women in advertising, especially at the leadership level, is still a major problem: Case in point: There were seven sessions about the issue during the 2014 Advertising Week — more than there were about native advertising.
There's certainly been progress since the 1950s and '60s, as in all industries, but the slow movement is especially troubling for agency teams whose work is oftentimes a reflection of culture or is made with the intent to connect with various consumer groups.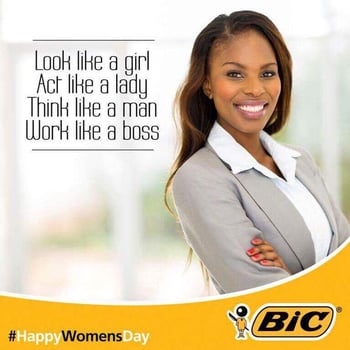 And while there have been many highly praised and awarded campaigns that break gender stereotypes and empower female consumers (Always' Like a Girl, Sport England's This Girl Can, GoldieBlox, Dove, etc.), there are still numerous campaigns released that are blatantly sexist, misguided, such as Bic's ad released on Women's Day, or just so off base they are easy to ignore.
"When you see a commercial, and it doesn't appeal to you, you're not calling up the brand and saying, 'I'm insulted,'" said Sandy Sabean, founder and chief creative office of Womenkind. "More often than not, you do nothing. Women become indifferent, and brands never realize the wasted opportunity."
Michael J. Silverstein and Kate Sayre in Harvard Business Review wrote: "Women represent a growth market bigger than China and India combined — more than twice as big, in fact. Given those numbers, it would be foolish to ignore or underestimate the female consumer."
Sabean with her co-founder Kristi Faulkner launched Womenkind in 2007 to bring a woman's perspective to the creative process in an attempt to reverse the trend where 91% of women say advertisers don't understand them.
Creating a Three-Dimensional View of Female Consumers
Sabean got her start in the advertising industry at Wells Rich Greene BDDP, the agency founded by Mary Wells, who was also the first female CEO of company listed on the New York Stock Exchange.
She met her co-founder, Kristi Faulkner, nearly 19 years ago at Ammirati Puris Lintas (which was merged with Lowe & Partners in 1999) when they were paired up for a pitch for Children's Motrin.
They came up with the concepts that won the account, and from then on, they were a team — at the time, it was one of the very few female creative partnerships in the industry, according to Sabean. If a brand was strictly focused on traditional women's products (haircare, feminine hygiene, baby products, etc.), they were the "go-to woman team" called to work on the account.
At Ammirati and as freelancers at various other agencies, they worked on Johnson & Johnson, o.b. Tampons, Pantene, and the launch of the Gillette for Women Venus Razors.
"When we first started, there was a superficiality to women," Sabean said. "Women were one-dimensional — either you were a mom, a sex pot, or a businesswoman complete with a blue business suit and briefcase."
One of their big wins was when they pitched the campaign for Ortho Tri-Cyclen at the beginning of the direct to consumer pharmaceutical movement. While the other agencies — and most of the top agencies at the time were invited to the pitch — presented creative focused on sex, they highlighted how the product would preserve a woman's ability to obtain her dream.
"Sometimes a female creative team can bring a deeper insight through their own experience and create something that resonates more powerfully," Sabean said. "There is a difference in sensibilities."
Eventually, the duo attracted attention outside of "female" and "mom" products, and since launching Womenkind, they have worked with Citibank, Post Foods, Mutual of Omaha, KFC, Ameritrade, and Kimpton, among others.
"It's not about tampons and shampoo and baby products," Sabean said. "It's about financial services. It's about tech. It's every product and service. We [women] are the mega niche, and that's how Womenkind was born."
Part of their work in making sure brands don't rely on stereotypes is by conducting in-depth research that details how women buy differently — how the unique psychology of women influences purchasing and decision-making. They also have a research panel called Muses, which is a group of around 200 women they can ask questions and gain insight from about their habits and preferences. They've even asked their Muses to share photos of the contents of their medicine cabinets, stating that what people say in a focus group is sometimes vastly different than what exists behind closed doors or in their closets and bathrooms.
Sabean believes many brands in different categories still need need to get smarter about marketing to women. "What we do at Womenkind is simply create better, more insightful communications that motivate women."
And it's also not that men can't market to women, but having a female perspective for communication directed at women is invaluable.
"No one's ever mistaken the work that we've done to be done by men, but many times the opposite has happened," Sabean said.
She continued to say that there isn't a formula for marketing to women. It's still about uncovering a core insight and building a strategy around that. What they've done differently is to make sure there is a female perspective on the team and to approach the work with the goal of specifically appealing to the habits and preferences of women.
Solving the Problem of Women in Advertising
This female perspective, especially in leadership, is lacking in many agencies for a few different reasons: 1) Women with children or other obligations outside the office often phase out of agencies due to the demanding schedules of client work. 2) There are far fewer women in leadership and female-owned agencies, so many women don't have faith in career progression within the industry nor do they have role models to emulate. 3) Mentorship and a focus on practices to support women in the workplace have been non-existent until the past few years in many agencies because the issue of gender imbalance in leadership has largely been ignored.
"To many women, the problem is not a lack of advertising acumen, but an absence of women role models and family-friendly policies that help women balance work and family obligations," wrote Julie Bosman in the New York Times.
It wasn't until 2004 that the Cannes Lions International Advertising Festival ruled that 25% of judge positions had to be filled by women. In 2015, the awards program introduced the Glass Lion to highlight campaigns combating gender inequality and prejudice.
The ADC is also addressing this issue: It launched the 50/50 Initiative in 2013 to highlight award show juries, speaker panels, and boards of directors where women account for 50% of the members.
In 2012, Kat Gordon launched the 3% Conference after learning that only 3% of creative directors are women. Gordon's team recently re-analyzed the number of CDs (which is based on analyzing winners of the Advertising Annuals of Communications Arts), and found that the number had risen to 11%. Now, agencies can get 3 Percent Certified, which includes a review of the company's practices, gender balance, and pay equality.
In addition, agencies are also beginning to address the lack of female leadership and retention within their own businesses.
SapientNitro recently launched Career Invisible, a career return program for women and men who want to re-enter the workforce.
[youtube https://www.youtube.com/watch?v=d6C6TNisgCs]
At this past year's 3% Conference, POSSIBLE detailed how it had created a task force to combat the lack of female leadership. The agency, which has 19 offices in four countries, began this byauditing its own gender makeup: On its global leadership team, 28% are women, and 72% are men. In its creative leadership, 15% are women, and 85% are men. They challenged other agencies to find their own "number," and then consider how their firms could support women internally through programs and mentorship. After POSSIBLE discovered its gender imbalance issues, it implemented practices, such as extended parental leave and more flexible work hours.
Seattle-based Wongdoody introduced a Women in Advertising scholarship earlier this year. Pam Fujimoto, executive creative director, told MediaPost: "Women are a huge part of Wongdoody's culture and success, and we've always worked to bring diversity to our creative process because it brings a wider, more relevant range of thinking."
And DDB formed a Better by Half Board, which brings together both men and women (because this isn't just an issue for women to discuss) within the organization to discuss improvements, citing that gender imbalance is a business issue: Companies with more balanced and diverse leadership teams lead to better business results.
Building a Company With the Right Priorities
Part of the goal of these initiatives is to add another perspective at the top so that company-wide policies and programs are inclusive of women and mothers.
"I wanted to go home at the end of the day, and I think it just makes you more efficient and more empathetic," she said. "It really makes you just a better, more aware boss and team player because whether you're married, not married, or whatever, you still have a life outside the agency."
Respecting and valuing the outside lives of employees and creating environments where people can do their best work for clients has become a top concern for many agencies as they continue to struggle to compete for top talent.
"Leadership should approach this with the same intensity as they did the digital revolution," said Gina Grillo, president and CEO of The Advertising Club of New York. "Making sure your workforce represents the consumer you serve is what works in the world today."
The Advertising Club works to increase diversity and inclusion within the industry through itsi'mPART initiative, which includes awarding scholarships, offering training programs, and leading a much-needed dialogue about diversity in the effort to drive awareness and change.
"It's going to take people who are running these organizations to make a shift," Grillo said. "And it's going to take bravery to do it."