Monday, October 16th, 2023
Location: SECOND | 849 6th Avenue, New York, 10001        Time: 12:30 - 2:30pm
Wednesday, October 4th, 2023
Hispanic Heritage Month Icons, Rockstars, & Innovators Panel
Location: ZOOM      Time: 6:15 - 6:45pm
Thursday, August 10th, 2023
A Celebration Of Hip Hop In Adland
Location: 21 West 38th Street, 12th FL         Time: 6:00 - 7:30pm
Wednesday, July 26th, 2023
Annual Celebration of Members, AD Club's 127th Anniversary
Location: Dotdash Meredith 225 Liberty St, 4th Fl         Time: 5:30 - 7:30pm
Thursday, June 15th, 2023
Pride 2023 - What Brands Can Do To Stand Against Hate
Location: ZOOM         Time: 12:00 - 1:00
Wednesday, June 14th, 2023
Out Of Home Now : The Mid Year Review
Location: ZOOM         Time: 12:00 - 1:00
Advertising People of The Year 
Location: Capitale, 130 Bowery, New York, NY 10013         Time: 6:00 - 9:30
Innovate NY: Building Better Contextual Solutions
Location: webinar        Time: 12:00 pm - 1:00 pm ET
AAPI Heritage Month Icons, Rockstars, & Innovators Panel
Location: webinar        Time: 5:30 pm - 6:30 pm ET
ANDYs Winners Celebration
Location: Angel Orensanz Foundation, 172 Norfolk Street        Time: 5:30 pm -8:30 pm ET
Innovate NY: Leveraging AI and Machine Learning to Elevate the Consumer Experience 
Location: webinar        Time: 12:00 pm - 1:00 pm ET
Wednesday, March 15, 2023
Conversations With: Cheryl Guerin, EVP, Global Brand Strategy & Innovation, Mastercard
Location: AD Club Office, 21 West 38th Street, 12th floor, NYC           Time: 12:00 pm - 1:00 pm ET
Tuesday, February 28, 2023
Black History Month Icons, Rockstars, & Innovators Event
Location: AD Club Office, 21 West 38th Street, 12th floor, NYC           Time: 5:00 pm - 8:00 pm ET
Wednesday, February 22, 2023
Conversations With: Melissa Grady, CMO, Cadillac
Location: AD Club Office, 21 West 38th Street, 12th floor, NYC           Time: 12:00 pm - 1:00 pm ET
Wednesday, November 16, 2022
Conversations With: Tony Wells, SVP, Marketing, Verizon
Location: AD Club Office, 21 West 38th Street, 12th floor, NYC           Time: 12:00 pm - 1:00 pm ET
Thursday, October 13, 2022
Location: AD Club Office, 21 West 38th Street, 12th floor, NYC           Time: 12:00 pm - 1:00 pm ET
Wednesday, October 12, 2022
Conversations With: Soyoung Kang, CMO, eos
Location: AD Club Office, 21 West 38th Street, 12th floor, NYC           Time: 12:00 pm - 1:00 pm ET
Thursday, October 6, 2022
The Streaming-First Consumer: New Priorities For Marketers In An On-Demand World
Location: AD Club Office, 21 West 38th Street, 12th floor, NYC           Time: 4:00 pm - 7:00 pm ET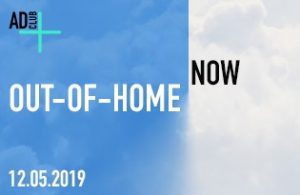 Out-of-Home: Now 2019
OOH has long been revered as a Creative Canvas. We looked at how brands are using the various formats of the medium today, to leverage all it has to offer connecting with consumers in the physical world.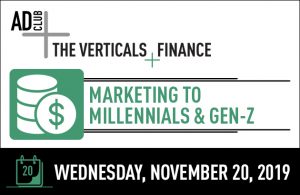 November 20, 2019 Home Speakers Agenda Photos and Videos Home The Verticals: Finance Marketing to Millennials & GenZ Nov. 20, 2019 Time: 8:30-10:30am There is a massive shift within the financial…
November 19, 2019 Home Details Home Viewer behavior is shifting – it's time we know where it's heading. According to eMarketer, by 2022, more than 58% of the US population…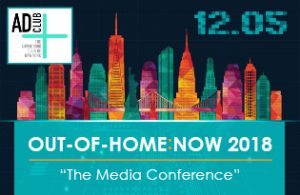 December 5, 2018 Home Agenda Photos and Panel Videos Home Out-of-Home: Now 2018 Date: December 5th, 2018 Time: 8:15-12:30pm On behalf of The AD Club and our Committee, we again thank our…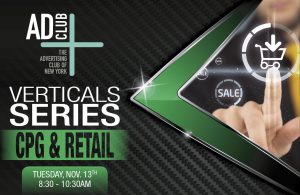 The Verticals: CPG and Retail on 2019 Home Photos and Videos Home The Verticals: CPG and Retail on 2019 How innovative technology is impacting brand strategy in 2019. Gary Arora, Global…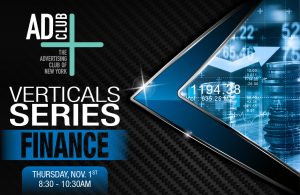 November 1, 2018 Home Photo and Panel Videos Home The Verticals: Finance How are brands navigating the cultural shift in personal finance? Our panel of industry pros discussed why advertising…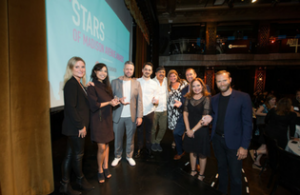 Stars of Madison Avenue Home Photos and Videos Home Stars of Madison Avenue Stars of Madison Avenue gathered industry professionals to honor brave brands to kick-off Advertising Week NY. Industry…
The AD Club provides unparalleled access to key influencers and conversations that foster collaboration and help move the industry forward. Our programs are developed for members by members as a forum for exchanging ideas across industry disciplines - agency, marketing, media, ad tech, PR, start-ups, entrepreneurship and related communications practices.
These are the topics and tactics to help you stay connected and relevant in today's fast-moving marketing world.